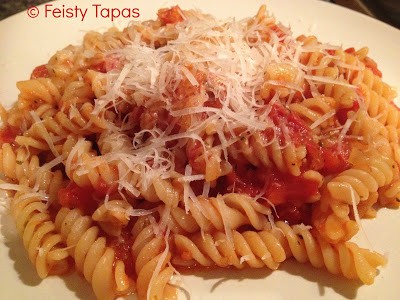 This is one recipe I have been wanting to share for ages. I love chorizo, it is one of my favourite ingredients. This is based on my grandma's recipe, when I started cooking (or trying to) many years ago I asked her for three recipes: her chorizo pasta, her meat with olives and her "arroz con leche" (the Spanish version of the British rice pudding). Let's just say that the woman could cook and not only good food but for hordes of people as it was never just her and my grandad for lunch or dinner around their kitchen table (one of the favourite spaces of my childhood).
When I don't have access to a Spanish shop I buy Tesco's cooking chorizo (in fact there's always some of it in our fridge), you could also try Revilla Chorizo de Pueblo Puchero which you can find easily in Sainsbury's or Waitrose.
Thermomix version here.
…