*Receta de Pita con humus y chorizo en español más abajo*
I love a quick dinner or lunch, the easier the better. I first made these on a day when husband was doing some DIY, we were hungry and there wasn't that much in the fridge. However, in this house there is always chorizo in the fridge (whatever the state of everything else). Well, you may have heard of my chorizo obsession already, no? Hummus and pita are fantastic combination, hummus and chorizo go fantastically together so I couldn't believe this hadn't occurred to me before.
Hummus and chorizo pita pockets
Ingredients
- 1 chorizo sausage per person (more or less, preferably cooking chorizo), in half cm slices or so
- A good dash of red wine (white wine, beer or Worcestershire sauce also work well but), this is optional.
- 1 pita bread per person
- Hummus, 1 tub will probably be enough for quite a few people, or, of course, you can make your own hummus (just come back and tell how you make it as so far I haven't got it right).
Method
1. Heat a dry frying pan over a medium-high heat, once it is hot add the chorizo and fry it for a while, until it's "golden", giving it a good stir or shake regularly. If you are using wine, beer or Worcestershire sauce add it about 3-4 minutes in, when the chorizo starts getting its lovely "golden crust" and let it bubble to reduce into a lovely sauce.
You want the chorizo to from this...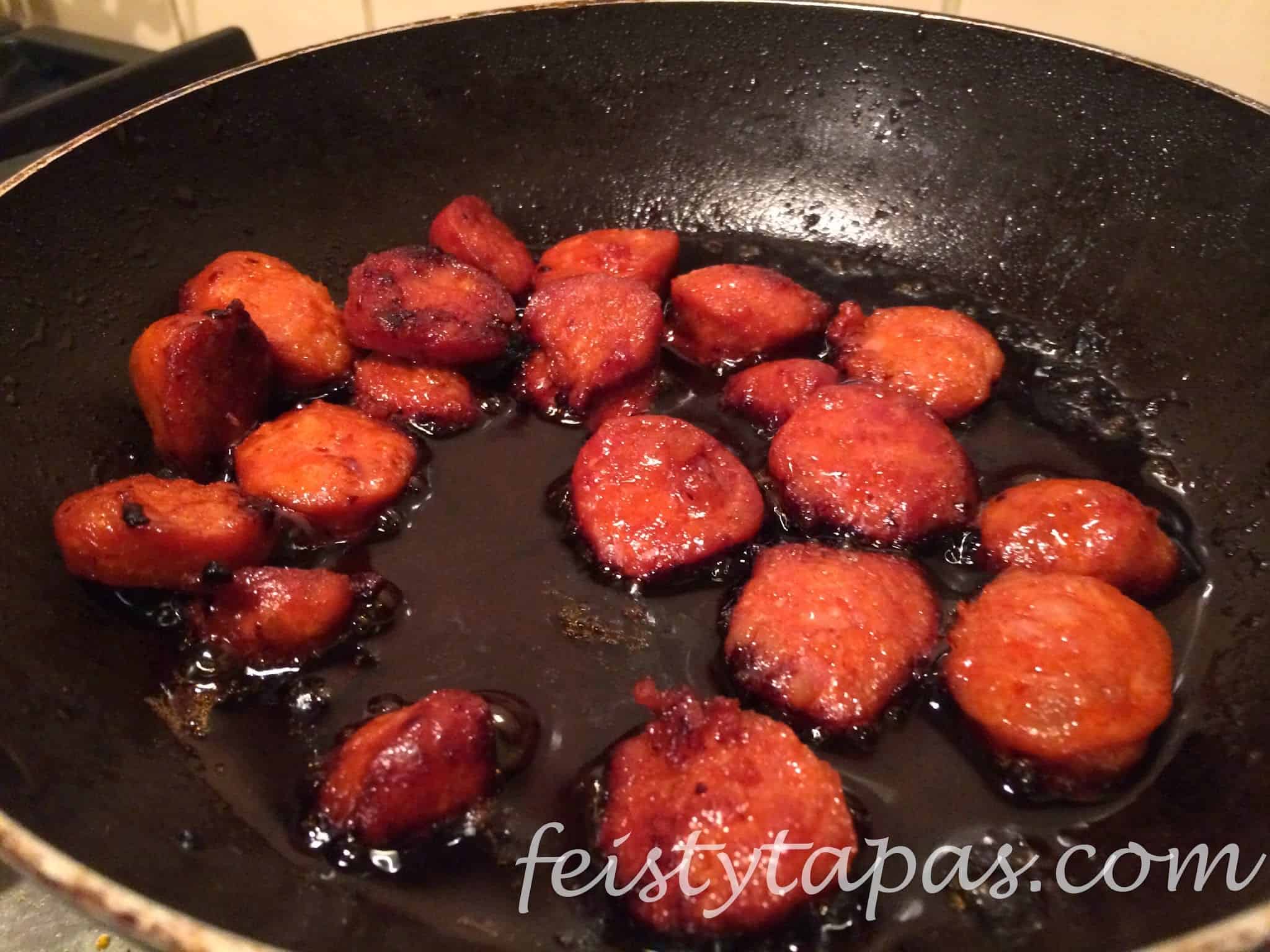 ...to this (excuse the bad photo quality, we are working on better kitchen lighting
2. Lightly warm the pita (I do it in the toaster), you don't want it too hot or you will burn your fingers when you cut it in half and open the pocket up. Fill it first with hummus and then with chorizo slices, if you're feeling naughty drizzle the inside with a bit of the chorizo juices left in your frying pan.
Serve with Spanish flair (and perhaps a salad).
Bocadillo de pan de pita con humus y chorizo
Ingredientes 
- 1 chorizo por persona, cortado en rodajitas de medio centímetro
- Un buen chorrito de vino tinto (vino blanco, cerveza o salsa Perrins), opcional
- 1 pan de pita por persona
- Humus
Método
1. Calentar una sartén a fuego medio-alto, freír el chorizo. Cuando esté doradito, añadir el vino, la cerveza o la salsa Perrins, dejar que se evapore.
2. Calentar el pan de pita, no demasiado porque al cortarlo por la mitad para rellenarlo os podeis quemar los dedos. Rellenarlo de humus, añadir las rodajitas de chorizo y hasta un poquito de la salsita que os queda en la sartén (o atacadla armados de un buen trozo de pan).
A disfrutar. Bueno, ya me contareis si os gusta.
0