Below you will find all my Instant Pot recipes in one place so that you can have a quick look when you need inspiration.
All these recipes use UK ingredients and measurements.
I thought I'd mention a few of my (and my readers' favourites).
Just in case you don't know what to decide when you scroll down to find the recipes.
Some of my favourite Instant Pot Recipes
Two very popular Chicken recipes are:
A very popular Pasta recipe for beginners is:
As for Soups, these two are amazing but there are lots more to look out for:
And two very popular how-tos are:
Want daily inspiration?
Join my Facebook group here.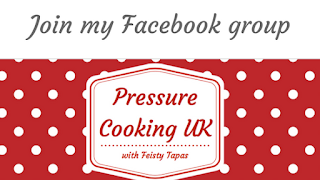 Newsletter
Make sure you sign up for my newsletter to be kept up-to-date of any new recipes.
Click / tap on the image below or here to go to the sign-up form.