Delicious vegetarian meat-free Instant Pot Mushroom Bolognese ready in no time and full of flavour.
With an option to make it vegan too.
It's so easy to cook, it takes hardly any time. A total of about 15 minutes.
What to serve with Instant Pot Mushroom Bolognese?
This Instant Pot Mushroom Bolognese is great with any kind of pasta. Especially linguine or spaghetti but any shape will do, including penne.
Also great as a meat-free replacement for the ragú, savoury mince or meat sauce in a vegetarian or vegan Cottage Pie or Shepherd's Pie with either mashed potatoes or sweet mashed potatoes.
Basically, just use it as you would a bolognese sauce, ragú or savoury mince.
It's a fantastic meatless pasta sauce, that's for sure.
It would also be delicious over a jacket potato.
Does it taste very mushroomy?
I know what you mean and funnily enough, it doesn't!
Of course, it's a meat-free ragú so the taste is not exactly the same as that of a meat sauce but it's a fantastic vegetarian or vegan substitute.
The added ingredients like the celery and the soy sauce contribute to amazing flavours.
It's also a thrifty dish perfect for Meatless Mondays.
Does this pressure cooker Mushroom Bolognese freeze well?
Yes, it does. And, in fact, you can use my method for reheating food from frozen in the Instant Pot.
Can I reheat from frozen and add pasta for an all-in-one pasta dish?
Yes, you can. I tend to portion up and freeze in plastic containers, the takeaway type.
Then I add 200 g of pasta to the inner pot, 300 ml cold water, stir as best as I can, and then place the frozen block of Instant Pot Mushroom Bolognese on top.
Press Pressure Cook. Programme 5 minutes and do a 5-6 minute quick pressure release at the end. Give it a good stir at the end.
When using long pasta, some of it can clump up but a good stir should sort that out.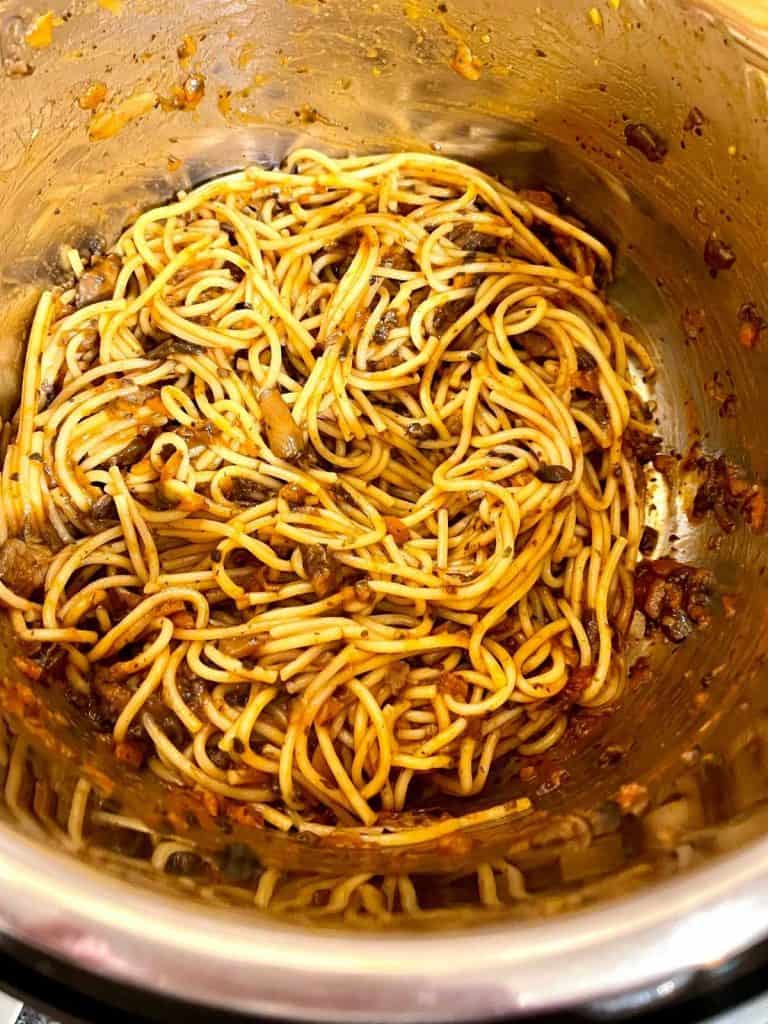 Other recipes you might like: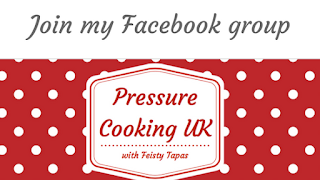 Want to keep track of all your recipes and thoughts?
Check out the new Feisty Tapas stationery line over at Amazon.
Available in all amazon websites, I have had a huge amount of fun creating these for you.
This video tells you all about the first three notebooks I have designed.
As an Amazon Associate I earn from qualifying purchases, you don't pay a penny extra though.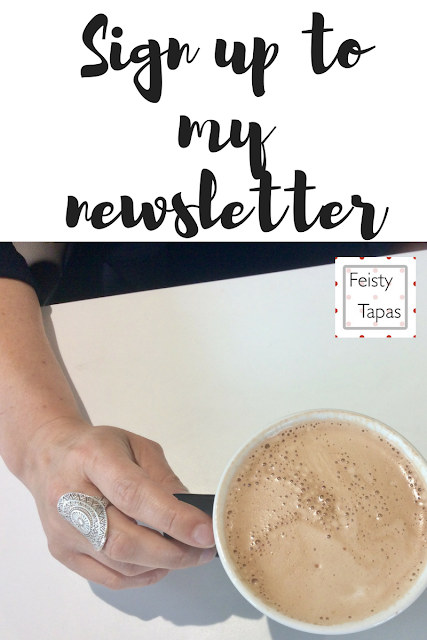 📖 Recipe
Instant Pot Mushroom Bolognese
Delicious vegetarian meat-free Instant Pot Mushroom Bolognese ready in no time and full of flavour
Equipment
Instant Pot or pressure cooker
Ingredients
1

teaspoon

olive oil or oil of your choice

or a bit of water, if you plan to sauté

1

onion

chopped

2

plump garlic cloves

chopped

1

stalk celery

chopped fairly small

1

carrot

chopped

380

g

mushrooms

chopped (see Thermomix instructions below or use a food processor)

400

g

bottle of Mutti Passata

1

teaspoon

soy sauce

1

dash

Fish sauce

do not use if you want to keep vegan, you can skip it or you could increase the soy sauce a tiny bit

1

teaspoon

vegetable stock paste

optional, it adds flavour but the sauce will still have tons of flavour without it. See link to the Vegetable Stock Paste in the Notes section

1

teaspoon

Mixed herbs / Italian seasoning
Instructions
Have you got a Thermomix? Chop the onion, garlic, celery and carrot for 5 seconds on speed 5 and transfer to the Instant Pot's inner pot. Then halve the mushrooms and chop them 2 seconds on speed 4, open up and scrape down the walls. Chop 2 more seconds at speed 4. You could also do it in a food processor.
Press Sauté, add to the inner pot: 1 teaspoon of oil of your choice along with the chopped onion, garlic cloves, celery and carrot. Set to Sauté - Less if the heat feels too fierce. You can skip this Sauté step, stir all ingredients together and go straight to step 3.

Stir in the chopped mushrooms, passata, herbs, soy sauce, fish sauce and vegetable stock paste (if using). You can add a bit of water to the empty passata bottle and rinse it around to get every single last drop or you can do it at the end. This recipe doesn't really require adding extra liquid as the mushrooms will release a lot of liquid, helping your pressure cooker reach pressure.

Press Cancel. Check that the sealing ring is properly in place in the lid. Lock lid in. Steam release set to Sealing.

Press Pressure Cook and programme 3 minutes, high pressure, at the end of pressure cooking time wait 3 minutes and then do a quick pressure release. Don't worry if you're not around to do the quick pressure release, let it be on keep warm and enjoy life. Give it a good stir at the end.
Notes
You can skip the Sauté stage and just mix all the ingredients together at the start.
It keeps well in the fridge for 3 days and you can freeze it and use from frozen in your pressure cooked dishes.
Make your own Vegetable Stock Paste concentrate.
*Instant Pot Terminology
Quick pressure release (QPR, also called quick release or QR) means venting the steam as soon as the pressure cooking process finishes, i.e. moving the steam release handle from Sealing to Venting.
Natural pressure release (NPR, also called natural release or NR) means letting the float valve pop back down of its own accord, so basically you don't need to do anything at the end and can keep your feet up. If it takes over 15 minutes, you're ok to release the rest of the steam (by turning the steam release handle to Venting) that may be left in order to unlock and open the lid.

 
Sometimes you'll see me talk of a combination of NPR followed by a QPR. For example a recipe may have a 4 minute NPR followed by a QPR. You wait for 4 minutes at the end of the pressure cooking time and then do a QPR by moving the steam release handle from Sealing to Venting.

 
Nutrition
Calories:
45
kcal
Carbohydrates:
9
g
Protein:
3
g
Fat:
1
g
Saturated Fat:
1
g
Polyunsaturated Fat:
1
g
Monounsaturated Fat:
1
g
Cholesterol:
1
mg
Sodium:
130
mg
Potassium:
425
mg
Fiber:
2
g
Sugar:
4
g
Vitamin A:
1536
IU
Vitamin C:
8
mg
Calcium:
22
mg
Iron:
1
mg
Share on Facebook
Have you tried this recipe? What did you think?
Don't forget to join my Pressure Cooking UK with Feisty Tapas Facebook group.
Love kitchen gadgets in general? You're the going to feel right at home in my Kitchen Gadgetry with Feisty Tapas Facebook group.
Maria
18