All my Instant Pot Duo Crisp recipes at a glance in one place.
All with UK ingredients and measurements.
You can also use any of my Instant Pot recipes in the Duo Crisp.
But the Crisp is not your usual Instant Pot so the recipes below showcase that very handy added feature it has: the air fryer lid!
With the Crisp you can pressure cook or slow cook (even sous vide).
Then pop the air fryer lid on to brown.
Or you can use it as an air fryer without the need to cook first.
It air fries, roasts, bakes and dehydrates!
The best advice I can give you for your Duo Crisp is to think of it as a Mini Oven.
Use the space inside as if it was an oven that doesn't need preheating.
Because it's smaller than a conventional oven, things will often cook faster.
Want daily inspiration for your Instant Pot? Join my Facebook group here.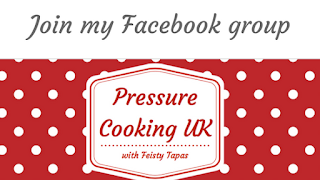 Below is a video of one of my favourite Crisp recipes, the Crustless Quiche.