A classic of the British festive season is the Christmas Pudding, in this post I share Catherine Phipp's Pressure Cooker Christmas Pudding recipe as well as a video tutorial filmed when Catherine came to film at The Kitchen Gadget Hub.
Please note that this post is long so that you have every single detail you might need in one place as every year there are a lot of questions about how to pressure cook a Christmas Pudding and I don't want to be sending you around in circles.
The blurb before the actual recipe is essential reading and it's laid out that way precisely so that you get all the information you need before you dive in.
The photos will hopefully help but I strongly recommend watching the video too.
You can use any recipe you like for Christmas Pudding, they all steam in the same way - just use the timing guide below for the different sizes of pudding basins.
Jump to:
Ingredients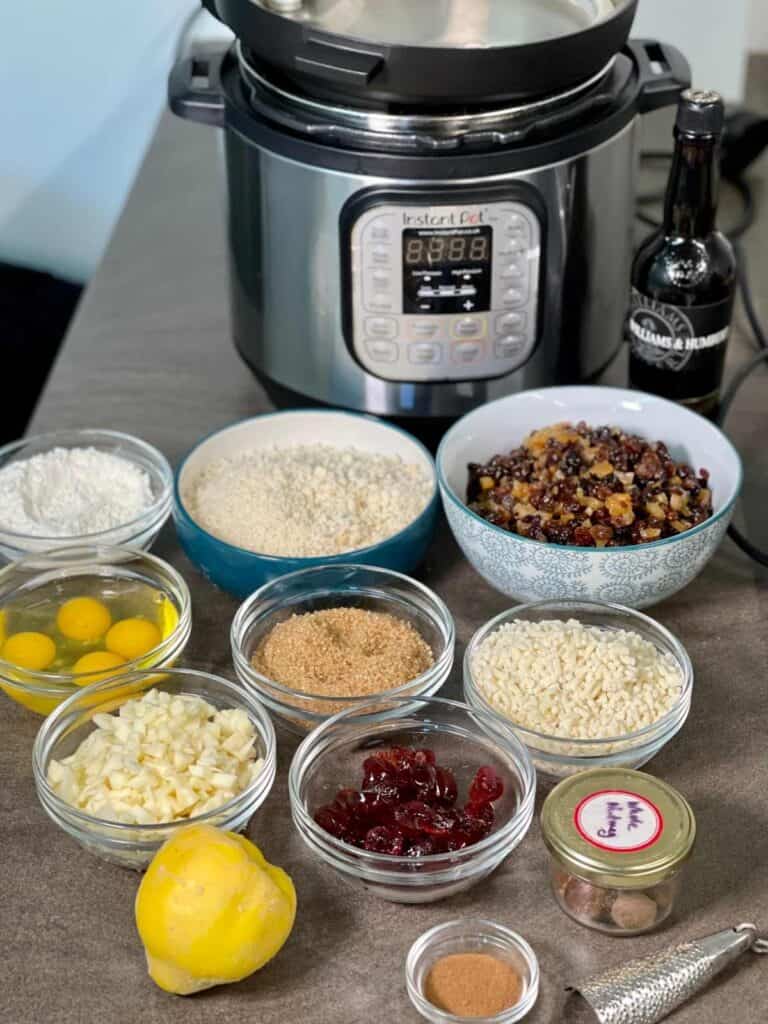 Dried fruit (in our Pressure Cooker Christmas Pudding video, Catherine and I used: raisins, sultanas, currants, chopped prunes, chopped pears, a mix of orange and lemon candied peel and yuzu, zest of one orange, we would have added quince too but to be honest we totally forgot!), all soaked in rum. A tip that Catherine got from Nigella Lawson years ago is adding marron glacés.
Self-raising flour
Bread crumbs
Suet
Sugar
Grated apple
Eggs
Spices
See recipe card, below, for exact quantities
Instructions
Mix all ingredients as per the instructions in the recipe card. Use a big mixing bowl.
We used a 6 litre Instant Pot stainless steel inner pot as a mixing bowl and it was the perfect size.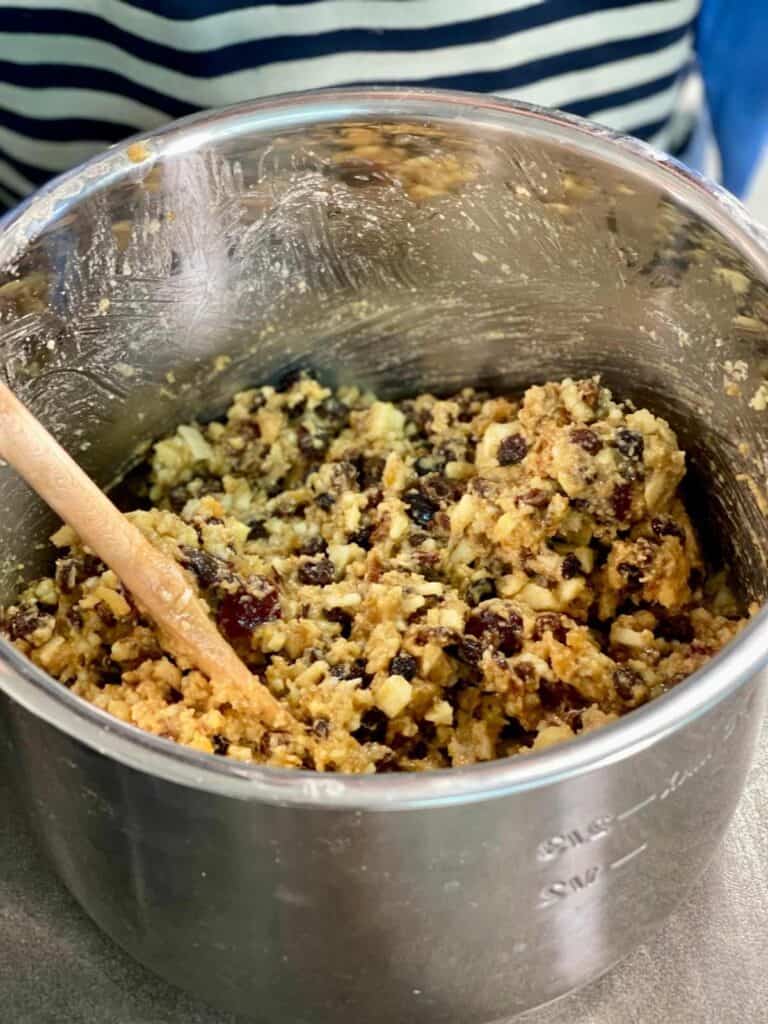 Transfer to pudding basin or basins. We used two medium ones here.
Cover with greaseproof paper.
Form a pleat in the greaseproof paper.
Tie with string or a elastic band.
Greaseproof paper all secured.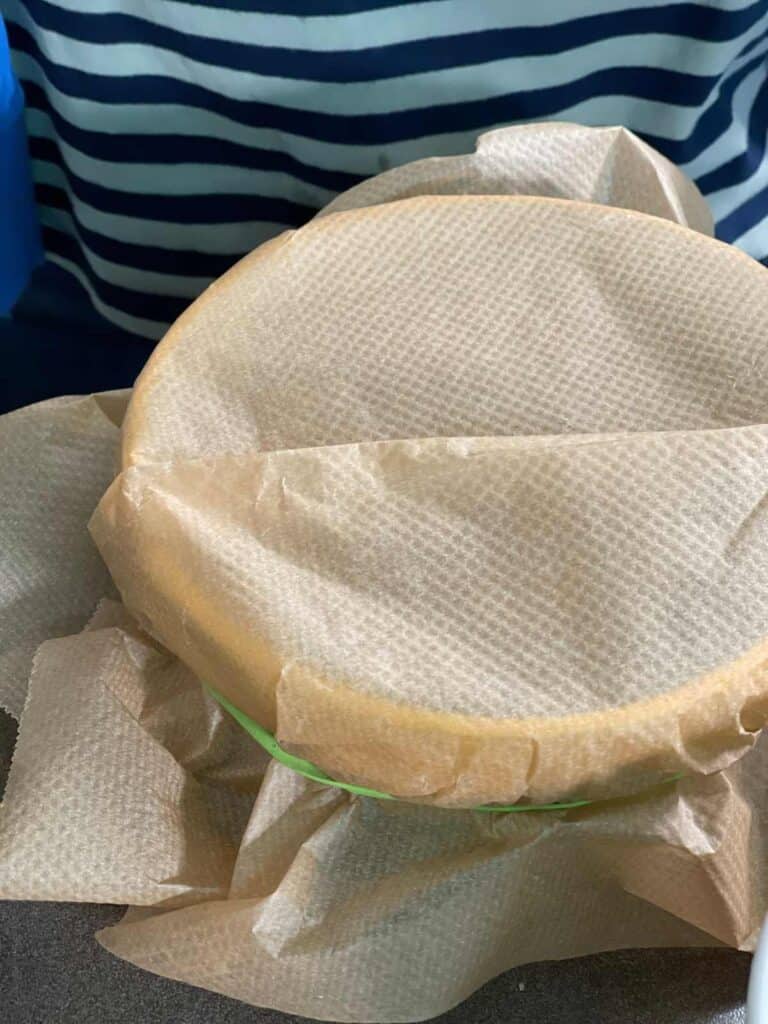 Pressure cook
After the natural pressure release, remove the pudding basin carefully (a long handled trivet or a foil sling will be handy for this part).
You can leave your pressure cooker Christmas Pudding on Warm in your electric pressure cooker as long as you want really.
Once removed from the pressure cooker, let it cool down completely at room temperature.
Store following the instructions below.
Full cooking instructions are in the recipe card below, including how to reheat on Christmas Day.
Tip:
If you want to make sure that it's cooked right through to the middle: use a thermometer probe like the Thermapen to make sure it's at least 98ºC.
It should be still at that temperature after a natural pressure release.
If you leave it on keep warm for a few hours, that temperature will of course drop down.
Substitutions
Suet: Catherine doesn't advise vegetarian suet as it has palm oil. You get a much softer crumb if you use butter. She thinks it could be done with coconut oil, one to test!
Rum: play with other spirits of course! But the spiced flavour of rum is a winner.
Either leave in the basin if you don't need to use it or wrap up sterilised muslin followed by some thicker fabric - eg, tea towel.
Top Tip
Forgot to soak your dried fruit? Catherine has come up with a method to quickly soak dried fruit in a pressure cooker.
From Catherine:
It is more effective than soaking large amounts of fruit in the tiny amounts of liquid most recipes call for.
This is the method I usually use for soaking.
If you use this method, your fruit will be immediately plump and glossy.
Simply put your dried fruit in the pressure cooker and add whatever liquid your recipe calls for. A general rule of thumb is 500g dried fruit needs around 150ml liquid to just cover it.
Close, bring up to high pressure and immediately remove from the heat. In an electric pressure cooker this means programming 0 minutes.
Allow to drop pressure naturally (natural pressure release, NPR).
Stir in a couple more tablespoons of alcohol for flavour - it will absorb quickly in the residue heat - and leave to cool. It's now ready to use!
Tip: This works not only with alcohol, but with other liquids too - I use it to soak fruit in tea for a tea bread.
Storage
Better than cling film / foil / baking parchment.
Or take it out of the pudding basing and wrap it, just make sure it has cooled down fully before you wrap it. And use very clean materials.
The high alcohol content means that, as long as the pudding is stored properly, it can keep for a long time.
Tip to sterilise muslin:
Scald the muslin with boiling water. Wring it out. Dry it. Use it.
Won't the pudding go mouldy?
It seems mould can happen above all when using greaseproof paper and foil or materials that are not very clean, also when the pudding hasn't been stored when totally cool and dry.
You have to ensure the Christmas Pudding is dry before you put it away, then wrap in greaseproof and foil or a sterilised muslin…
Then check it after a few days and rewrap in fresh greaseproof and foil if that's what you used as, of course, fabric is more breathable but no harm rewrapping in sterilised muslin again too!
If you do this your puds will keep for years. Although this paranoid Spaniard reckons eat it before 6 months.
Equipment for a Pressure Cooker Christmas Pudding
This recipe is enough to fill:
2 x 750 ml or 1 litre basins
1 x large 1.5 litre basins
8-10 mini basins
This recipe will also halve easily. Just stick to the timings above for the size of your pudding basin.
You need at least a 6 litre / quart pressure cooker for the largest size. 
We used an electric pressure cooker and a stove-top pressure cooker for the video:
Catherine used the WMF
We used two 1 litre basins for the video.
A white Mason Cash pudding basin, this one was Catherine's
A yellow The Kitchen Pantry Pudding Basin which I bought locally at Cutlacks in Ely (yes, I bought it because it's pretty!)
There are lidded pudding basins that are metallic and plastic pudding basins, I don't really trust the latter as the lids have been known to warp under pressure.
Three things to look at when buying a pudding basin are:
diameter (needs to be 2 centimetres smaller in diameter than your inner pot or the inside of your pressure cooker for the steam to circulate safely)
height (can't be too high for your pressure cooker and it definitely cannot sit against the valves for your safety!
handles, does it have handles? are they accounted for in the diameter?
As an Amazon Associate I earn from qualifying purchases, you don't pay a penny extra though.
My advice is to get a medium basin so that you can pressure cook my Chocolate Pudding!
Although the mini ones are also handy for my Spanish Flan de Huevo. And for my Air Fryer Egg Pots.
Okay, get both medium and mini pudding basins!
How to make a foil sling to lower and lift the pudding basin
Take a long length of foil and fold twice, lengthways, so it is 4 ply.
You will end up with a very sturdy length of foil which you can use to lower your pudding into the pressure cooker.
If using the foil, place the pudding in the centre of it and lift it into the pressure cooker, placing either on a trivet or onto a folded up piece of cloth - it is not necessary for the basin to be suspended above the water
Or you can use a trivet, preferably a sturdy one with long handles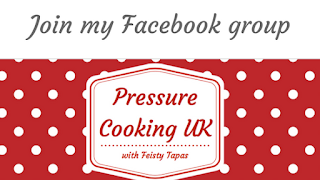 Why pressure cook your Christmas Pudding?
Traditionally, Christmas puddings are boiled on the stovetop for 8 hours, continuously releasing steam into your kitchen and having to keep an eye on the water level.
With a pressure cooker, there's hardly any evaporation, hardly any steam being released into the kitchen and, with electric pressure cookers, no babysitting involved so you can just leave it to do its thing from beginning to end.
When to pressure cook it
Stir-Up Sunday is, traditionally, the day Christmas Pudding is made!
Do an online search for Stir-Up Sunday to find out the exact date.
Everyone in the family takes turns stirring the pudding and makes a wish.
It gives the pudding a few weeks to mature before Christmas Day.
Tip: Pressure cooking your Christmas Pudding nearer Christmas Day?
Cooking it longer means you can reduce the maturing time as you're getting more flavour in during the cooking process.


How to eat a traditional British Christmas Pudding
Every family has a different way of eating it.
In Catherine's family, they place a sprig of holly on the top, foil-wrapped so not to put it directly in the pudding as it's toxic.
And they flame it, which is very important.
Another tip from Nigella Lawson, this time for flaming: use vodka.
Vodka is the spirit that burns best, the longest and creates the bluest flame.
Heat a ladle full of vodka over a flame or in a small saucepan. Pour it over the pudding. Turn down the lights. Sit and watch it burn.
How does YOUR family eat Christmas pudding?
How to serve Christmas Pudding
However you like.
With rum sauce, cream, ice cream, brandy butter…
Tip: How to make brandy butter
Melt together sugar, butter and alcohol. You can add a bit of cream if you want a rich creamy one but Catherine loves the sugar and butter.
You don't have to use brandy for brandy butter. Catherine Phipps loves using rum.
Calvados is really nice if you've used apples in your pudding.
Christmas pudding is quite alcoholic so, if you don't drink very much, go easy. It's very rich anyway so you will only need a little bit.
What can you do with left over Christmas pudding?
Fry it! Catherine says that it's great fried. Or in trifle.
Catherine loves to cut slices of it or crumble it up and heat butter and sugar or maple syrup (or your choice of sweetenerI).
Fry it in a frying pan until it goes crispy round the edges and then eat that with big piles of creme fraiche.
Or with fried sliced apples or apple compote.
Or put it in a warm trifle.
So, instead of a chilled trifle, use the Christmas pudding, you have to work quickly so you've got your regular layers in but put the fried Christmas pudding layer in the middle of it.
The other Christmas Pudding Trifle layers would be:
a sponge layer
sherry
Amaretti biscuits
A layer of fruit (poached pears or mandarins, even tinned mandarins or Spanish jarred mandarins)
📖 Recipe
Catherine Phipps' Pressure Cooker Christmas Pudding
One of the biggest time savers - and water savers too - is making steamed puddings in the pressure cooker. You can use any recipe you like for Christmas Pudding, they all steam in the same way - just use the timing guide below.
Equipment
This recipe is enough to fill 2 x 750ml basins, 1 x large 1.5l basins or 8-10 mini basins, but it will halve easily. You need at least a 6l pressure cooker for the largest size.
Ingredients
500

g

dried fruit

raisins, sultanas, currants, chopped prunes, pears, dried blueberries, glacé cherries etc

75

g

candied peel

finely chopped (I buy or make large pieces and finely chop, the flavour is much better)

175

ml

rum or brandy

125

g

self-raising flour

1

teaspoon

cinnamon

½

teaspoon

allspice

¼

teaspoon

ground cloves

¼

teaspoon

ground cardamom

¼

teaspoon

ground mace

150

g

fresh breadcrumbs

175

g

shredded suet

175

g

dark muscovado sugar

4

eggs

150

g

grated quince or apple or a mixture of both

don't worry if you have more of one than the other (you can easily go over this quantity of grated fruit)

zest of 1 orange
Instructions
Soak the dried fruit
First, either soak your dried fruit in the rum over night or quick soak in the pressure cooker, using just 150ml of the rum and adding the remaining 25ml when you remove the lid.
Mix the ingredients
Mix all the remaining ingredients together with a generous pinch of salt, then add the fruit. Get every member of the family to stir and make a wish, then pile into pudding basins, making sure you have pushed the mixture down well to reduce the risk of air pockets.
Use a sling or long-handled trivet / steam rack
Use a sturdy trivet with handles or fold a pleat into foil or baking parchment and secure around the top of the basin - you can tie with string, making a handle at the same time, or just fix into place with an elastic band.

If not making a handle with string, take a long length of foil and fold twice, lengthways, so it is 4 ply. You will end up with a very sturdy length of foil which you can use to lower your pudding into the pressure cooker.

If using the foil, place the pudding in the centre of it and lift it into the pressure cooker, placing either on a trivet or onto a folded up piece of cloth - it is not necessary for the basin to be suspended above the water.
Pressure cook
Add around 3 cm water to the base of the cooker. The exact amount of water will depend on the diameter of your pressure cooker.

Bring up to high pressure (in electric pressure cookers press Pressure Cook or Manual and programme the time).

Mini puddings: 40 minutesMedium pudding: between 1.5-2 hours, depending how dark you like itLarge pudding: 3 hours

Allow to drop pressure naturally, cool completely and leave somewhere cool and dark until you are ready to eat it. Read the how to store instructions in this post.
How to reheat
To reheat on Christmas Day:

Small puddings: 10 minutes at high pressureMedium and large puddings: 30 minutes at high pressure
Share on Facebook
Who is Catherine Phipps?
An expert in pressure cookers with a big focus on stove-top pressure cookers, Catherine Phipps lives in London with her family.
Make sure you follow her on Instagram and Twitter.
Catherine Phipps' Books
Modern Pressure Cooking: The Comprehensive Guide to Stovetop and Electric Cookers, with Over 200 Recipes (launching March 2022)
The Pressure Cooker Cookbook: Over 150 Simple, Essential, Time-Saving Recipes (one of my most recommended pressure cooking books) 
50