I grew up with Flan de Huevo (the Spanish version of Creme caramel) as a basic dessert, a treat after lunch out, above all surrounded with whipped cream. Delicious!
Flan de Huevo / Creme Caramel is cooked bain Marie, making a pressure cooker like the Instant Pot perfect for it!
The thing about Flan de Huevo / Creme Caramel is that it's actually rather easy to make but making the caramel is a hassle though, isn't it? Until I found THIS!! 
Yes, caramel all ready made for you. Say what??? I got mine from Ocado but it looks like Amazon has it too and, as it is a three pack, it may work out cheaper.
If you are way less lazy and fibromialgic than me, then you can make your own caramel of course.
The main thing to know when making Flan de Huevo / Creme Caramel is the ratio per large egg (am I the only one who has noticed that eggs are not as large as they used to be? Large eggs now are more like medium eggs a few years ago). 
Think one egg per person. In fact the ratio for one egg fitted perfectly in my Sainsbury's Mini Pudding Basins, which I highly recommend you get (photo at the end of this post). 
You can cook as many pudding basins as you can fit at the same time, the timings should be the same. Metal basins are best as the heat will get through faster. You could use other materials but you may have to increase the timings a bit.
Per large egg used 
you need 
– 85 ml whole milk at room temperature 
and 
– 1 tbsp sugar (I used golden granulated caster sugar), if you prefer it in weight this is 15 g
I wasn't very strict on the milk measurement and just filled just over the 80 ml line of the measuring cup that came with the Instant Pot. You could also weigh 85 g of whole milk.
Ready for the full recipe?
Instant Pot Flan de huevo (Creme Caramel)
Ingredients
85 ml whole milk per large egg, room temperature (I put mine in the microwave for 10 seconds)
1 tablespoon (15 g) golden caster sugar per large egg
Caramel* (see method below)
Equipment
Mini Pudding basin(s), one per egg (i.e. per person), mine are from Sainsbury's**
Method
1. Make the caramel or (like me) open the jar and coat the basin (bottom and a bit of the walls) in caramel. See method below if you want to make caramel yourself.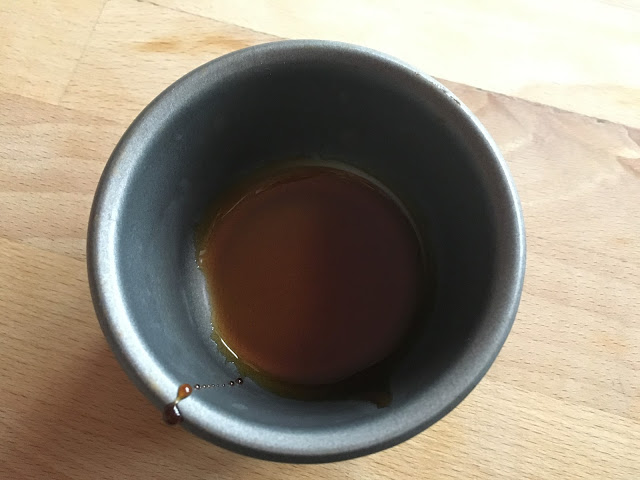 Step 1. Caramel
2. Beat the egg(s) with a fork in a plate for a few seconds until all yellow
Step 2
3. Add the sugar while you keep beating, try to dissolve as much as possible, you can stir to feel for the sugar for this purpose, but don't worry if you can still feel some sugar, I did and it was fine. 
Step 3
4. Then mix in the room temperature milk.
Step 4
5. Pour the mixture slowly into the mini pudding basin(s), over the caramel. You really want to fill the basin(s) all the way to the top so that, when you turn the flan / creme caramel over later, it doesn't have too much of a fall and there's less chance of it falling apart
Step 5

6. Cover the basin(s) with foil and secure with a rubber band 
Step 6
7. Pour 500 ml water (cold straight from the tap) in the inner pot. Trivet in place. Mini basin(s) on top of the trivet. 
Step 7: I cooked one, you can cook as many as you want (and can fit in the IP) at the same time
8. Press Manual, use the – and + buttons to programme 5 minutes, at the end wait 6 minutes (the Instant Pot will tell you how long it's been since it finished the pressure cooking cycle as per the photo below and then release the rest of the steam (if any) and remove the pudding basin. 
Step 8
9. Now, for the really hard part, let it cool down on the counter and then let it be in the fridge for a few hours, preferably overnight. It really needs this time to set properly.
Step 9: it has just pressure cooked and it needs to cool down before going in the fridge overnight

10. Turn onto a plate when you're ready to eat and dig in!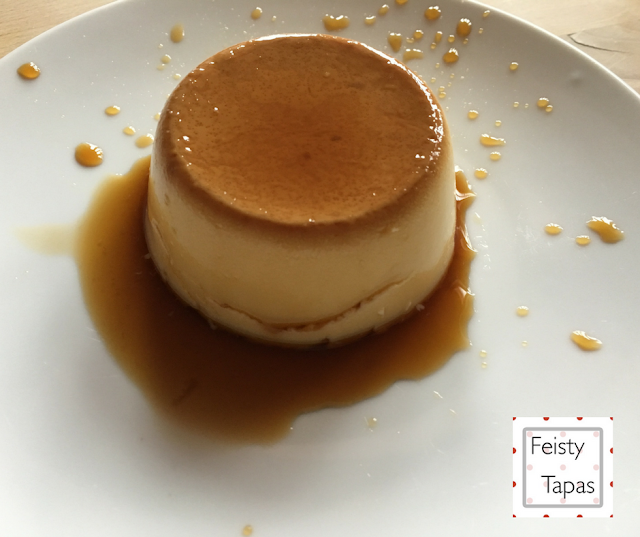 * Caramel 
5 tablespoons of sugar, 10 drops of lemon juice and a tablespoon of water on a low heat, stir stir stir and let the sugar dissolve, it will start getting the caramel colour until it's amber, this is the moment to remove it from the heat (do not overcook it and try not to burn yourself as it will hurt!) and use it to coat the bottom and a bit of the sides of the pudding basin
You will find all my Instant Pot recipes here.
**This post may contain affiliate links. That means that, while you don't pay a penny extra, I may get a few pennies back towards running the blog and the Feisty Tapas communities. Thanks for supporting Feisty Tapas**
7