Let me show you how to pressure cook Cranberry Sauce (with Instant Pot instructions) because it's so easy you will be doing it every year from now on!
Jump to:
FRESH OR FROZEN CRANBERRIES?
You can pressure cook Cranberry Sauce with both fresh and frozen cranberries and use the timings I give you in the recipe for both too. No need to change them.
Tesco tends to have 400 g bags of frozen cranberries, which I like to have in the freezer.
I was very lucky and this year the company I buy my Veg and Fruit Boxes from asked if any of their customers wanted fresh cranberries and I immediately put my hand up so, as you can see in these photos and video, this year I used those fresh cranberries.
So big shout out to Cheveley Fruit and Veg, I'm a full paying customer. The cranberries you see in this post are the ones I put my hands up for. If you're in Cambridgeshire or Suffolk, I highly recommend them.
HOW TO EAT CRANBERRY SAUCE
On the side of everything at Christmas!
Seriously, I love it with red cabbage, roasted veg, gammon, turkey and, of course, with all the trimmings on Christmas Day… even with Brussels Sprouts.
Also, chop up any leftovers (turkey, ham and some of the veg, place on bread and add a slice of cheddar or brie and it makes a fantastic toastie or panino!).
If you have an air fryer, you can do your toastie or panino there, start with 5 minutes at 180ºC and add time if the cheese hasn't melted. So good!
Cranberry Sauce is also delicious as a glaze for gammon or your Christmas Ham, my Cranberry-Glazed Gammon recipe has become a favourite.
Of course, another option, is by the spoonful but don't tell anyone about that… shhhhhhh.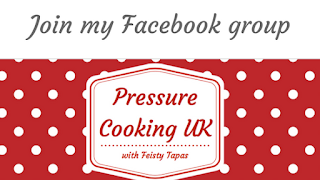 HOW MUCH DOES IT MAKE?
This Instant Pot Cranberry Sauce makes a 500 ml Kilner Jar worth of Cranberry Sauce.
It will be enough for quite a few people on Christmas Day if everyone is having it as a side.
Although I personally just like a little bit on Christmas Day and lots of it as leftovers for Christmas panini and toasties.
CAN I FREEZE THIS CRANBERRY SAUCE?
Yes you can. Pressure cook it and pop it in the freezer for Christmas Day.
CAN I DOUBLE THIS RECIPE?
I haven't tried it but I don't see why not.
You would need a bigger dish or bowl and you need to make sure that that dish or bowl is the right diameter for PIP (pot in pot) Instant Pot cooking.
In the photos I use the silicone cake pan and long-handled trivet from the Instant Pot Steamer Set.
I've also used a metal dish in the past.
WHAT POT OR PAN CAN I USE FOR THIS?
This recipe uses the Pot in Pot (PIP) method, which basically means cooking inside a second pot inside the inner pot.
You're looking for something that is:
Oven proof
2 cm smaller in diameter than the inner pot of your pressure cooker
Oven proof because you want it not to shatter when cooking
A smaller diameter than the diameter of the actual cooking pot of the pressure cooker for three reasons:
The steam needs to circulate safely, you're adding a solid pot to your cooker, you want to be careful
You're going to have to lower it and lift it (and it's going to be very hot when lifting it to take it out) so you're going to need the room to manoeuvre
Certain materials can expand as they heat up and let's just say that many a pyrex bowl, ceramic pot or dish has been lost to this
General maximum diameters for PIP in the Instant Pot are:
Mini / 3 litre / 3 quart : 6 inches - 15 cm
5.7 l / 6 litre / 6 quart: 7 inches - 18 cm
8 litres / 8 quart: 8 inches - 20 cm
Let's see how to pressure cook cranberry sauce.
📖 Recipe
How to Pressure Cook Cranberry Sauce (with Instant Pot instructions)
Delicious and super easy Cranberry Sauce you'll have ready in no time in your electric pressure cooker or Instant Pot
Equipment
1 Instant Pot or pressure cooker
Ingredients
340-400

g

cranbrerries, fresh or frozen

rinsed under the tap

½

orange, juiced and zested

juice was 2 tbsp, use the other half for my Instant Pot Red Cabbage recipe

1

stick

cinnamon

optional

1

tablespoon

golden granulated sugar for cooking. Then more sugar to taste at the end of pressure cooking

for me this can be between 1 tablespoon + 1 teaspoon and 2 full tablespoons. Add to taste. It highly depends on the cranberries, sometimes it's more like 2 tbsp
Instructions
Place cranberries in a bowl, add all other ingredients. No need to stir.

Add 250 ml water to inner pot

Pressure cook 5 minutes with at least 5 minutes NPR then let out the rest of the steam by doing a quick pressure release (see notes).

Open the lid, discard the cinnamon stick if you used one. Time to stir and squeeze, as you stir, press the cranberries against the sides or the bottom of the dish.

Stir in the rest of the sugar, to taste, for me that tends to mean stirring in 1 tablespoon then 1 teaspoon at a time. Depending on the cranberries something 1 tablespoon + 1 teaspoon added at the end will be enough, sometimes I need more like 2 tablespoons. This is going to depend on your taste. Transfer to a 500 ml jar.

Tip: Not always, but sometimes with frozen cranberries, you may find that it's too liquid at the end, discard the water from the inner pot and dry, tip the cranberry sauce and place on Sauté for a little bit if this happens. But before doing this, bear in mind that cranberry sauce thickens as you "stir and squeeze" and as it cools.
How to pressure cook Cranberry Sauce in the Tefal Cook4Me
Add all ingredients to the inner pot.

Select the Manual mode then Express Pressure Cooking and let the cooker do its thing.

Once it has automatically released the pressure at the end, open the lid and stir. Let it cool down and bottle up. You can easily do a double batch, I have, and added 3 tablespoons of vodka to my double batch
Notes
*Instant Pot Terminology
Quick pressure release (QPR, also called quick release or QR) means venting the steam as soon as the pressure cooking process finishes, i.e. moving the steam release handle from Sealing to Venting.
Natural pressure release (NPR, also called natural release or NR) means letting the float valve pop back down of its own accord, so basically you don't need to do anything at the end and can keep your feet up. If it takes over 15 minutes, you're ok to release the rest of the steam (by turning the steam release handle to Venting) that may be left in order to unlock and open the lid.

 
Sometimes you'll see me talk of a combination of NPR followed by a QPR. For example a recipe may have a 4 minute NPR followed by a QPR. You wait for 4 minutes at the end of the pressure cooking time and then do a QPR by moving the steam release handle from Sealing to Venting.

 
Nutrition
Calories:
40
kcal
Carbohydrates:
11
g
Protein:
1
g
Fat:
1
g
Saturated Fat:
1
g
Polyunsaturated Fat:
1
g
Monounsaturated Fat:
1
g
Sodium:
1
mg
Potassium:
68
mg
Fiber:
3
g
Sugar:
5
g
Vitamin A:
60
IU
Vitamin C:
14
mg
Calcium:
15
mg
Iron:
1
mg
Share on Facebook
Other recipes you might like:
6