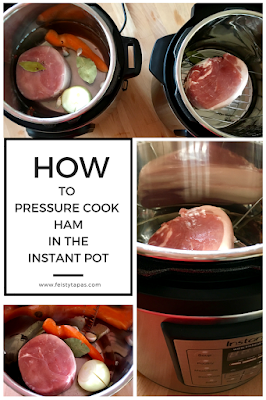 Pressure cooking a gammon joint or ham in your Instant Pot is easy and so tasty. Of course, you can also apply this method to bacon joints and ham hocks.
First of all, you might be wondering what is the difference between gammon and ham? It's as easy as gammon is ham in its raw state. Once gammon is cooked or cured, it is called ham. So, in order to have ham, you need gammon.
There are several methods to pressure cook your gammon to turn it into ham. Catherine Phipps' rule of thumb is to allow 10 minutes at high pressure per 500g for a sliceable ham, as the Instant Pot works at a lower psi, add a few minutes minutes to the time, making it more like 11 minutes per 500g, if you want to be on the safe side increase it to 15 (Marie, regular of the Feisty Tapas communities, reckons 15 minutes per lb, one lb is about 453 g). If you want a shreddable ham, increase the time even more.

There's now a lot of talk about 8 minutes per 500 g which doesn't work too well with huge joints, my almost-3-kg Christmas gammon wasn't fully cooked through at 8 minutes per 500 g so I had to give it a bit longer. It works great for smaller joints though, this week I tried it with a 1.3 kg joint from Aldi. I'm leaving this here as feedback, if you ever think your gammon is not as juicy as it should be. However, I will be sticking to longer cooking times than 8 minutes per 500 g personally.
I cook my 700 g gammon joints for 18 minutes. I know this is longer than the times stated above but it works for me every time as I tend to buy the same size joint. You can do more than one joint at the same time, I tend to do three 700 g joints in 18 minutes (mainly because Ocado tends to have 700 g gammon joints on offer). Increase the time for bigger joints.
If you haven't got Catherine Phipps' book, The Pressure Cooker Book, it really is worth buying. All recipes have familiar ingredients and measurements for UK Instant Pot users.
The beauty of the Instant Pot is that you can leave it unattended, no need to babysit it and, do not fret, there is no rattling and no hissing. It's silent. It's sturdy. It's very safe.
I tend to use unsmoked gammon joints. If yours is smoked, you can soak it but it might not be necessary. One way to tell if a smoked gammon needs soaking is by cutting a small bit off and quickly frying it until cooked, then tasting it, if it's not too salty, no need to soak. If it's only slightly salty, you can just boil it in fresh water, discard that water. Otherwise soak it.
Who fancies Ham, Egg and Chips then? As long as you don't forget that having cooked ham in your fridge is handy for adding to risottos, pasta sauces, pizzas or even just to snack on!
My two main methods to pressure cook a gammon joint or ham in your Instant Pot are:
On the trivet with water underneath
No trivet and tons of tasty stock for other uses
Let's look at all the details for each method.
How to pressure cook a gammon joint/ham in the Instant Pot
Method 1. On the trivet
Add 250 ml of water to the base of the inner pot, place trivet and then the ham on top. Lock the lid in, steam release handle pointing to Sealing. Press the Manual button and use the - and + buttons to the right time bearing in mind the rule of 11 minutes per 500 g of gammon joint, followed by a natural release (i.e. do nothing until the float valve pops back down). You can replace some of the water with cider, beer, wine, juice... You can save the liquid for adding to tasty risottos and soups.
Method 2. No trivet and tons of tasty stock for other use
Place gammon joint in inner pot (no trivet), add a peeled onion, 3-4 garlic cloves (unpeeled, whacked with the fist), 4-5 black peppercorns (really nice with the Szechuan ones as well), one bay leaf, one carrot and any veggies you may have going off. Cover with water, always being mindful of the two thirds mark as you're going to use the pressure cooking function (only ever fill a pressure cooker, conventional or electric, two thirds maximum). Lock in the lid. Steam release handle pointing to Sealing. Press the Manual button, adjust to the right time based on 11 minutes per 500 g, natural release. As above, increase the time for bigger joints but for this method I also do 2-3 x 700 g gammon joints for 18 minutes with natural release.
My Ham and Cabbage Soup is a delicious way of using up the ham stock. Check back soon as I'll be posting more uses for the yummy ham stock you'll have left.
Tip: If you want to glaze the ham. Coat it in the glaze of your choice and pop it into a hot oven for about 10 minutes. You can also spread the coating of your choice all over it and let it stand without popping it in the oven. One of my favourite glazes to use is this chilli jam (as recommended by Lucy, who also gave me a jar last year, I need more Lucy!).
Yes, I still love my Instant Pot, I now have both the DUO 7 in 1 and the LUX 6 in 1. The Instant Pot is a modern day electric pressure cooker that also slow cooks, steams, cooks rice, the DUO 7 in 1 even makes yoghurt. My favourite function of them all though is the automatic Keep Warm product that kicks in at the end of the pressure cooking and slow cooking
cycles.
Have you joined my Pressure Cooking UK with Feisty Tapas Facebook group? As Instant Pot's social media girl, I also run the Instant Pot® UK Community.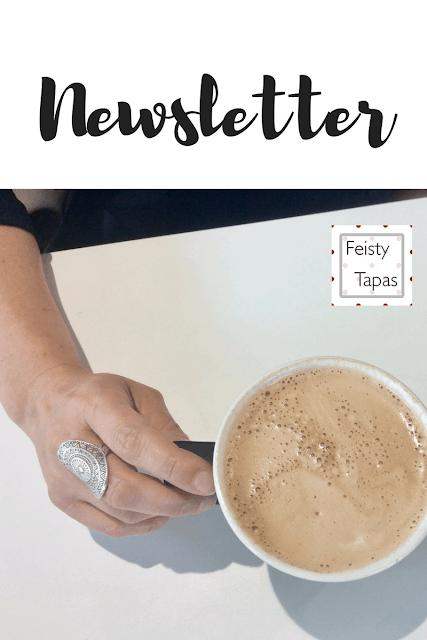 *This post contains affiliate links, thank you for supporting Feisty Tapas*
522