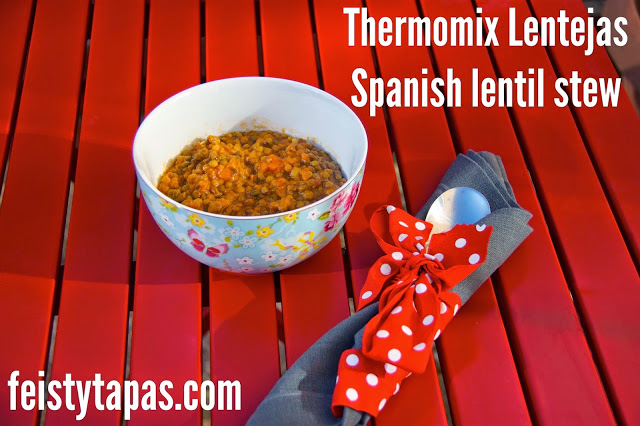 There are dishes that just take you back to your childhood, this is one of them, probably for any Spaniard. Lentejas are a classic of any Spanish household, it's a Spanish Lentil Stew with, of course, chorizo (you wouldn't expect any less from this blog, would you?).
Pronounced LEHN-TEH-HASS, you can totally make it vegetarian/vegan, just leave out the chorizo and you're done. Do add the paprika though as it will add to the flavour.
This is a humble dish, "un plato de cuchara" (a dish to be eaten with a spoon). Now that the Autumn has hit the UK this is perfect fare and, as you can see, it's not all that unhealthy!
Pardina lentils can be found in the UK, I noticed them in the Spanish shop La Plaza (Notting Hill) and if you do a quick search online you will find them too. But you can substitute with green lentils.
Find this recipe on The Thermomix Recipe Vault too, a fantastic collection of Thermomix recipes by bloggers from all over the world.
Make it vegetarian / vegan by leaving the chorizo out.
Lentejas / Spanish lentil stew with chorizo
Serves 4 (can be made bigger)


Ingredients
- 275 g pardina lentils or green lentils (you could increase the amount of lentils, just make sure you increase the amount of water too in that case)
- 200 g potatoes, peeled and cut in big chunks, I used King Edward
- 100 g carrot, peeled and cut in big chunks (1 medium carrot)
- 125 g onion, peeled and cut in big chunks
- 100 g red pepper, cut in chunks (you could also use green pepper, I just don't like it as much a red)
- 3 garlic cloves, peeled
- 20 g extra virgin olive oil
- 75 g chopped tomatoes-
- 1 tablespoon sweet Spanish paprika (Pimentón de la Vera)
- 80 g cooking chorizo, diced (you could add more if you want)
- 1 bay leaf
- 700 g hot water
- 1 teaspoon vegetable stock powder
- A good handful of parsley, chopped
- 1 teaspoon sea salt (I use Maldon)
- Black pepper
Method
1. Soak the lentils for a few hours or overnight.
2. Chop the carrot and potatoes: 4 seconds, speed 5. Reserve in a bowl.
3. Add the onion, red pepper and garlic to the bowl: 4 seconds, speed 5. Lower down anything that has climbed up the walls.
4. Add 20 extra virgin olive oil, 75 g chopped tomatoes and tablespoon of paprika: Varoma, 10 minutes, speed 1.
5. Rinse the lentils and add to the bowl along with the the reserved potatoes and carrots, diced chorizo, the bay leave, the 700 g hot water, 1 teaspoon vegetable stock powder, the parsley, 1 teaspoon salt and a good amount of freshly ground black pepper: 30 min, 100ºC, REVERSE, soft speed.
6. Have a taste, add more salt and black pepper if necessary, give it a stir. Serve.
3