Gammon is a Christmas and Sunday dinner classic and this Instant Pot Duo Crisp Cranberry-Glazed Gammon is so easy!
Jump to Recipe (but bear in mind there's lots of information below)
A Christmas Ham that you can cook all year round with any glaze!
I DON'T HAVE AN INSTANT POT DUO CRISP OR AIR FRYER LID, CAN I DO GLAZE MY GAMMON IN THE OVEN?
If you don't have the Instant Pot Duo Crisp or Air Fryer Lid, you will need a hot oven and two glazes too, it might take a bit longer to glaze in the oven. Make sure you preheat that oven well
SHOULD YOU CHOOSE SMOKED OR UNSMOKED GAMMON?
I always choose unsmoked gammon as I find I then don't have a need to rinse or soak to get rid of the saltiness.
However, some people do still find that unsmoked gammon can be quite salty for their taste.
A trick: To make sure that the gammon you bought doesn't need soaking, just slice a small bit and quickly pan fry it and taste it, this will reassure about salt levels for your own taste.
HOW LONG SHOULD YOU PRESSURE COOK GAMMON?
I have a full post about How to Pressure Cook a Gammon, make sure you have a good read as it has lots of details but, to cut to the chase, my favourite timing is 11 minutes per 500 g, so basically 2.2 minutes per 100 g (if that makes it easier for you to make the math).
So, for the 1.160 gammon joint that I used for this recipe, I multiplied: 11 x 2.2 = 24.2, so I just rounded up to 25 minutes.
It was perfect!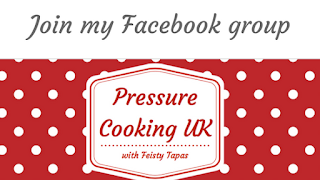 DO I HAVE TO USE THIS MUCH LIQUID?
No, you don't, in fact 500 ml will be enough and, in that case, you can put the gammon on the trivet.
That said, I love that gammon can be very thrifty and I like to make it go a long way.
So I cook it with plenty of water to make stock that I can then use in other dishes (with some of the leftover gammon too).
Some ideas to cook with the gammon stock and any left over gammon:
CAN YOU PRESSURE COOK CRANBERRY SAUCE?
Yes, you can, in fact my Cranberry Sauce recipe is so easy, you'll be pressure cooking it every year!
The cooked garlic cloves will be soft and delicious, squeeze the soft garlic (it's a bit like garlic purée) and blend with the carrot and some of the stock for a delicious sauce or make a soup.
DOES IT HAVE TO BE CRANBERRY GLAZED?
Of course not. You can use your favourite glazes and follow the method described here. You've got this!
WHAT OTHER GLAZES CAN I USE?
Honey and mustard, chilli jam, orange marmalade and even blueberry and lemon marmalade make fantastic glazes.
But, I loved loved loved this Instant Pot Duo Crisp Cranberry-Glazed Gammon.
PRESSURE COOKING THEN AIR FRYING GAMMON OR HAM
First we're going to pressure cook the gammon with the pressure cooking lid.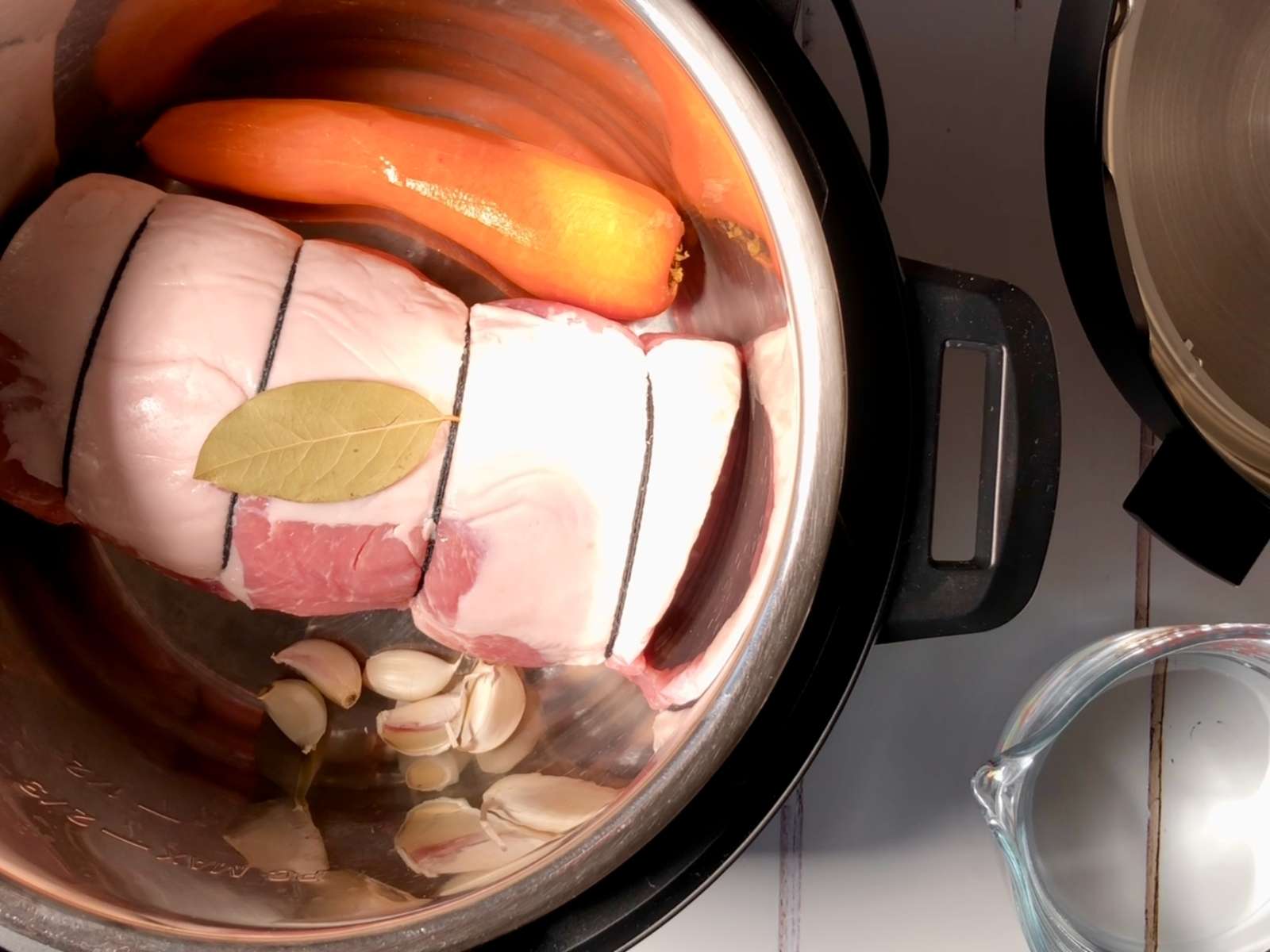 Then we're going to glaze it with the Air Fryer Lid, making the most of the Instant Pot Duo Crisp's additional air fryer functions.
📖 Recipe
Instant Pot Duo Crisp Cranberry-Glazed Gammon
Gammon is a Christmas and Sunday dinner classic and this Cranberry-Glazed Gammon in the Instant Pot Duo Crisp is so easy! Christmas ham doesn't get much more festive
Ingredients
1.160

kg

unsmoked gammon

this was the weight of my gammon, you can buy a smaller or bigger gammon, of course, just follow the guidelines in my How to Pressure Cook Gammon to find my pressure cooking timings with more guidelines in the recipe card below (I've got you covered!)

2

litres

water

cold

6-8

garlic cloves

1

bay leaf

1

carrot

large
Glaze
cranberry sauce

or, of course, glaze of your choice (honey and mustard, chilli jam and orange marmalade are great gammon glazes)
Instructions
Cook my Cranberry Sauce recipe, it's so easy! You can do this ahead or, if you have two Instant Pots or electric pressure cookers, cook the cranberry sauce while the gammon is cooking.

Place the gammon in the inner pot with the water, carrot and garlic cloves.

At the end of pressure cooking time, do a full natural pressure release if you have time. If you're out of time, you can release the rest of the steam trapped inside after 15 minutes but not any earlier, meat needs the natural pressure release or it can go tough.

Reserve the liquid (fantastic in soups and, of course, my Gammon Rice), clean and dry the inner pot and put back in the base. Or swap to a clean spare inner pot.

Place the joint directly on trivet / steamer rack OR on a dish on trivet / steamer reack like I did (mine is an enamel pie dish from Aldi) and apply half of the glaze.

Place Air Fryer Lid on, press Broil and programme 5 minutes at 204ºC / 400ºF then apply the rest of the glaze and broil for another 5 minutes at 204ºC / 400ºF.
Notes
*Instant Pot Terminology
Natural pressure release (NPR, also called natural release or NR) means letting the float valve pop back down of its own accord, so basically you don't need to do anything at the end and can keep your feet up. If it takes over 15 minutes, you're ok to release the rest of the steam (by turning the steam release handle to Venting) that may be left in order to unlock and open the lid.
Quick pressure release (QPR, also called quick release or QR) means venting the steam as soon as the pressure cooking process finishes, i.e. moving the steam release handle from Sealing to Venting.
Sometimes you'll see me talk of a combination of NPR followed by a QPR. For example a recipe may have a 4 minute NPR followed by a QPR. You wait for 4 minutes at the end of the pressure cooking time and then do a QPR by moving the steam release handle from Sealing to Venting.

 
Nutrition
Calories:
181
kcal
Carbohydrates:
1
g
Protein:
32
g
Fat:
4
g
Saturated Fat:
1
g
Polyunsaturated Fat:
1
g
Monounsaturated Fat:
2
g
Trans Fat:
1
g
Cholesterol:
90
mg
Sodium:
116
mg
Potassium:
554
mg
Fiber:
1
g
Sugar:
1
g
Vitamin A:
1285
IU
Vitamin C:
1
mg
Calcium:
24
mg
Iron:
1
mg
Share on Facebook
Other recipes you might like:


58