Looking for the Instant Pot Zero Minute Chicken Recipe? Look no further!
You may have reached this recipe because you're looking for the method.
Or perhaps because you can't wrap your head around how it works.
Fair enough! It is a bit mind-boggling at first so I thought we'd cover a lot of the questions you may be asking yourself in this post, as well as giving you the full recipe (and a video).
The Zero Minute Whole Chicken Method
Now, I cannot take credit for this method. The credit belongs to Amy and Jacky at Pressure Cook Recipes. Make sure you click through to the original recipe to read it as they put a lot of time and effort into developing this method.
In fact, the Instant Pot Zero Minute Chicken (the name UK Instant Pot users have given it) is a method that is frequently requested in my Pressure Cooking group and in the Instant Pot UK Community.
And these requests usually come with a lot of questions, so a while ago I thought I'd put a video together as part of my Kitchen Gadget TV I sometimes do in my Kitchen Gadgetry with Feisty Tapas Facebook group.
As my Kitchen Gadget TV Zero Minute Chicken is quite long and it includes air fryer talk but it seems to have a lot of answers (and it seems to have proven to a lot of you that the method indeed works, as well as how it works), I have trimmed and posted it here it so that we have a point of reference for it.
I've also adapted the method, a lot of us have in fact. It's been lovely to see what everyone has come up with for their Zero Minute Chickens.
This is very similar to the whole chickens cooked in huge pans on the hob in Spain. In fact, that's always the base of soups such as my Instant Pot Chicken, Leek and Carrot Soup which you could totally make after cooking chicken using the zero minute method.
I blogged something very similar at the beginning of getting my Instant Pot and if I was to blog it again or change it, I would change it to the Zero Minute Method.
The original recipe calls for a lot of salt and then the chicken gets covered in sauce and goes in the oven. A lot of questions revolve around this so I've simplified it.
By using the method but changing the recipe, we don't have to discard the stock at the end because it doesn't become too salty, in fact, it becomes delicious for soups and risottos.
In the video I cover how the method works but I also thought I'd answer some of the most frequently asked questions I've seen below:
How does the Zero Minute Chicken method work?
This is a question we are asked a lot! Basically, you put the chicken in the inner pot and cover it with cold water.
The water must be cold.
You set the Instant Pot to zero minutes pressure cooking time and the Instant Pot does its thing.
As the water heats up, the chicken starts cooking, or poaching.
As there is a lot of water, it takes its time to heat up and during that whole time the chicken is cooking.
Then it keeps cooking during the natural pressure release.
This is why it's important to use cold water. We're essentially poaching the chicken.
Make sure you watch the video to get a good idea and below you have the full recipe too.

But first, a few more questions to cover:
Does it really cook in zero minutes?
Zero minutes is the time you programme in your Instant Pot but, of course, the chicken is going to take time to reach pressure and then do a full natural pressure release, that time is all cooking time. Zero Minute Chicken is the name Instant Pot uses have given it, me included.
Why use cold water?
Because using hot or boiling water would shorten the time to reach pressure and your chicken wouldn't be able to cook fully. Stick to cold water. Do not be tempted to use hot or boiling water. I use it cold straight from the tap.
Why does it work?
Because you're covering the chicken with a large volume of cold water. The water is going to take its time to warm up and during that time the chicken starts poaching. Then it's going to continue to cook during the natural pressure release (NPR).
Can I actually programme zero minutes in my Instant Pot?
Yes, yes you can! Down from 1 is the 0 and that's what you will use for this recipe. Cool, huh?
What happens when I set my Instant Pot to zero minutes?
Once your Instant Pot reaches pressure, i.e. the float valve pops up, and the right internal temperature is reached, your Instant Pot usually starts a countdown. When you programme zero minutes it just beeps (if you have the beeping turned on) and goes straight to Keep Warm as it has no countdown to perform.
Leave Keep Warm on, it will help you track how long it's been on Keep Warm if you lose track of time.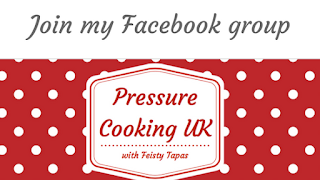 Will this method work with other cuts of chicken? For example, chicken breasts?
Yes, it will. Follow the same premise.
Can I put the carcass / bones back in when I'm done? For a richer stock?
Yes, you totally can. In fact I tend to myself. As it's a lot of poaching water and only one carcass, you could reserve some of the poaching liquid back and use less when you put the bones back in.
To make stock with the carcass: put the carcass and all or some of the poaching liquid back into your Instant Pot and pressure cook for 2 hours with NPR. You can pressure cook for less or more time of course!
What can I do with my leftover chicken and stock/poaching liquid?
Risottos, Soups, Pasta dishes and you can use it in any dishes where you would use water. Even handy as a substitute for water when cooking mash or rice. Go on, give it a go. Do not waste a drop.
Ready for the recipe?
📖 Recipe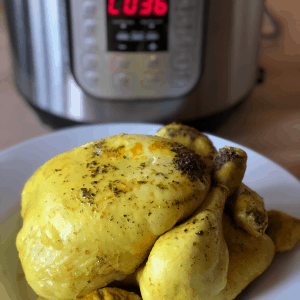 Instant Pot Zero Minute Chicken
Want to cook juicy, tender chicken that is zero effort? Then the Zero Minute Method is the Instant Pot method for you
Ingredients
1

chicken (NOT frozen) - 1.7 kg is a really good weight if you have a 5.7 litre / 6 quart Instant Pot. Any bigger and the method might not work great unless you have the 8.

it's worth untrussing it (removing the string) if it's very tightly trussed

1

teaspoon

sea salt

1

heaped teaspoon turmeric

2

bay leaves

A couple of celery stalks

cut into 3

1

heaped tablespoon of mixed herbs

1

tablespoon

of my vegetable stock paste concentrate

Water

cold from the tap, up to the ⅔ line (or 4 litre mark if you have an older inner pot)
Instructions
Place all the ingredients in the inner pot in the order mentioned, fill with the water up to the ⅔ line (or 4 litre mark if you have an older inner pot). Basically at least 90% of the chicken needs to be covered in water.

Press down on the sealing ring to make sure it's in place properly in its rack.

Lid on. Steam release handle pointing to Sealing.

Press the Pressure Cook or Manual button and use the - and + buttons to programme zero minutes.

At the end let it do a full natural pressure release. In the case of the 1.7 kg chicken a natural release takes about 22 minutes.

Check the temperature with a meat thermometer, it should be at least 75ºC.
Got an Air Fryer Lid? Use it to crisp it up
Cook the chicken as per the instructions, reserve the stock for risottos and soups and clean and dry the inner pot quickly.

place the chicken on a trivet if you have one (preferably with long handles and sturdy), lower the chicken into the inner pot.

Air fryer lid on, maximum temperature until the skin is crispy. Keep an eye on it as you don't want your chicken to dry out. Start with 5 minutes.

Of course, you can also move it to an air fryer to crisp up if it fits.
Notes
Play with the flavours, have fun!
Want crispy skin?
If you want you can place it in a very hot oven to crisp up but I personally don't. I like to keep it simple. To me this Zero Minute Chicken is Zero Effort Chicken.
My Vegetable Stock Paste recipe find it here 
Making Stock after cooking Instant Pot Zero Minute Chicken
Reserve the poaching liquid to cook risottos or soups. Optionally, you can place the carcass (once you've removed the meat) in the poaching liquid with some apple cider vinegar (which helps and pressure cook for 2 hours on high pressure with a natural pressure release for a more flavoursome stock. You can even roast the bones before adding them to the poaching liquid to do this.
Want to use the Instant Pot Duo Crisp Air Fryer lid?
Cook the chicken as per the instructions, as the Duo Crisp is an 8 litre you can get away with a larger chicken, I've done a 2.1 kg chicken that worked great! 
At the end, I moved the chicken to the long-handled silicone trivet and lowered it into a clean spare inner pot (make sure you empty your stock into a different container if you only have one inner pot so that there's no liquid left in your inner pot) and then crisped up on Broil (which is set at 204ºC). 
Natural Pressure Release (NPR) means letting the float valve pop back down of its own accord, so basically you don't need to do anything at the end and can keep your feet up. If it takes over 15 minutes, you're ok to release the rest of the steam (by turning the steam release handle to Venting) that may be left in order to unlock and open the lid. In the case of the Zero Minute Chicken it's important that you do a full NPR and let the float valve drop back down on its own.
Share on Facebook
177