My friend Angela bought an Instant Pot Duo on Prime Day. A few days after she received I went round her house to show her how to use it and we improvised this delicious Instant Pot Prawn, Courgette and Mushroom Risotto.
This risotto is a great beginner recipe that shows off the Sauté function of the Instant Pot, as well as the amazingly easy dish that is a pressure cooked risotto.
Jump to Recipe
You might also like my other risotto recipe, my Instant Pot Prawn, Trout and Pea Risotto.
If you haven't tried pressure cooking risotto and are used to doing it on the hob, you're going to notice how much easier Instant Pot risotto is. No need to hang around.
As your Instant Pot doesn't need babysitting, this recipe is also easier than on a conventional pressure cooker where you have to hang around to regulate the heat when it reachers pressure.
That's because the Instant Pot just does it all on its own. It reaches pressure and counts down on its own while you keep doing whatever you fancy doing?
In fact, what will you do while it's cooking?
Read a book?
Put your feet up?
Play with the children or grandchildren?
On the fence about buying an Instant Pot? Check out my Unboxing and Water Test videos.
It's so easy to use and there's so much help to use it regularly, plus of course this website is full of Instant Pot recipes.
Do let me know if you try it of course!
Have you joined my Pressure Cooking UK with Feisty Tapas group?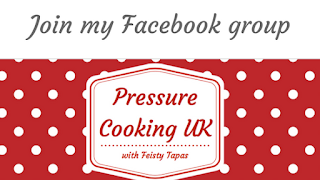 📖 Recipe
Instant Pot Prawn, Courgette and Mushroom Risotto
Pressure cooked risotto is not only delicious but it's easy and very hands-free. No more standing by the hob adding ladlefulls of stock. This is the perfect beginner recipe
Ingredients
1

onion

chopped

3

garlic cloves

chopped

1

celery stalk

chopped

1

courgette

sliced into half moons

6-8

mushrooms

sliced in wedges

1

glug

white wine

if you don't have any, don't worry, just use some of the stock

150

g

arborio risotto rice

100

g

frozen prawns

400

ml

water from the kettle

2

tablespoons

vegetable stock paste

heaped, make my vegetable stock paste
To serve (optional but it's so good!)
Instructions
Press Sauté, adjust to Less* and add 1 tablespoon of extra virgin olive oil. Add the onion, garlic and celery and stir to coat in the olive oil. Put the Instant Pot glass lid on or a lid that fits. After 3-5 minutes add the courgette and the mushrooms and stir. In total the vegetables should be on sauté for about 10 minutes, stirring occasionally.

Dilute the vegetable stock paste in the hot water

Add a glug of white wine (or a glug of the stock) and stir in the risotto rice, let it sauté for a couple of minutes, stirring. Deglaze by adding a splash of stock and scraping the bottom of the inner pot with a wooden spoon to make sure any caramelised bits are removed.

Stir in the prawns.

Pour the vegetable stock in while you stir.

Make sure the sealing ring is in place and press it down following its circumference a few times as you press it down. Steam release handle pointing to Sealing. Pressure cook on high pressure for 5 minutes.

At the end of the 5 minutes wait a few seconds for things to settle inside and do a quick pressure release**.

Risotto is supposed to have a bit of bite, if you want it softer, put the lid back on whether fully or loosely and the rice will keep cooking in the residual heat.

You can stir in a knob of butter at this stage. No cheese in seafood risotto.
Notes
My advice to make life easier, add the ingredients to the pot as you chop them in the order they show in the ingredients list.
Vegetable Stock Paste recipe here
Short of time? Skip the first step, it won't be the same but sometimes life just throws us curveballs
Have homemade chicken or gammon stock at home? Use it for this recipe
Want to double it up? Feel free. The timings remain the same. Just remember rice expands so you can only fill up to the half way line (the ½ line of your inner pot).
How to set your Instant Pot to Sauté Less: Press the Sauté button immediately followed by the Adjust button to adjust to Less (or if you have v3 of the DUO, press Sauté a few times until it's set to Less)
How to set your Instant Pot to Sauté More: Press the Sauté button immediately followed by the Adjust button to adjust to More (or if you have v3 of the DUO, press Sauté a few times until it's set to More)  
*Terminology
Quick release (also called quick pressure release or QPR) means venting the steam as soon as the pressure cooking process finishes, i.e. moving the steam release handle from Sealing to Venting.
Natural release (also called natural pressure release or NPR) means letting the float valve pop back down of its own accord, so basically you don't need to do anything at the end and can keep your feet up. If it takes over 15 minutes, you're ok to release the rest of the steam (by turning the steam release handle to Venting) that may be left in order to unlock and open the lid.
Sometimes you'll see me talk of a combination of NPR followed by a QPR. For example, if a recipe says to do a 4 minute QPR at the end. You wait for 4 minutes at the end of the pressure cooking time and then do a QPR by moving the steam release handle from Sealing to Venting.
Nutrition
Calories:
381
kcal
Carbohydrates:
72
g
Protein:
20
g
Fat:
2
g
Saturated Fat:
1
g
Polyunsaturated Fat:
1
g
Monounsaturated Fat:
1
g
Cholesterol:
81
mg
Sodium:
1386
mg
Potassium:
762
mg
Fiber:
5
g
Sugar:
7
g
Vitamin A:
206
IU
Vitamin C:
24
mg
Calcium:
82
mg
Iron:
4
mg
Share on Facebook
Have you tried this recipe? Do please let me know!
18