A delicious Pressure Cooker Chorizo Risotto with Spanish flavours. So easy and versatile.
This is the pressure cooker version of my Thermomix & Red Pepper Chorizo Risotto and Stove-top Chorizo Risotto.
If you haven't tried pressure cooking a risotto, you must!
The benefits of pressure cooked risotto over stove-top risotto:
No need to babysit it, no need to add ladleful after ladleful of stock
You can skip the sauté stage and still get an amazing risotto
If using an electric pressure cooker, you can set it off and let it do its job, no need to wait for it to reach pressure in order to regulate the heat
I already have a few pressure cooked risotto recipes:
Jump to:
Ingredients
This recipe is scaleable. The basic recipe is for one person.
You can very easily double it to serve two people, triple it to serve three people, quadruple it to say four people, etc.
Just don't forget the filling rules for pressure cookers. In this case, the only fill up to half way with all ingredients rule applies.
The pressure cooking timings will remain the same if you do.
chorizo
onion
red pepper
arborio rice
stock
cheese
See recipe card below for exact quantities.
How to pressure cook a risotto
There are two stages to pressure cooking a risotto:
Sautéing the ingredients
Pressure cooking
Do I need to sauté my pressure cooked risotto?
You can actually skip the Sauté stage and mix all ingredients then pressure cook.
When you skip the sauté stage, it makes for a very tasty risotto that is so easy, you'll be able to cook it any day of the week.
Sautéing doesn't add that much time and I really like sautéing the chorizo first.
Instructions for Pressure Cooker Chorizo Risotto
Jump to Recipe Card for exact instructions
Start by sautéing the chorizo to release its juices.
Add the vegetables.
Sauté for a few minutes
Add the rice
Stir in the stock
Pressure cook
Want to make it without the chorizo?
Use 1 quarter teaspoon of paprika for 1 serving and just increase that proportionally if you double, triple, etc the ingredients to serve more people.
Variations
Spicy - add chilli flakes either while cooking or at the end (handy if some of the people eating don't like spice). Chopped fresh chilli will work great too, add at the end.
More vegetables - leek in particular goes really well, either slice or chop
Herbs - chopped fresh parsley or coriander for serving would be great!
Equipment
This recipe will work great in your stove-top or electric pressure cooker. I tend to use whichever Instant Pot is free at the time or the Ninja Foodi.
You could also use the Manual setting in the Tefal Cook4Me (I have the Tefal Cook4Me Touch Wifi, which is great), but add a little bit of pressure cooking time as it does an automatic quick pressure release at the end.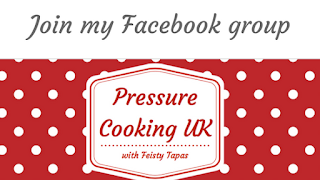 Storage
Store in the fridge. Eat within 2 days. Reheat until piping hot.
Always chill left over rice as soon as you can and always within half an hour.
I would not freeze it, it's super quick to pressure cook anyway.
📖 Recipe
Pressure Cooker Chorizo Risotto
A delicious pressure cooked Risotto with Spanish flavours. So easy and versatile
Ingredients
20

g

chorizo sausage (the sausage shaped one)

peeled, sliced lengthways twice and then sliced into small pieces. Double if for two people and so on.

¼

onion

1

garlic clove

or way way more

¼

red pepper

or orange or yellow, don't like red pepper? Don't add it

1

glug

of wine (think about 40 ml)

red, white, rosé, Prosecco, champagne, whatever you have. Don't have wine? Use some of the stock

75

g

arborio rice

for one person, 150 g for 2 people, 300 g for 4 people and so on

200

ml

hot stock

homemade chicken stock is lovely or you can make it up with 200 ml of boiling / hot water and a tablespoon of my vegetable stock paste. Using your own liquid stock, it's cold and you don't fancy heating it up? Fair enough, don't worry, add it cold, your rice just won't have as much bite at the end. This is about making life easier.
To serve
Grated cheese

to taste (this is optional, don't like cheese? Don't use cheese). I tend to use Mature Cheddar (parmesan will be lovely too) but don't always add it
Instructions
These instructions are for one serving, this means that you can double this recipe, triple it, quadruple it very easily! The pressure cooking timings remain the same
Sauté (short of time? You can skip this, add all ingredients to the inner pot, stir and go straight to Pressure Cook section below)
Set to a low Sauté setting. Add 1 tablespoon of extra virgin olive oil. Add the chorizo and let it release its juices, stirring every once in a while for about 3-5 minutes or until it's turning golden on the outside.

Add the onion, garlic and red pepper and stir to coat in the chorizo juices. Place a normal lid that fits (not the pressure cooking lid), it doesn't have to fit perfectly. In total the vegetables should be on sauté for about 10 minutes, stirring occasionally, if you have the time. If they start to catch, add a bit of stock or wine.

While it's sautéing, prepare the stock by diluting the vegetable stock paste / stock cube in the hot water if using. Reserve.

Add a glug of wine (or a glug of the stock) and stir in the risotto rice, let it sauté for a couple of minutes, stirring. Deglaze by adding a splash of stock and scraping the bottom of the inner pot with a wooden spoon to make sure any caramelised bits are removed.
Pressure Cook
Make sure the sealing ring is in place and press it down following its circumference a few times as you press it down. Steam release set to Sealing.

Pressure Cook on high pressure for 5 minutes. Pressure cooking time is 5 minutes whether you're pressure cooking 75 g of rice for one person, 150 g for 2 people, 225 g for 3 people, 300 g for 4 people (and so on).

At the end of the 5 minutes wait a few seconds for things to settle inside and do a quick pressure release**.

Stir in some grated cheese (or a big dollop of butter or something like Pure Dairy-Free Buttery Spread). Risotto is supposed to have a bit of bite, if you want it softer, put the lid back on whether fully or loosely and the rice will keep cooking in the residual heat.
Got an air fryer lid?
You can sprinkle the cheese on top at the end. Air Fryer Lid on. Broil / Grill / Air Fry at 204/205ºC / 399-401ºF , 8 minutes.
Notes
Tips: a bit of grated carrot goes well, as does adding spinach at the end just before serving
Nutrition
Calories:
360
kcal
Carbohydrates:
67
g
Protein:
9
g
Fat:
5
g
Saturated Fat:
2
g
Polyunsaturated Fat:
1
g
Monounsaturated Fat:
1
g
Cholesterol:
13
mg
Sodium:
1043
mg
Potassium:
173
mg
Fiber:
3
g
Sugar:
4
g
Vitamin A:
1430
IU
Vitamin C:
41
mg
Calcium:
16
mg
Iron:
4
mg
Share on Facebook
Food safety
A few tips from me:
Always wash your hands straight after touching raw meat
Same with your knives, boards and utensils, use separate ones for raw meat and wash them well before using for anything else
Don't leave food at room temperature for extended periods, always cool down quickly and chill or freeze as soon as you can
Always chill left over rice as soon as you can and always within half an hour.
See more guidelines at food.gov.uk.
10