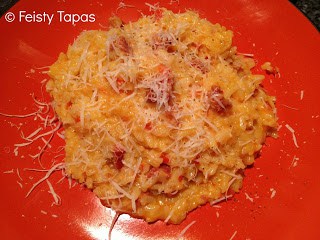 *You will find the non-Thermomix version of this recipe here*
Ever since I got the Thermomix this summer I have been keen to adapt this Chorizo and red pepper risotto recipe so that I don't have to keep remembering to add water to the rice as it cooks (I can be a bit forgetful and end up setting alarms on my phone to alert me every few minutes, although I sometimes even forget to do that). With a toddler and a risotto in the house I also cook in fear that LittleT may wake up and the whole thing may end up rather burnt.
I finally dared to try it in the Thermomix a couple of days ago and it turned out rather well. I think a good risotto will always have to be made with love, time and a ladle over the hob but this is a very close hands-free option! If you would like to give the conventional method (pan, ladle and hob), you will find my recipe here.
Anyone more experienced than me at making risottos in the Thermomix is most welcome to give any feedback. I did a lot of research before daring to take the plunge and did warn husband, as I sat down to enjoy my 17 minutes on the sofa, that there was always the possibility that we would end up ordering pizza. I was actually surprised that it turned out well.
Chorizo and red pepper risotto

Ingredients (serves 3 in this house, or 2 with enough leftovers for lunch for me and toddler dinner the next day, if you serve it with a salad and bread it will serve 4-5 I'm sure)
1 onion (100/120 g) (in chunks)
2 cloves of garlic (peeled)
1 red pepper (stem and seeds removed and in chunks)
25 g olive oil
100 g chorizo, skin removed (for those of you in the UK, I use 2 sausages of Tesco's cooking chorizo). I quarter it lengthways first and then slice it, it makes the most of the chorizo, reducing how much of it you have to use and giving the dish lots of flavour. Thriftier and healthier in one go. I tried once chopping it in the Thermomix and it didn't work so I recommend cubing it by hand.
300 g Arborio risotto rice (lovely reader Anna has tried it successfully with 400 g and just added a bit extra of all the other ingredients with the below liquid weight)
800 g water or chicken stock (1100 g of liquid if using 400 g of rice)
Chicken stock cube (I use Kallo). This is if you're not using your own homemade stock.
Handful of fresh parsley or coriander or a teaspoon of dried mixed herbs (optional, don't worry if you realise at the last minute that you haven't got any at home). If using fresh herbs you can chop them in the Thermomix at the start.
Salt and pepper to season (bear in mind that you'll need little salt)
Parmesan (I tend to just grate it over the plates once I've dished out but you could grate it in the Thermomix before starting).
Equipment
Thermomix TM 31, chopping board for vegetables, chopping board for meat. I think that's it.
Method
Chop the onion 5 seconds at speed 5.
Add the pepper and garlic and chop 2 seconds at speed 5.
Add the oil, sautée: Varoma (120ºC for TM5), 5 minutes, speed 1.
Add the chorizo: Varoma (120ºC for TM5, 2 minutes, speed 1 (if your chorizo is quite crumbly do this on reverse).
Add the rice: Varoma (120ºC for TM5), 1 minute, speed 2 (keep it on reverse if you used reverse in step 2).
Add the water and the chicken stock cube (no need to add salt, the chorizo and stock provide enough): Varoma (120ºC for TM5), 18 minutes, reverse, spoon speed. I didn't use herbs this time but I would add them in the last minute of cooking along with some salt and pepper but this time I didn't use any salt at all and just twisted the pepper mill after I had dished up.
I tend to add the parmesan once it's on the plate (we all like different amounts of cheese at home anyway), apparently the authentic way of doing it is by adding the cheese at the end and letting it rest for a while… but just think of the washing up!
TIP: Some of my readers like to add a bowl with a few fresh spinach leaves, pour the risotto over them once it's cooked and mix them in.
Serve with Spanish flair and by grating parmesan on top. ¡A la mesa!
Would you like to find out more about me? Read my bio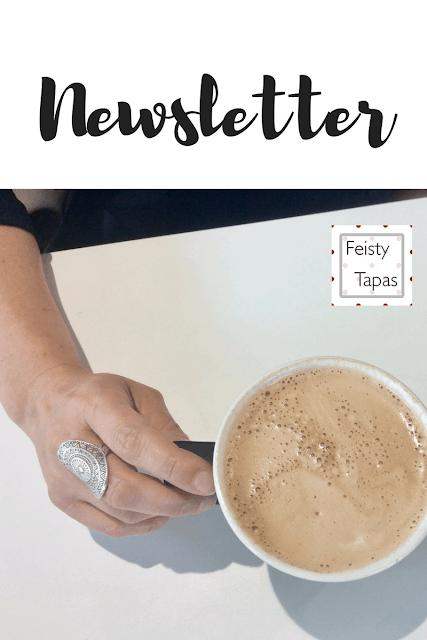 2