How this recipe came about (thank you Kate!)
A little while ago I asked the lovely Kate to measure her suet-free dumpling mix so that I could try dumplings in a pressure cooked stew. Anyone who knows Kate, knows that Kate doesn't measure anything! So she did me a huge favour (thanks Kate!) because I really fancied a pressure cooked Instant Pot Stew with Dumplings.
JUMP TO THE RECIPE
I wanted a Chicken Stew to be exact and figured at 5 minutes pressure cooking time with NPR for chicken thigh fillets, it might just work as an all-in-one with the dumplings in from the beginning. A super Easy All-in-One stew and Dumplings.
It did!
Then I cooked it for a second time, varying the ingredients. You know, to make sure! The thing is, this is dangerously easy. I love dumplings but have always considered them a bit of a faff… until now! Now it's actually way too easy.
Kate has also tried this Instant Pot Chicken Stew with Dumplings successfully with her own ingredients and my timings.
Notes
Important: this only works if the inner pot is filled up to half way, as the dumplings need room to grow and you don't want them growing up your valves.
It also only works with chicken stew as chicken needs a shorter cooking time. If what you want is a Beef Stew with Dumplings then add the dumplings at the end and cook them for about 20 minutes on Sauté (or Sauté – Less) after pressure cooking your stew. The glass lid comes in handy for this.
About the ingredients used in my Instant Pot Chicken Stew with Dumplings
Feel free to change the ingredients, I used what I had.
No suet: Fluffy dumplings without suet, less fuss, more money for the pot (the Instant Pot) and super fluffy dumplings. Let's keep it thrifty.
The first Instant Pot Chicken Stew with Dumplings I pressure cooked was similar but with diced Butternut Squash instead of Cavolo Nero. You could, of course, use both!
The Butternut Squash was parcooked and then diced following the whole Instant Pot Butternut Squash method, which you can find right here. Pressure cooking a whole butternut squash is a game changer. If you love Butternut Squash but hate peeling it, you're going to love it! Use the 8 minute method for this particular recipe.
My advice? Use both Butternut Squash AND Cavolo Nero!

Ready for the recipe? Cool! But before that, have you joined my Pressure Cooking with Feisty Tapas group?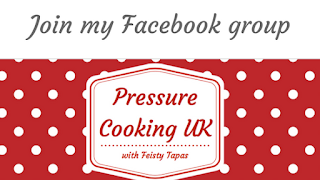 As with all of my recipes, make sure your Instant Pot is well loved because I like to push the limits of how much liquid to add. For that, follow the Give your Instant Pot some Love document in the Instant Pot UK Beginners' Guide which you can download from HERE.
Print Recipe
Instant Pot Chicken Stew with Dumplings
A super easy Chicken Stew with Dumplings that takes very little time to prepare and very little effort to get on the table.
Ingredients
Stew Ingredients
50

g

smoked bacon lardons or pancetta

use more if you want, it's what I had left

1

tbsp

extra virgin olive oil or oil of your choice

500

g

boneless chicken thigh fillets

left whole

150

ml

chicken stock

2

tsp

smoked paprika

1

tsp

normal paprika

4

large closed cup mushrooms

sliced or in wedges. Feel free to use more of course

250

g

chantenay carrots

washed and left whole or normal carrots cut in big chunks

100

g

Cavolo Nero

washed and leaves snapped into fours or use a knife if you're feeling fancy

4

garlic cloves

left whole but whacked with the back of your hand

Salt and pepper
Dumpling Ingredients
200

g

self-raising flour

a reader has tried the dumplings successfully with Doves Farm gluten-free self-raising flour

1

heaped tsp baking powder

gluten free if making the dumplings GF

40

g

grated cheddar cheese

1

tbsp

Mixed herbs or herbs of your choice

Salt and pepper

as much as you think you'll need, I don't add much as I add cheese

2

tsp

olive oil

140

ml

water

from the cold tap
Instructions
Start by preparing the dumpling mix: Mix all the dry ingredients in a bowl, add the oil and water and keep mixing until you have a soft dough. I use my hands. Put aside for now.

Sauté the bacon lardons in 1 tbsp olive oil.

Add chicken, stock and the two paprikas and mix well to coat the chicken. Add salt (about half a teaspoon, I don't tend to use much salt) and a few twists of the black pepper mill.

Add the mushrooms, carrots, cavolo nero and garlic and stir. Roll the dumpling mix into 8 balls and place them directly on top of the other ingredients.

Lock the lid in. Steam release handle pointing to Sealing. Press the Manual or Pressure Cook button and programme 5 minutes with the – and + buttons. When it has finished pressure cooking, let it do a Natural Pressure Release* for 15 minutes and then open turn the steam release handle from Sealing to Venting to do a Quick Pressure Release * and let out any steam that is trapped inside. Or of course let it go to Keep Warm, I have and it works fine.
If you want to brown the dumplings, you can put the inner pot under a hot grill for a few minutes (the stainless inner pot goes in the oven) or decant into a different dish and brown there. But I don't bother personally
Notes
As with all of my recipes, make sure your Instant Pot is well loved because I like to push the limits of how much liquid to add. For that, follow the Give your Instant Pot some Love document in the Instant Pot UK Beginners' Guide which you can download from here.
*Terminology
Quick Pressure Release (QPR) means venting the steam as soon as the pressure cooking process finishes. You do this by turning the steam release handle from Sealing to Venting and waiting for the float valve to pop back down. QPR is handy for delicate foods such as vegetables or fish that you don't want to overcook. Never QPR porridge!
Natural Pressure Release (NPR) means letting the float valve pop back down of its own accord (naturally, no pun intended). So basically with NPR you don't need to do anything at the end and can keep your feet up. If the NPR takes over 15 minutes and you are keen to eat, you can release the rest of the steam, if any, by performing a QPR (see above). Bear in mind that the food keeps cooking during the NPR. NPR is useful for meat as a QPR can toughen meat. NPR is also essential for soup.
As you can see in this recipe sometimes I talk about doing an NPR followed by a QPR.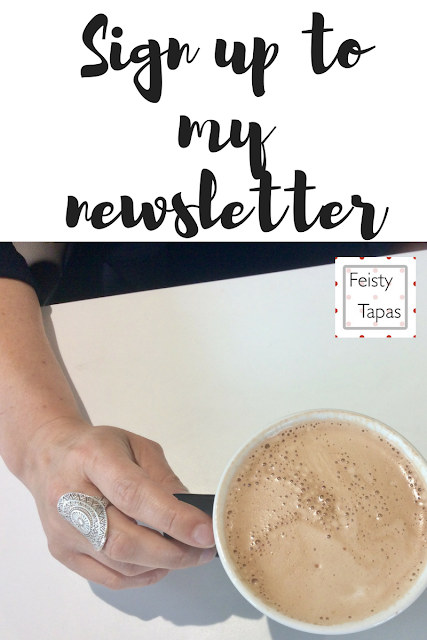 29