Effortless Instant Pot Pumpkin Cooking: How to Pressure Cook a Whole Pumpkin Without Peeling, Dicing, or Slicing
Are you tired of struggling to peel and slice a whole raw pumpkin?
Well, you're not alone. Many people find it challenging to prepare a whole pumpkin for their favourite recipes. Including me, as you may know I'm a chronic pain warrior (fibromyalgia, M.E., I kick their butt... most of the time).
But, what if I told you there is an easier way to do it?
With pressure cooking, you can make the process a lot smoother and quicker, keeping your knuckles intact!
In this post, I will guide you step-by-step on how to effortlessly pressure cook a whole pumpkin to make it easier to peel, slice, and dice.
Picture this: it's nearly Autumn, Fall as the lovely Americans call it, and there are pumpkins galore. In fact, Halloween is round the corner.
They have a great price and you want to use them all for risottos, soups, pasta, stews, etc.
But your hands are saying "no way!" because previous experience says that your knuckles don't like being peeled!
Let's face it, peeling, slicing, and dicing a pumpkin can be a bit daunting.
It's like a workout that nobody signed up for. Well, guess what? I've got a secret to share that might just make your pumpkin prep woes disappear.
This was inspired by my Whole Butternut Squash hack in the Instant Pot (which in turn inspired my Whole Swede / Rutabaga hack) and will work well instead of BNS in my delicious Butternut Squash and Cavolo Nero Soup and Chicken and Butternut Squash dish.
Jump to:
Ingredients
You just need water and your whole, raw pumpkin. That's it!
Hint: make sure the pumpkin fits inside your pressure cooker / inner pot. Don't be shy!
Take the inner pot or the pressure cooker to the shops with you if necessary! If anything, you'll give someone a laugh and/or meet someone new in the vegetable aisle!
Equipment
The bigger your Instant Pot, pressure cooker, Ninja, whatever you have, the bigger the pumpkin you can pressure cook whole.
In these photos and video I use the big Ninja 9 in 1 and 14 in 1 but you can use any pressure cooker, just make sure your pumpkin fits comfortably with plenty of room around it for the steam to circulate safely.
You will also need the trivet / steam rack to place the pumpkin on and lift it so that the steam can circulate all around it.
Instructions
Pour the water in the inner pot. Place the whole, raw pumpkin on the trivet / steam rack
Pressure cook according to the time on the recipe card below
See how easy it is to peel!
Effortlessly slice and dice to prep for your favourite recipes
Can I do this with other types of squash?
Yes! All types of Winter Squash and Sugar Pumpkins will work with this hack, as you can already see in my Whole Butternut Squash and Whole Swede / Rutabaga hacks.
Storage
Chill and store 3 days maximum in the fridge.
You can also freeze it. I would freeze it in chunks or diced ready for other dishes such as Chicken with Butternut Squash and Butternut Squash and Cavolo Nero Soup, just replace the BNS with Pumpkin and you're done!
Same goes for my Swede / Rutabaga and Carrot Mash, replace the swede with the Pumpkin and it will be delicious!
Related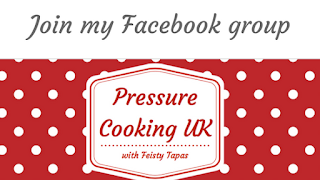 📖 Recipe
How to Pressure Cook a Whole Pumpkin
How to Pressure Cook a Whole Pumpkin to make it easier to slice and dice
Equipment
1 Pressure Cooker

(I use the Ninja Foodi Max in this video, the bigger pressure cookers are better for this )

1 trivet / steam rack

or a steamer basket or use foil to prop the pumpkin up so that the steam can get under it
Ingredients
For pressure cooking
500

ml

water

cold (this is approximately 2 American cups of water), we use millilitres in the UK (hope that helps)

1

pumpkin

cooking type
Instructions
500 ml cold water in inner pot

Trivet / steam rack in place in the inner pot

Pumpkin on the trivet / steam rack, remove the stem like I did if it sits too high (make sure you watch the video)

Check the sealing ring is properly in place, steam release set to Sealing

Pressure cook for 10 minutes

Quick pressure release, this means venting the steam trapped inside manually
Notes
Quick pressure release means venting the steam as soon as the pressure cooking process finishes, i.e. moving the steam release handle from Sealing to Venting or pressing down a button, this will depend on your type of cooker, some even do quick pressure release automatically by default at the end (as is the case of the Tefal Cook4Me)
Share on Facebook
There's no denying that preparing a whole pumpkin can be a daunting task, especially if you're not used to it. But with these easy steps, you can pressure cook a whole pumpkin to make it easier to peel, slice, and dice.
This method saves time and effort, while also ensuring that the pumpkin maintains its flavour and texture.
So next time you're in the mood for some pumpkin soup or pie, give pressure cooking a try!
Let me know if you try it!
Maria
6