This Pressure Cooker Egg Fried Rice-ish is super versatile and allows you to use up a ton of ingredients that may be about to go off.
Okay, so it's not quite Egg Fried Rice. Hence calling it Pressure Cooker Egg Fried Rice-ish.
And it's not quite Savoury Rice. Hence not calling it that.
But it can be either or!
Because, as you can see from the photos, I have tried it without adding the egg at the end and it's still delicious.
If you haven't made my Vegetable Stock Paste yet, dishes like this one are perfect for it.
Jump to:
Ingredients
bacon
red onion
celery
pepper
carrot
Chinese five spice
soy sauce
rice
stock
See recipe card below for quantities
Instructions
Sauté the ingredients.
Add the stock.
Lid on. Steam release set to Sealing. Pressure cook.
Adjust the soy sauce to taste (you may want to add a bit more), stir in the spring onions
Substitutions
You can use any vegetables you want and I encourage you to use anything that you have in the fridge:
cauliflower florets
peas
shredded cabbage
Think of this rice as one of those blended soups where you cook everything you have left in the fridge.
This is the same, just in a rice dish and it's so easy to have the rice and vegetable stock paste ready to pressure cook it.
No eggs? Don't worry, it will be delicious without, more of a yummy savoury rice and who doesn't like that?
Plus, it's super quick.
How to chill the cooked rice to eat over the next few days?
Cool down the rice as soon as you can.
This can be sped up by placing the inner pot in the sink and filling the sink with cold water all around it.
Just don't take your eye off it as you don't want the water going inside the inner pot where your lovely freshly cooked rice is.
Use a wooden spoon to stir the rice regularly. This will help let the steam out faster.
Tip: Set a timer for 10 minutes so that you don't forget it's there and check if it's cooled down enough.
Then into the fridge as soon as you can and preferably within half an hour.
Make sure it's piping hot when you reheat it.
It makes a great desk lunch!
This dish will work whatever pressure cooker you have, whether stove-top or electric. I tend to cook it in an Instant Pot or Ninja Foodi. It works great in both.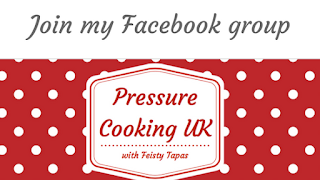 📖 Recipe
Pressure Cooker Egg Fried Rice-ish
Delicious, easy and super quick sort of Egg Fried Rice recipe
Equipment
Pressure cooker / Instant Pot / Multicooker
Ingredients
4-5

chopped rashers of bacon

chopped up

1

red onion

chopped

1

stalk of celery

chopped (I chop it really small)

1

yellow pepper

chopped

2

medium carrots

chopped

1

teaspoon

Chinese five spice

1

tablespoon

soy sauce

1.5

mug of quick cook white basmati (300 g)

it's what my friend had in the cupboard, you can use normal white basmati or long grain, of course (timings in recipe). Grab a standard-sized mug, any mug.

1.5

mug filled with water (300ml)

we're using a 1:1 ratio rice to water (use the same mug as for the rice to keep the same ratio)

1

chicken stock cube

or 1 heaped teaspoon of my homemade vegetable stock paste
To serve
4

eggs

beaten

6-7

spring onions

Fresh chillies

chopped or sliced (optional)
Instructions
Press Sauté and fry the chopped bacon in some olive oil. Moving it so that it doesn't catch.

Stir in the vegetables and sauté for a few minutes.

Deglaze well (i.e. add a bit of liquid and scrape with a wooden spoon to remove any caramelised/burnt-on bits).

Stir in the Chinese five spice, soy sauce, rice, water and stock cube or stock paste.

Make sure the sealing ring is in place properly. Lock the lid in. Steam release set to Sealing.

Press Pressure Cook and programme 4 minutes. If it's quick cook rice, do a 2 minute QPR at the end, if it's normal basmati do a 7 minute QPR at the end).

Once you have opened the lid, stir in the beaten eggs, keep stirring until you see the eggs have cooked.

Adjust the soy sauce to taste

Serve with the spring onions and chillies
Notes
*Pressure Cooker Terminology
Quick Pressure Release (QPR, also called quick release or QR) means venting the steam as soon as the pressure cooking process finishes, i.e. moving the steam release handle from Sealing to Venting.
Natural Pressure Release (NPR, also called natural release or NR) means letting the float valve pop back down of its own accord, so basically you don't need to do anything at the end and can keep your feet up. If it takes over 15 minutes, you're ok to release the rest of the steam (by turning the steam release handle to Venting) that may be left in order to unlock and open the lid.

 
Sometimes you'll see me talk of a combination of NPR followed by a QPR. For example a recipe may have a 4 minute NPR followed by a QPR. You wait for 4 minutes at the end of the pressure cooking time and then do a QPR by moving the steam release handle from Sealing to Venting.
Nutrition
Calories:
316
kcal
Carbohydrates:
47
g
Protein:
10
g
Fat:
9
g
Saturated Fat:
3
g
Polyunsaturated Fat:
2
g
Monounsaturated Fat:
4
g
Trans Fat:
1
g
Cholesterol:
119
mg
Sodium:
488
mg
Potassium:
314
mg
Fiber:
2
g
Sugar:
2
g
Vitamin A:
3725
IU
Vitamin C:
41
mg
Calcium:
61
mg
Iron:
2
mg
Share on Facebook
You'll also love these other pressure cooked rice recipes:
Tried this recipe? Let me know over on my social media channels or in the comments below,
Maria
4