This Pressure Cooker Vegan Mushroom Stew is so full of flavour and so easy and quick that you're going to love it!
Jump to Recipe
You can pressure cook this meat-free casserole easily in your electric pressure cooker / multicooker (Instant Pot, Ninja Foodi, etc) or in your stove top pressure cooker.
This was the first the recipe developed and photographed at The Kitchen Gadget Hub by Feisty Tapas so it's super exciting to be posting it.
How big to cut the mushrooms
Keep the mushrooms as large bite sizes as they will shrink during cooking.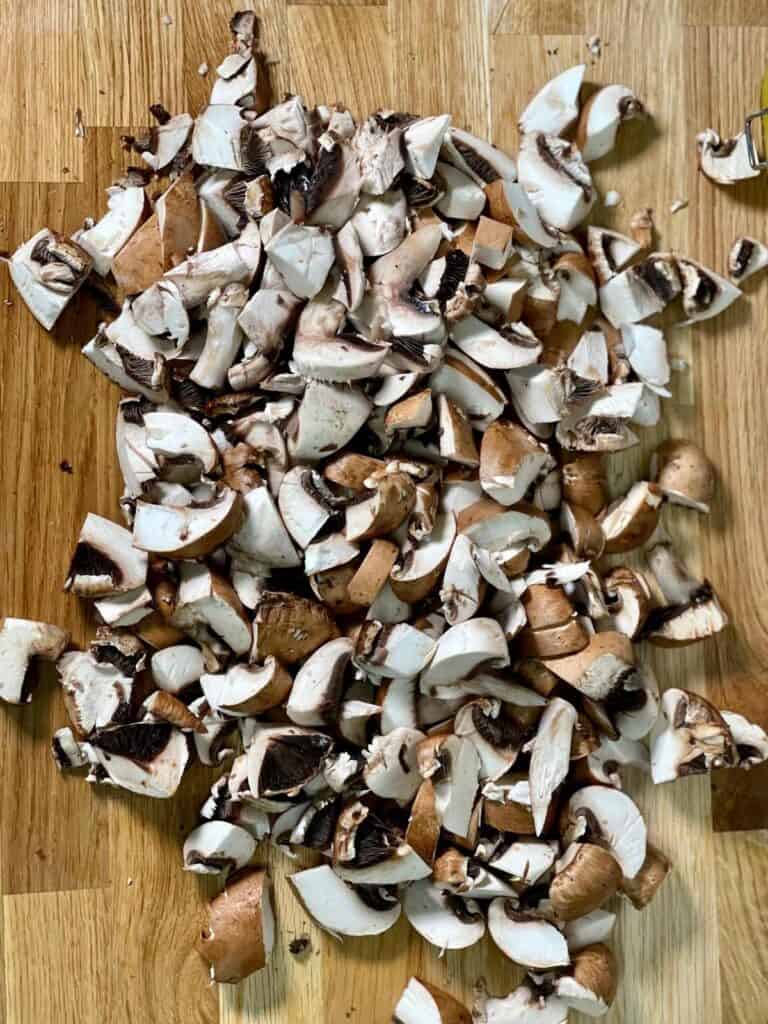 Can I leave it on Keep Warm?
Yes, feel free! It will do great on Warm in your electric pressure cooker or multi cooker.
Do I need to sauté first?
No, if you're short on time, just go ahead and skip the sautéing, add all the ingredients to the inner pot, stir and pressure cook.
This is about making your life easier.
In the recipe I indicate to sauté as you chop to make your life easier.
But, of course, you may want to do the chopping in the morning and cook in the evening.
Or even prepare the ingredients the night before, in which case I'm proud of you for being super organised. You get brownie points!
Play with the ingredients
Add other ingredients like soy sauce to add umami flavour.
Or peas or green beans or cauliflower to add more vegetables.
Diced butternut squash would be lovely too and you could pressure cook it whole first to make it easier to peel.
All of the ingredients mentioned above will be fine with the timings mentioned in the Pressure Cooker Vegan Mushroom Stew recipe.
What I would say, if you can make my Vegetable Stock Paste and have a jar in the fridge, make sure you do!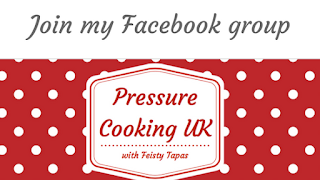 📖 Recipe
Pressure Cooker Vegan Mushroom Stew
A delicious pressure cooked Vegan Stew. So quick and so full of flavour that you'll want to cook it all the time
Equipment
Pressure cooker / multicooker / Instant Pot
Ingredients
1

teaspoon

extra virgin olive oil or oil of your choice

for sautéing (if you don't use oil, use a bit of stock)

1

onion

2

stalks of celery

120 g

2

carrots

250 g

3

garlic cloves

very plump or use 4-5 if they're on the small side

425

g

baby potatoes

halved or quartered depending on size (you could use other types of potatoes)

600-650

g

mushrooms

cut into bite-sized wedges

1

tablespoon

Italian Seasoning

I love the one from The Grape Tree or Mixed Herbs

1

teaspoon

smoked paprika

I love Brindisa

100

ml

water if you want it less saucy

200-250 ml if you want more sauce. You can actually make a little bit of stock and stir it in at the end of cooking time too.

2

teaspoons

vegetable stock paste

or a stock cube diluted in the water if you don't have any of my veg stock paste…. yet
Instructions
Press Sauté and set to Less (in the Ninja Foodi Max I used the LO:MD setting, a low medium heat).

Chop and add the vegetables to the inner pot to sauté as you go. Add the potatoes and mushroom last.

Once the potatoes and mushrooms are in, stir in the water, vegetable stock paste (add a stock cube if you don't have stock paste) and herbs.

Deglaze the bottom of the inner pot by scraping it with a wooden spoon to remove any burnt-on / caramelised bits.

Make sure the sealing ring is properly in place by pressing it down a few times as you follow the circumference. Lock the lid in. Steam release set to Sealing.

Press Pressure Cook / Pressure / Manual (this will depend on your model) and programme 5 minutes. You can do a quick pressure release after 5 minutes or leave on Warm until you're ready. In conventional pressure cookers.

In conventional pressure cookers, bring to high pressure and pressure cook for 5 minutes then allow a natural pressure release for 5 minutes or longer.
Notes
My favourite way of eating this stew is by cutting the potatoes with the fork and squishing them into the sauce. So good!
Pressure Cooking Terminology
Quick Pressure Release (QPR, also called quick release or QR) means venting the steam as soon as the pressure cooking process finishes, i.e. moving the steam release handle from Sealing to Venting. Also referred to as a fast release.
Natural Pressure Release (NPR, also called natural release or NR) means letting the float valve pop back down of its own accord, so basically you don't need to do anything at the end and can keep your feet up. If it takes over 15 minutes, you're ok to release the rest of the steam (by turning the steam release handle to Venting) that may be left in order to unlock and open the lid. Also referred to as a slow release.
Sometimes you'll see me talk of a combination of NPR followed by a QPR. For example a recipe may have a 4 minute NPR followed by a QPR. You wait for 4 minutes at the end of the pressure cooking time and then do a QPR by moving the steam release handle from Sealing to Venting.

 
Nutrition
Calories:
158
kcal
Carbohydrates:
31
g
Protein:
8
g
Fat:
2
g
Saturated Fat:
1
g
Polyunsaturated Fat:
1
g
Monounsaturated Fat:
1
g
Cholesterol:
1
mg
Sodium:
300
mg
Potassium:
1108
mg
Fiber:
6
g
Sugar:
7
g
Vitamin A:
5375
IU
Vitamin C:
29
mg
Calcium:
61
mg
Iron:
2
mg
Share on Facebook
Tried this recipe? Make sure you hop on over to my Facebook page or Pressure Cooking group.
Or my Instagram to tag @feistytapas in a photo. And use the hashtag #feistytapas.
Other Vegan pressure cooker recipes you might like:
6