It's here!!! The brand new subscription to The Kitchen Gadget Hub!!!
What does the subscription include?
Regular lives + Q&As with me, from live demos to cookalongs
Kitchen gadget-specific demos and lessons!
Exclusive recipes
Dedicated Facebook group (of course!)
Dedicated newsletter
Never run out of recipe inspiration
No gadget worth its salt will gather dust!
So much more, give me ideas!!!
As a founding member, you're going to help me build it from the inside!!
How much does it cost?
ONLY £9.99 a month.
I've been told off that it's too cheap for the amount of content I'm going to offer and have already offered for free all these years.
But the reality is that I want as many of you to join as possible!
You can pay:
Both renew automatically each month or year depending on which one you choose.
Tell Father Christmas you want it and Father Christmas can contact me for a printable gift voucher for your stocking.
OR Father Christmas can let you have early access!!
I can be very persuasive as you well know!
Who is Maria?
I'm a kitchen gadget lover (trying not to say addict!!).
I run this website (feistytapas.com) as well as my Kitchen Gadgetry with Feisty Tapas Facebook group. And a Pressure Cooking group. And a Thermo Cooking group. Plus a Facebook page and an Instagram one too!
Kitchen gadgets are my passion because they make my life easier!
You can read all about me but what I often don't mention is that I worked with Instant Pot UK for five years setting up their online presence.
Throughout my work with Instant Pot UK, I helped their users and engaged with them on a daily basis, listening to the most frequently asked questions, to the biggest struggles and creating content designed to help everyone find the answers and solutions they needed every time.
All so that they could get the most out of their kitchen gadgets, because kitchen gadgets can do a lot!
And can making cooking fun!
I love helping people use their kitchen gadgets because they have quite literally changed my life.
As a chronic pain sufferer, kitchen gadgets make my life easier every day.
And I want to show you how they can help you.
As Feisty Tapas goes, I got my first major kitchen gadget in 2012 so have been running communities for kitchen gadgets since then!
I love to develop recipes, tips and tricks to help you out.
Pressure Cooker Recipes have become a special part of my life as I love my electric pressure cookers and multi cookers, like the Instant Pot and Ninja Foodi, I also have recipes for the air fryer lid.
Next up are my Air Fryer Recipes, the pressure cooker and air fryer make such a fantastic team!
And the third gadget that rounds up my kitchen team, recipes for the Thermomix / Thermo Cooker.
But I love a good kitchen gadget collaboration so often my recipes will mention how to get your kitchen gadget team helping you.
For example, a lot of recipes mention how to get things started in the Thermomix or thermo cooker and continue in the Pressure Cooker.
What is the Kitchen Gadget Hub?
A place of kitchen gadget dreams!!
The Kitchen Gadget Hub is a dedicated space were I put kitchen gadgets to the test, develop recipes, do lives, invite guests like Catherine Phipps, who came to film How to Pressure Cook a Christmas Pudding.
Or Linda Hewett, who came to help me put the Thermomix and Magimix Cook Expert side by side for a comparison.
Or Ellie Boyde who helped me do a comparison between the previous Thermomix model (the TM5) and the newest model (the TM6).
Want to buy a subscription as a gift for someone?
Contact me, I'll figure out how!!
How is it all going to work?
Through the dedicated Facebook group and newsletter to start with.
With the dream of having a dedicated website one day, wouldn't that be cool?
And the good thing of it being online?
You can join from wherever you are in the world!
Can't make it live, watch the replay, easy!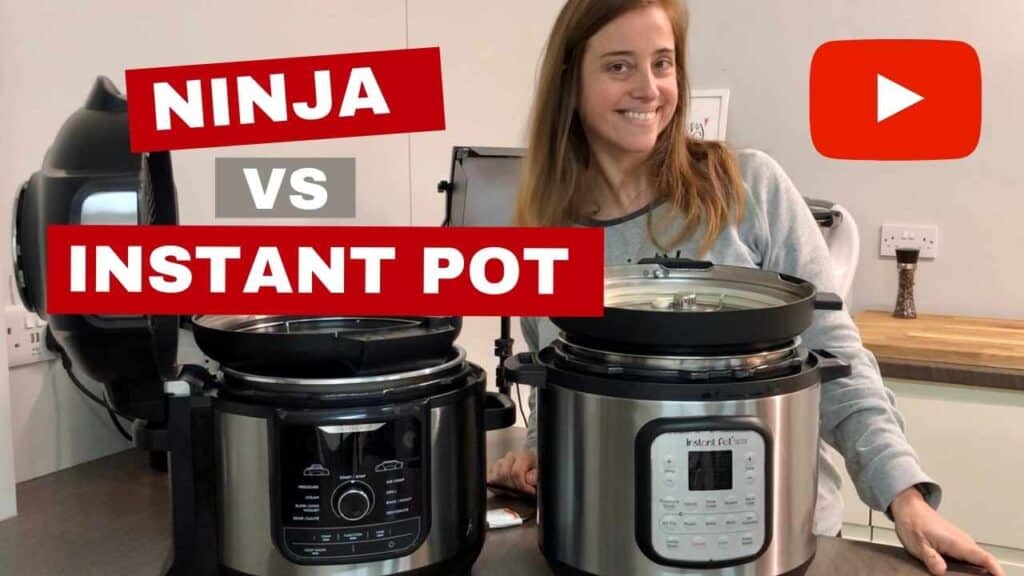 What kind of lives and Q&As?
Videos like my Ninja Foodi vs Instant Pot Duo Crisp comparison.
Lives like this Thermomix one or this Magimix Cook Expert one.
Made easier by the existence of a dedicated Kitchen Gadget Hub!
How to join the dedicated Facebook group
I'll send you an email with a link once you sign up. I may have to do this manually so please bear with me.
Once you request to join the group, you will be asked what email address you used to purchase your subscription, please make sure you answer as it will speed up the process.
All you have left to do is join!!
2