Delicious and super easy Air Fryer Chicken and Chorizo, perfect for when you need a meal on the table fast.
This is what in the UK is called Spanish Chicken or Spanish Style Chicken.
And I totally would have called it that, except I never ate anything like this growing up in Spain.
But if you want to call this dish Air Fryer Spanish Chicken or Spanish-Style Chicken, go for it!
This recipe was developed at the Kitchen Gadget Hub a few days after my Air Fryer Smoky Fajita Chicken, and will be great with Greek Roast Potatoes.
If you have a pressure cooker with an air fryer lid as well as a standalone air fryer (or even two pressure cookers with air fryer lids!), you could have both this Chicken and Chorizo and the Greek Roast Potatoes cooking at the same time to make your life easier.
Jump to:
Ingredients
chicken breasts
red onion
pepper
garlic cloves
chorizo sausage, not the type of chorizo you buy in slices but the one you buy as a sausage (it can be either cooking chorizo or ready to eat chorizo)
pepper
baby tomatoes
See recipe card for quantities.


Instructions
This recipe is as easy as adding all the ingredients to the air fryer and programming the time.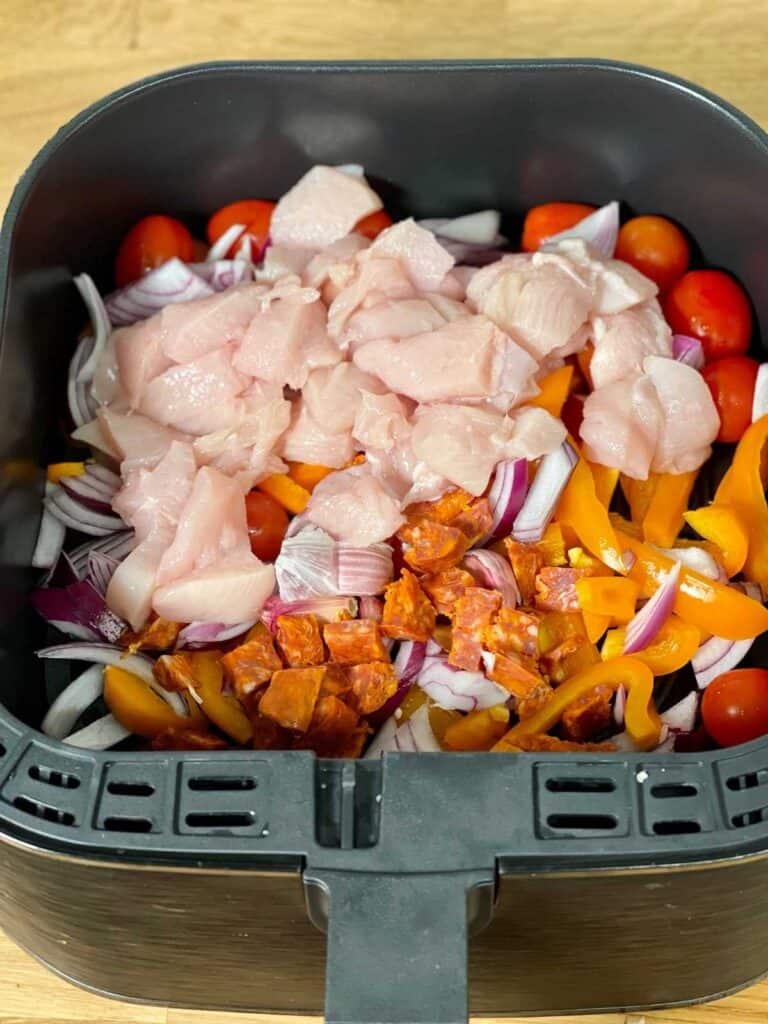 Then serve immediately or chill quickly and save for tomorrow's lunch.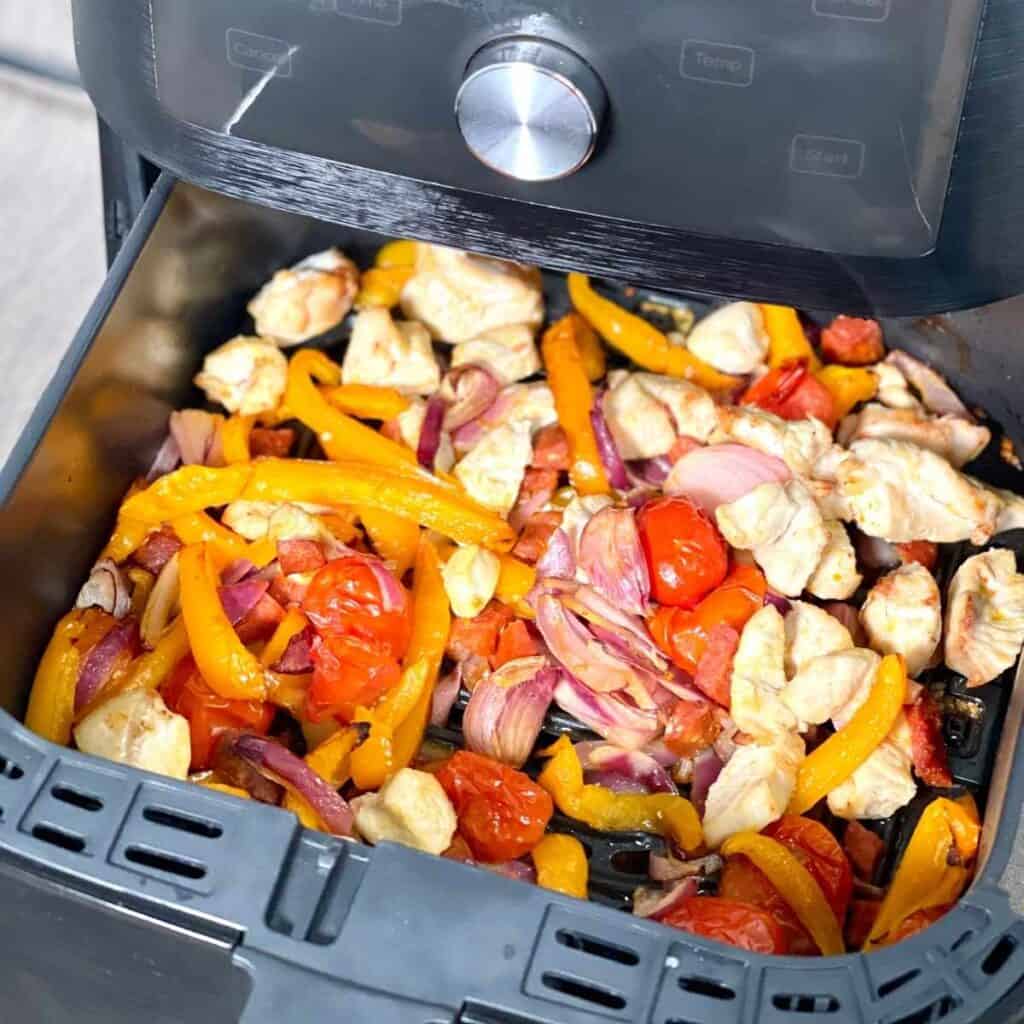 Hint: Squeeze the garlic out and discard the skin, toss it with the chicken.
See recipe card for full instructions.
Substitutions
Chicken breasts - you could replace with chicken thigh fillets. If you have bone-in chicken thighs, you'll have to increase the air frying time, check they are cooked through before serving
Chorizo - don't want to use chorizo or don't have any? Then add a teaspoon of smoked paprika.
Red onion - you don't have to use red onion, brown will be fine
Yellow pepper - choose your favourite colour, it doesn't have to be yellow!
Variations
Spicy - use spicy chorizo or add chilli flakes during air frying, the other option is to add chopped fresh red or green chilli after air frying
Equipment
I used an Instant Vortex Air Fryer for the timings of this recipe. Air fryers are just like ovens so always check that your food is cooked through.
And make sure you read how to use an Air Fryer and watch the video.
As an Amazon Associate I earn from qualifying purchases, you don't pay a penny extra though.
Storage
Chill quickly for 2-3 days.
It will freeze nicely.
Top tip
Prepare the ingredients ahead of time and pop them in the air fryer for a super quick meal.
In fact, this Air Fryer Chicken and Chorizo is a perfect quick midweek meal.
How to serve
Delicious on its own, with mashed potatoes, in wraps, tossed through pasta or rice, with a salad... the options are endless!
📖 Recipe
Air Fryer Chicken and Chorizo
Delicious, easy and quick with the lovely touch of the chorizo
Ingredients
365

g

chicken breast

diced in bitesized pieces

1

red onion

medium (mine was 200g before peeling), sliced in thin wedges

1

yellow pepper

or colour of your choice, sliced

4

garlic cloves

mine were quite plump, left whole and unpeeled

55-60

g

chorizo sausage

the actual sausage chorizo, sliced in two lengthways, then lengthways again to create 4 then sliced. I prefer to use non-spicy chorizo but if you want a bit of heat, spicy will be lovely too

165

g

baby tomatoes

Pinch

of sea salt

1

teaspoon

extra virgin olive oil or oil of your choice
Instructions
Add all the ingredients to the air fryer basket, mix and air fry 12 minutes at 180ºC. Shake or stir with a wooden spoon or spatula half way. If your air fryer is non-stick, remember not to use metallic utensils.

Make sure the chicken pieces are cooked through and enjoy.
Notes
I use the Instant Vortex Air Fryer. All air fryers vary so make sure you check your chicken is fully cooked.
Share on Facebook
Food safety
A few tips from me:
Always wash your hands straight after touching raw meat
Same with your knives, boards and utensils, use separate ones for raw meat and wash them well before using for anything else
Don't leave food at room temperature for extended periods, always cool down quickly and chill or freeze as soon as you can
Always chill left over rice as soon as you can and always within half an hour.
See more guidelines at food.gov.uk.
RECIPE CREATED AT THE KITCHEN GADGET HUB BY FEISTY TAPAS
30