This Soy-Glazed Aubergine in Instant Pot Duo Crisp was the second thing I cooked in my Instant Pot Duo Crisp.
Actually, the first thing I did in the Crisp wasn't quite cooking.
The first thing I did after I got the Crisp out of the box was reheat some of my Baharat Chicken, after scattering a few slices of red pepper in with it.
Not quite cooking but it was a great way to get used to the Air Fryer Lid it comes with.
Also, it worked great, 7 minutes at 204ºC on air fry and it was all done and the red pepper slices exactly how I wanted them.
What's the Instant Pot Duo Crisp like?
In one word, amazing!
So easy to use.
You may know by now that I am a big fan of my air fryer.
My air fryer only has an 800 g capacity basket.
With the Duo Crisp being an 8 litre Instant Pot, it has so much more capacity for air frying.
For example, I can fit a whole chicken in it, which I can't in my air fryer unless it's a tiny chicken.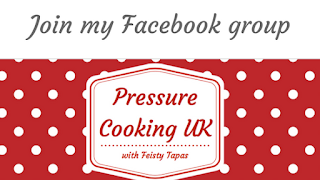 How does the Instant Pot Duo Crisp Air Fryer Lid work?
The Air Fryer lid is as simple as any other lid, you pop it on, you lift it off.
That's all there is to it.
In fact, the Air Fryer lid is controlled by the cooker itself.
The Crisp is a clever multi-cooker that knows which lid is on so the pressure cook, slow cook steam and sous vide buttons only work when the right lid is on.
So that you don't set the air frying function by mistake when you're pressure cooking.
Same with the air fryer lid, it won't let you use the pressure cooking, slow cooking, steaming or sous vide settings when the Air Fryer lid is on.
Keeping you safe should you get distracted.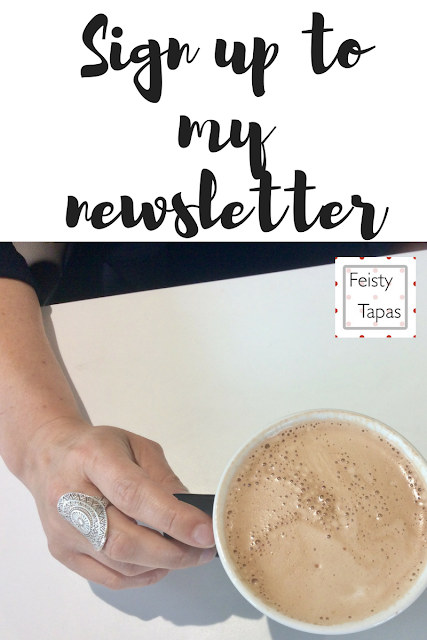 No need to preheat
You may know this already but one of my favourite features of air fryers is that there is no need to preheat like you would in an oven.
Of course, this means that the whole process takes less time than in the oven and it saves you money on your energy bills.
How to eat this Soy-Glazed Aubergine
It's great on its own or as a side, you could even scoop it out and turn it into a dip or a sauce.
Want more recipes for your Instant Pot Duo Crisp? Find them here.
Where can you buy the Instant Pot Crisp in the UK and Europe?
As I write this (early July 2020), the Duo Crisp is available in 220-240 voltage from Instant Pot UK and soon Amazon UK, Germany, France, Italy, Spain and Netherlands will have it too!
Soy-Glazed Aubergine in Instant Pot Duo Crisp
Fancy printable recipe card further down
Ingredients
1 teaspoon groundnut oil (or sunflower oil or oil of your choice)
Method
1.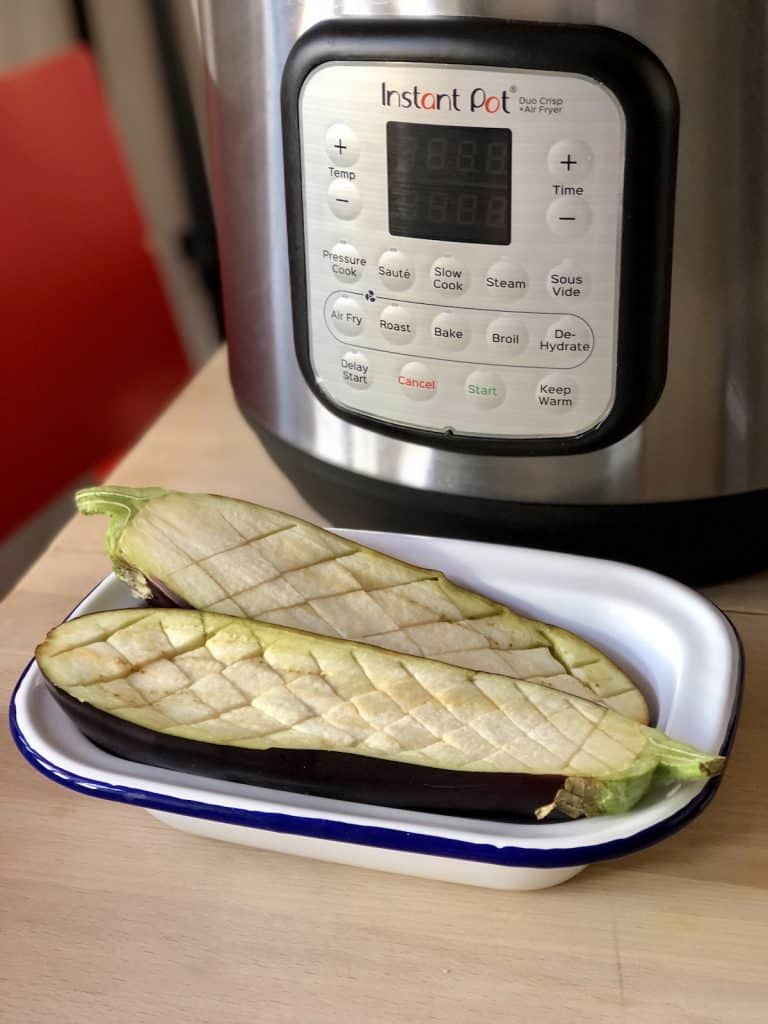 Slice the aubergine in half lengthways and cut a few criss cross lines with a knife trying not to pierce the skin (but don't panic if you do).
2.
Place the sliced aubergine in a metal dish. I use an enamel pie dish from Aldi but you can use the long-handled trivet and cake pan from the Instant Pot silicone steamer set.
3.
Mix the 1 teaspoon groundnut oil, 1 tablespoon honey and 1 tablespoon soy sauce and pour over (or use a brush) the aubergine, making sure it goes into the slits you have cut as much as possible.
4.
Place the trivet in the inner pot on the lower setting with the dish with the aubergines on top.
5.
Place the Air Fryer Lid on the pot. Set the temperature to 180ºC and the time to 25 minutes. Press Start. When it beeps half way and says Turn Food on the screen, lift the lid to check on it and brush some of the glaze that may have fallen onto the dish.
6.
Once it's ready, brush any of the glaze that may have collected in the dish over the aubergine. Don't waste it, it's lovely
Note:
Different size aubergines will take different times. Keep an eye on it, it's as simple as lifting the lid to check.
📖 Recipe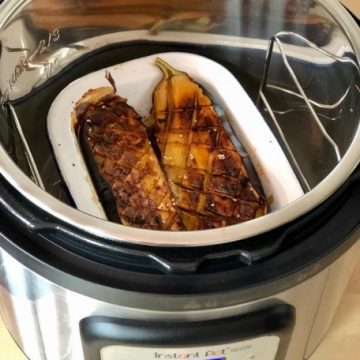 Soy-Glazed Aubergine in Instant Pot Duo Crisp
Delicious baked aubergine in the Instant Pot Duo Crisp
Ingredients
1

aubergine

1

teaspoon

groundnut oil

or sunflower oil or oil of your choice

1

tablespoon

honey

1

tablespoon

soy sauce
Instructions
Slice the aubergine in half lengthways and cut a few criss cross lines with a knife trying not to pierce the skin (but don't panic if you do).

Place the sliced aubergine in a metal dish. I use an enamel pie dish from Aldi but you can use the long-handled trivet and cake pan from the Instant Pot silicone steamer set.

Mix the 1 teaspoon groundnut oil, 1 tablespoon honey and 1 tablespoon soy sauce and pour over (or use a brush) the aubergine, making sure it goes into the slits you have cut as much as possible.

Place the trivet in the inner pot on the lower setting with the dish with the aubergines on top.

Place the Air Fryer Lid on the pot. Set the temperature to 180ºC / 355ºF and the time to 25 minutes. Press Start.

Brush any of the glaze that may have collected on the dish over the aubergine, don't waste it, it's lovely
Notes
Different size aubergines will take different times. Keep an eye on it, it's as simple as lifting the lid to check. The cooker will pause and continue when you put the Air Frying lid back on
Share on Facebook
7