You may have already gathered from my last two recipes that I am a big fan of soup. Yes, I admit it, I love soup. When you can pressure cook your own Chicken broth or stock at home in no time and without filling the house with its smell, it becomes a weekly staple and, once you have that stock or broth (whatever you prefer to call it) in the fridge, it's so versatile!
So, the first thing you need to do to cook this recipe is to get your Instant Pot out and cook my Instant Pot Whole Chicken Stock, which will leave you with both the stock and the cooked chicken you need.
Then all you need is fresh leeks and carrots, chorizo if you fancy adding chorizo but I don't always add it (shock horror!) and a tiny bit of time and you had an amazing soup (which is very much low carb) ready for you.
Don't skip the addition of the salt when you chop it all in your plate, it's what makes this soup delicious.
I know I am probably preaching to the converted but, if you haven't got an Instant Pot yet, let me tell you that it is an awesome kitchen gadget. As a working mum with fibromyalgia it has been saving my bacon (sometimes even literally) for the last couple of years. I now get to put my Instant Pot love in action working on Instant Pot UK's social media and you will find me helping you give it a good workout both in my Pressure Cooking UK with Feisty Tapas Facebook group and the Instant Pot® UK Community.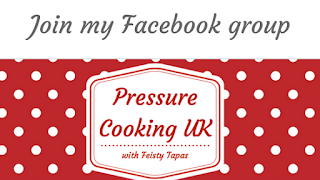 Instant Pot Chicken, Leek and Carrot Soup
These ingredients make a lovely soup for two or three people, they are an approximation of what you need. Feel free to increase them always remembering not to fill your Instant Pot's inner pot over two thirds of capacity when pressure cooking.
Ingredients
– 3 leeks, cut in 3 or four chunks, washed really well to get rid of any soil
– 2 carrots, peeled and left whole
– 750 ml homemade Instant Pot chicken Stock (of course you can totally use a stock cube if you don't have any or my vegetable stock paste but I highly recommend it with my homemade chicken stock for the very best flavour)
– Cooked chicken from making the stock, picked out and left in big chunks, diced or shredded, depending on how you are going to eat your soup
– Sea salt (I use Maldon)
– Chorizo (optional, don't faint!)
Method
1. Place the leeks and carrots in the Instant Pot's inner pot, add the stock, you want to barely cover the leeks and carrots. This of course means that you can scale your ingredients to make a smaller or a bigger soup (just remember to be mindful of not filling the inner pot more than two thirds). Lock the lid in, steam release handle pointing to Sealing, press Manual, use the – and + buttons to programme 5 minutes.
2. At the end you can do a quick release if you're in a hurry or a natural release if you're doing something else, I prefer natural release personally for soups, it keeps very nicely on Keep Warm. Once you open the lid, add the chicken to warm through and serve. I do this on Keep Warm, if you want to speed it up you can do it on Sauté of course.
3. I like to serve it in a deep plate like in the photos and add Maldon sea salt just before chopping it all up into bite sized chunks on the plate itself, the salt works its way in giving it a gorgeous taste that combines wonderfully with the sweetness of the carrots and the taste of the leeks.
Notes: this Instant Pot Chicken, Leek and Carrot soup gorgeous with leftover Instant Pot ham too (and with ham stock instead of chicken stock)
Quick release means venting the steam as soon as the pressure cooking process finishes.
Natural release means letting the float valve pop back down of its own accord, if it takes over 15 minutes, you're ok to release the rest of the steam (by turning the steam release handle to Venting) that may be left in order to unlock and open the lid.
0