Jump to Recipe
This Instant Pot Creamy Chicken and Pancetta Rigatoni Pasta was one of those expottiments (i.e. Instant Pot experiments) that pay off.
It's super easy and quick. You could also use penne but there is something a bit luxurious about rigatoni, isn't there? Probably the fact that rigatoni is not a pasta shape that I buy all that often, yet it's easily available at UK supermarkets.
Quick overview of the recipe, recipe card is below:
Jump to Recipe
A bit of sautéing followed by adding the rest of the ingredients and closing the lid. That's it!
Open the lid and add the cream and mustard and it's looking good!
Serve with fresh parsley
Now, filling rules: don't forget that if you want to double this recipe, you can NOT go over the half way line because pasta both froths up and expands as it cooks.
Whether you double or halve this recipe, same timings apply.
Another thing to know about pasta is that pasta that is dusted with flour can splatter when doing a quick pressure release after pressure cooking.
If you think your pasta might be coated with flour, then you can reduce the pressure cooking time and increase the natural pressure release time before doing a quick pressure release, to help with that.
I sometimes do 1 minute pressure cooking time for pasta and increase the time it has on Natural Pressure Release, this gives me time to leisurely gather crockery, cutlery and a nice drink.
You could also do a controlled / gradual quick pressure release, if you find it starts to splatter during quick pressure release, close the valve again or open little by little.
Just never cover the valves with a tea towel.
Whether you are new to the Instant Pot world or a seasoned potter, it's worth joining my Facebook group Pressure Cooking UK with Feisty Tapas. I've been adding a few new videos there.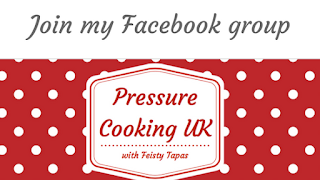 Also, if you're new to Instant Pot, make sure you download the Beginners' Guide.
I do hope you like this Instant Pot Creamy Chicken and Pancetta Rigatoni Pasta.
📖 Recipe
Instant Pot Creamy Chicken and Pancetta Rigatoni Pasta
A delicious, simple and quick all-in-one pasta dish that helps minimise the washing-up and uses ingredients you can find in UK supermarkets. If you can't find rigatoni, use penne
Ingredients
80

g

pancetta

diced (both smoked and unsmoked will work)

2

chicken breasts

diced in biggish chunks (I tend to prefer pressure cooking with chicken thigh fillets but had breasts to use up)

1

tablespoon

Worcestershire sauce

1

tablespoon

mixed herbs

125

g

rigatoni

250

ml

water

next time I'd use stock if I had any, even better the 250 ml water with a heaped teaspoon of my vegetable stock paste concentrate, see Notes section below for link to recipe

1.5

tablespoon

grain mustard

2

tablespoon

double cream

approx, do it to your own personal taste
Instructions
Sauté the pancetta in a little extra virgin olive oil. Then add the chicken to brown, stirring regularly. Add Worcestershire sauce and mixed herbs and stir. Add water and pasta, stir then make sure the bottom is deglazed by scraping any caramelised burnt-on bits off the bottom of the inner pot with the help of a wooden spoon.

Check the sealing ring is in place properly by pressing it down section by section following its circumference a few times. Lock the lid in. Steam release handle pointing to Sealing.

Press the Manual / Pressure Cook button and programme 5 minutes with the - and + buttons. When the pressure cooking cycle finishes and your Instant Pot beeps, let it do 5 minutes NPR* (Natural Pressure Release) followed by a QPR (Quick Pressure Release).

Once all pressure has been released and the float valve has popped down, open the lid and stir in 1.5 tablespoon grain mustard and double cream (about 2 tablespoon worth, just do it to taste). We all have different tastes in pasta. If it's not cooked enough for you, just put the lid back on and let it be, pasta and rice both keep cooking in the residual heat.

Sprinkle with freshly chopped parsley
Notes
Vegetable Stock Paste Concentrate: 
recipe
here
Notes
Deglazing means scraping the bottom with a wooden spoon and the help of some liquid to remove any caramelised bits
*Terminology
Quick release (also called quick pressure release or QPR) means venting the steam as soon as the pressure cooking process finishes, i.e. moving the steam release handle from Sealing to Venting.
Natural release (also called natural pressure release or NPR) means letting the float valve pop back down of its own accord, so basically you don't need to do anything at the end and can keep your feet up. If it takes over 15 minutes, you're ok to release the rest of the steam (by turning the steam release handle to Venting) that may be left in order to unlock and open the lid. 
Sometimes you'll see me talk of a combination of NPR followed by a QPR. For example this recipe has a 2 minute NPR followed by a QPR. You wait for 2 minutes at the end of the pressure cooking time and then do a QPR by moving the steam release handle from Sealing to Venting. 
Share on Facebook
27