Delicious Pressure Cooker Mushroom Bulgur Wheat infused with flavour, way more than when you let it stand.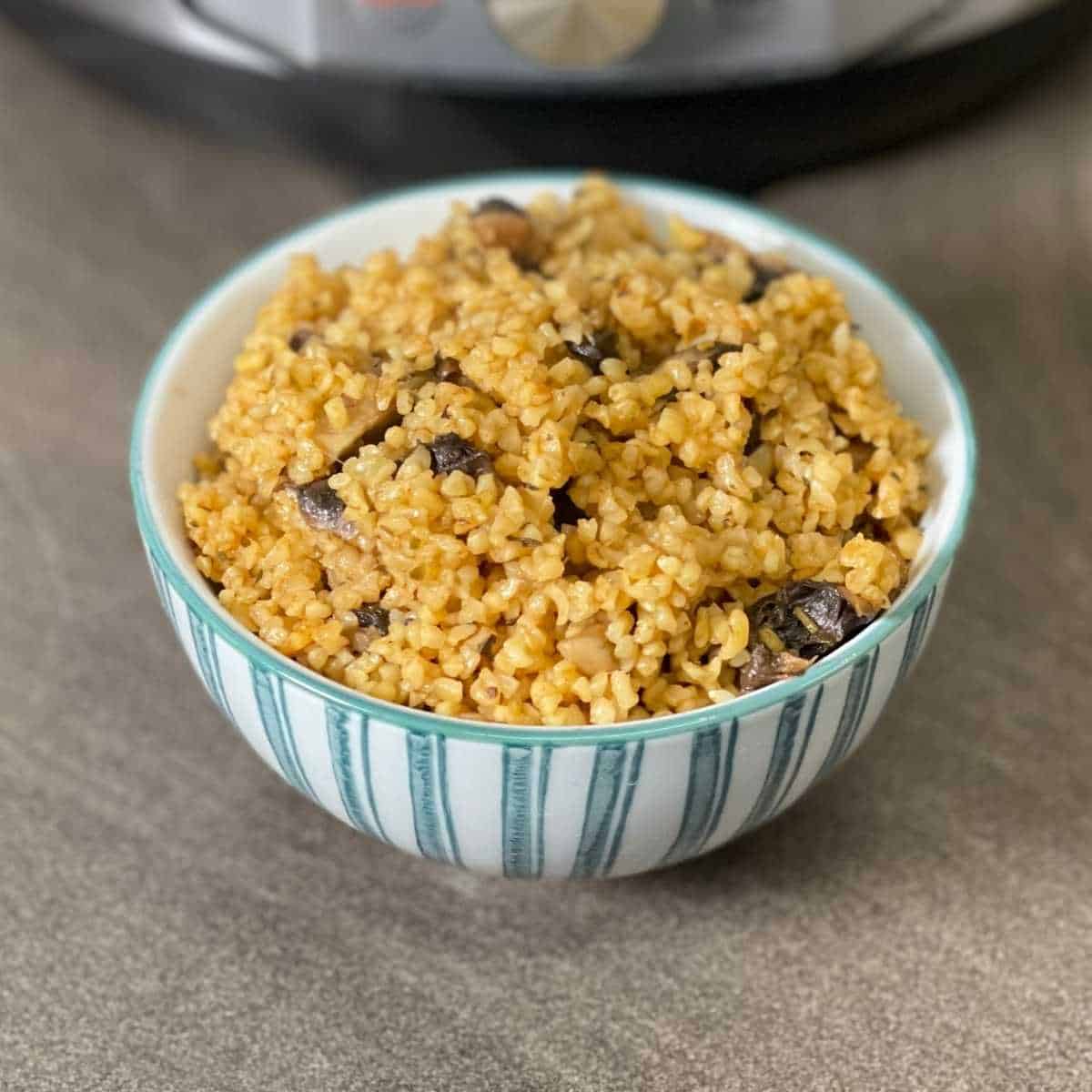 This recipe makes a fantastic side dish or main dish. I tend to have it as a main dish.
Bulgur wheat (or bulgar wheat, how do YOU spell it?) makes a great alternative to rice dishes, like my Gammon Rice or Risotto.
Jump to:
Why pressure cook Bulgur Wheat?
Most instructions say to simmer bulgur (or bulgar) wheat for 15 minutes or cover in hot water and leave be for 25-30 minutes.
BUT I don't have the time for that AND I want to infuse it with flavour.
And pressure cooking it really infuses it with flavour!
Ingredients
The main ingredient here is Bulgur Wheat.
I've used Daylesford Organic Bulgar Wheat.
Grape Tree Bulgur Cracked Wheat (which is often on a 2 for 1 offer).
Sainbury's Bulgur Wheat too!
Then all you need is mushrooms and a good stock like my Vegetable Stock Paste.
Don't like mushrooms? Don't use them, but still make this with any other of your favourite ingredients.
See Recipe Card for quantities.
Instructions for Pressure Cooker Mushroom Bulgur Wheat
You can either sauté the mushrooms etc first to get more flavour out or, if in a rush, skip sauté and pressure cook for the time specified in the recipe card below. As easy as that.
All ingredients into inner pot
Pressure cook
Stir
Serve and enjoy every bite
See Recipe Card for instructions.
Hint: just like with pressure cooked rice dishes, you can skip the sauté stage, stick all ingredients in the inner pot, stir and pressure cook if you're in a hurry and just want an easy dish.
Substitutions
Don't like mushrooms? Replace them!
What ingredients do you love with rice that you could add to this dish? Add them!
Simple as that.
Also, play with the herbs and spices, then run back to tell me what you added!
Equipment
You're going to need a pressure cooker. In the photos you see the Instant Pot Duo Evo Plus and the Instant Pot Duo Plus, either of these are great because of the self-sealing steam release and, of course, the stainless steel inner pot.
Why an electric pressure cooker? No need to babysit! Set it off and no need to wait around for it to reach pressure then turn the heat down underneath it.
Go put your feet up.
Storage
Keep in the fridge 2-3 days.
I've not tried freezing it.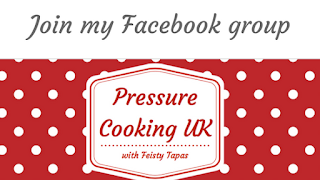 📖 Recipe
Pressure Cooker Mushroom Bulgur Wheat
Pressure cooking Bulgar Wheat infuses the grains with amazing flavours (plus it's so quick and easy!)
Ingredients
1

teaspoon

extra virgin olive oil

or oil of your choice, you can also use a little bit of the stock

100

g

mushrooms

cut up, not too small and not too big, think half of a bite size

150

g

Bulgur Wheat

360

ml

stock

cold (I made mine with 1 teaspoon of vegetable stock paste concentrate)

1

teaspoon

Italian seasoning or mixed herbs

1

teaspoon

smoked paprika

I use Brindisa
Instructions
Sauté the mushrooms in the oil on a low Sauté setting. Want to add a chopped onion or garlic or both? Sauté the onion for a few minutes first then add the mushrooms and garlic. Don't have time to Sauté? Fair enough, skip the Sauté step, add all ingredients to the inner pot, mix well and go straight to step 3.

Stir in the rest of the ingredients.

Make sure the sealing ring is properly in place by pressing it down a few times as you follow the circumference. Lock the lid in. Steam release set to Sealing.

Pressure cook for 5 minutes, high pressure. If you have an electric pressure cooker / multicooker: press the Pressure Cook / Pressure / Manual button and programme 5 minutes. In the Tefal Cook4Me Express Pressure Cooking Pressure in the Manual Mode, 5 minutes.

At the end of the pressure cooking time, do a quick pressure release (this means venting the steam trapped inside when pressure cooking finishes).

Once the float valve is down, open the lid, fluff it up with a spoon or fork and enjoy!
Will it be okay on keep warm?
It will be okay on keep warm for 5-10 minutes if you can't wait to it straight away, let it do a 5-10 minute quick pressure release. This means doing nothing for 5-10 minutes then venting the rest of the steam. It might be okay for longer too but bear in mind it will keep cooking in the heat.
Nutrition
Calories:
300
kcal
Carbohydrates:
62
g
Protein:
11
g
Fat:
3
g
Saturated Fat:
1
g
Polyunsaturated Fat:
1
g
Monounsaturated Fat:
2
g
Sodium:
736
mg
Potassium:
502
mg
Fiber:
15
g
Sugar:
3
g
Vitamin A:
900
IU
Vitamin C:
1
mg
Calcium:
46
mg
Iron:
3
mg
Share on Facebook
Food safety
A few tips from me:
Always wash your hands straight after touching raw meat
Same with your knives, boards and utensils, use separate ones for raw meat and wash them well before using for anything else
Don't leave food at room temperature for extended periods, always cool down quickly and chill or freeze as soon as you can
Always chill left over rice as soon as you can and always within half an hour.
See more guidelines at food.gov.uk.
2