This Instant Pot Lemony Mince in Oyster Sauce with Pot in Pot (PIP) Rice is one of those "throw things in and see what happens" expottiments that turns out well.
It also is a good example of how to cook something pot-in-pot (PIP) at the same time that you cook another dish in the inner pot of your Instant Pot.
When I scribbled the notes for this recipe, I entitled it Tasty Mince with a Feisty Kick.
As you may know by now, there are days when I am all about flavours.
I like to look at what's in the fridge and in the cupboard and improvise.
This happened during one of those days, also known as the day after I received two pudding basins to play with my Instant Pot so, clearly, something had to happen pot in pot.
Right?
So, what is Pot-in-Pot (PIP) cooking?
I have a whole post about it right here.
It really is not very difficult and, once you have the hang of it, you'll love it and will be thinking ahead to decide what else you can cook in your Instant Pot at the same time as your normal meals.
I used this Arga Pudding Mould (perfect for Crème Caramel too) but to be honest it is quite flimsy for the price.
Although at the same time fantastic for Pot-in-Pot (PIP) cooking.
You could use any bowl that fits in your Instant Pot, always bearing in mind the requirements.
And a taller trivet is handy to have.
Find all details of the dimensions you need in my What is Pot-in-Pot (PIP) cooking post.
You can totally cook this Lemony Mince in Oyster Sauce without the PIP rice of course!
The mince is totally worth it as it's so full of flavour.
Or you could replace the rice with quartered potatoes in the pot-in-pot bowl and almost cover them with water then proceed as below (pretend they are the rice).
In fact, this is great for those of you wanting to make cottage pie.
Can I feel a new recipe coming soon?
Ready for the recipe?
Instant Pot Lemony Mince in Oyster Sauce with Pot-in-Pot (PIP) Rice
Ingredients
For the Rice 
(if making), you can totally cook this recipe without cooking the rice of course! Or read the second paragraph of this post if you fancy cooking it with potatoes.
Ratio 1:1.25 (using the Instant Pot measuring cup, which is designed for cooking rice), increase accordingly if you want more rice
– 1 cup of white Basmati rice (I used the cup that comes with the Instant Pot)
– 200 ml water
Rinse well a few times. Place rice in the pot used for pot in pot cooking. The pot I use for pot in pot has a lid but if your bowl doesn't, that's perfectly ok, use it without.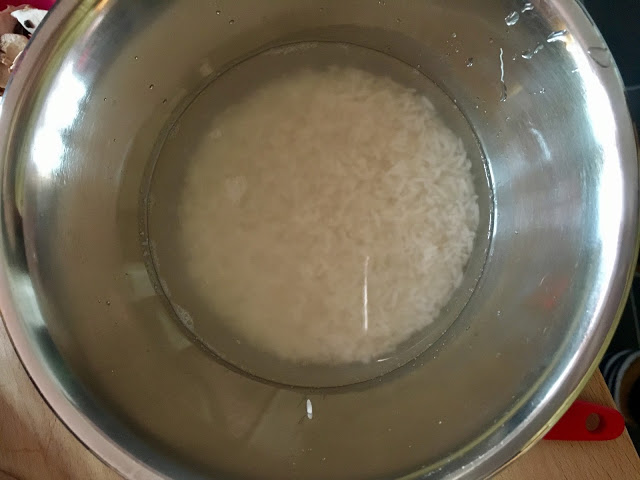 For the Meat
– 400g steak / beef / pork mince
– 1 tablespoon oil of your preference (I used olive oil as that's what I had)
– 32 g piece of ginger (would definitely increase next time), finely chopped or grated
– 3 garlic cloves, peeled and finely chopped
– 1 red chilli (deseeded if you want less heat), finely chopped
– 1 red pepper, chopped
– 80 ml oyster sauce
– Juice of 3 lemons or limes or both, approx. 100 ml
– 3 mushrooms, sliced
– Fresh coriander (optional), to serve
Method
Note for Thermomix users: I chopped the ginger, garlic and chilli together, 5 seconds speed 7, then added the quartered red pepper and did 2 seconds on speed 5.
1. 
Press Sauté, you can press Adjust to set it to High if you want, add the block of mince when the oil starts to warm up (don't wait until the display says HOT) as it is and let it fry for a bit until it's sizzling really nicely, then break it up and let it keep browning for a few more minutes, 5 or so. 
2. 
Add the chopped ginger, garlic, chilly and red pepper, stir. If you set your Instant Pot to High, press Keep Warm / Cancel and then Sauté again to set it to medium sauté. Sauté for 5 minutes or so. 
3. 
Add the oyster sauce, the lemon juice and the sliced mushrooms and stir. 
4. 
(If cooking PIP Rice) Place a tall trivet in the mince. Place the pot containing the rice on top of the trivet.
5.
Lock the lid in: press Manual and programme 10 minutes then wait for 10 minutes when it finishes before releasing the rest of the pressure (if any). Serve.
Note:
(I think next time I'd wait a couple of minutes less to see how the rice is but it was soft, fluffy and lovely). 
This post may contain affiliate links. That means that, while you don't pay a penny extra, I may get a few pennies back towards running the blog and the Feisty Tapas communities. Thanks for supporting Feisty Tapas
**This post may contain affiliate links. That means that, while you don't pay a penny extra, I may get a few pennies back towards running the blog and the Feisty Tapas communities. Thanks for supporting Feisty Tapas**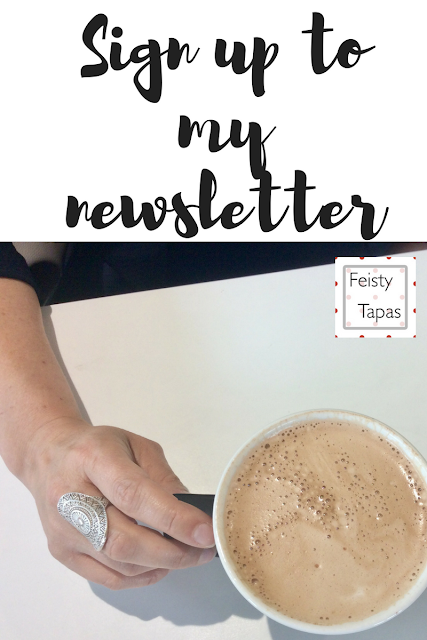 7