This Instant Pot Chorizo Pasta came about thanks to some of my favourite cupboard and fridge staples:
This Instant Pot Chorizo Pasta is quite "saucy" so you could add extra pasta and water without increasing the rest of the ingredients if you would like it less saucy. Just remember if you have, for example, 300 g of pasta to use double that in water, so 600 ml of water.
The carrot still had lots of bite which I loved. If you want it softer, cut it smaller.
Thermomix users could of course chop the onion, garlic and carrots for 5 seconds on speed 5 to make their life easier.
You may have noticed I love all things chorizo (and paprika), I just love the taste.
Other recipes with chorizo that you may love:
Have you joined my Pressure Cooking group on Facebook for daily inspiration?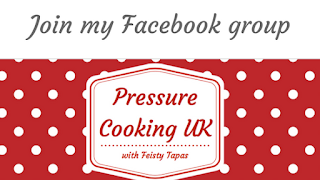 Print Recipe
Instant Pot Chorizo Pasta
A delicious and super easy dish you can make midweek
Ingredients
1

tbsp

extra virgin olive oil

1

onion

chopped

3

garlic cloves

chopped

2

medium carrots

cut lengthways twice and then sliced

100

g

chorizo

cut lengthways twice and then sliced (replace with 1 tsp or 2 of paprika if you want to keep it vegetarian)

500

g

carton passata

Fish sauce

about half a teaspoon

1

courgette

sliced

400

g

water

1

tbsp

vegetable stock paste

Black pepper

freshly ground

200

g

tagliatelle
To serve
A swirl of double cream once plated

Grated cheese

I used mature cheddar, Parmesan would be great too
Instructions
Add oil to the inner pot. Press Sauté and set to Less*. Sauté the onion, garlic, carrot for about 5-7 minutes (you can chop and add as you go). Stir regularly. Add the chorizo and stir to release the juices and coat the vegetables in the juices (a couple of minutes). Add the passata and fish sauce. Stir well. Add the courgette, water, stock paste, a few twists of the black pepper mill. Then stir in the tagliatelle, make sure you do stir it and it's evenly distributed, then press the tagliatelle down into the liquid.

Make sure the sealing ring is on properly by pressing it down with your fingers as you follow the circumference several times. Lock the lid in, steam release handle pointing to Sealing.

Press the Manual/Pressure Cook button and use the – and + to programme 1 minute. Wait 4 minutes once the cooking time has finished then do a quick pressure release. I set an alarm on my phone and leave Keep Warm on, in between one and the other chances are I won't forget my pasta needs taking out or it'll overcook.

Once all steam has released and the float valve has popped down, open the lid and give the pasta a good stir. If the pasta is not quite cooked, let it sit as it will keep cooking in the residual heat but mine was perfect after a good stir

Optional: Serve with a swirl of double cream and grated cheese
Notes
Find my Vegetable Stock Paste recipe here.
* How to set your Instant Pot to Sauté Less: Press the Sauté button immediately followed by the Adjust button to adjust to Less (or if you have v3 of the DUO, press Sauté a few times until it's set to Less).
*Terminology
Quick release (also called quick pressure release or QPR) means venting the steam as soon as the pressure cooking process finishes, i.e. moving the steam release handle from Sealing to Venting.
Natural release (also called natural pressure release or NPR) means letting the float valve pop back down of its own accord so, basically, you don't need to do anything at the end and can keep your feet up. If it takes over 15 minutes, you're ok to release the rest of the steam (by turning the steam release handle to Venting) that may be left in order to unlock and open the lid. 
Sometimes you'll see me talk of a combination of NPR followed by a QPR. For example, this recipe has a 4 minute QPR. You wait for 4 minutes at the end of the pressure cooking time and then do a QPR by moving the steam release handle from Sealing to Venting. 
5