This Instant Pot Pork and Cabbage is one of those super simple recipes that are full of flavour and make you go: "wow that was easy!".
Basically, all you need to do is put all the ingredients in the inner pot of your Instant Pot and let it do its thing while you do yours.
So, what will you do?
Put your feet up?
Do some gardening?
Do some reading?
Go browse all my Instant Pot recipes?
Go over to my Pressure Cooking UK with Feisty Tapas group to tell us that you are cooking this recipe and browse others?
Can I make this without the pork?
You might be thinking:

"Right, Maria, this sounds great but I have cabbage and soy sauce, etc and no pork, can I still cook this?.
Yes, yes you can!
Anything goes, have bacon? Use it. Same timings.
Have chicken? Use it.
Don't have meat at all? It will still be delicious!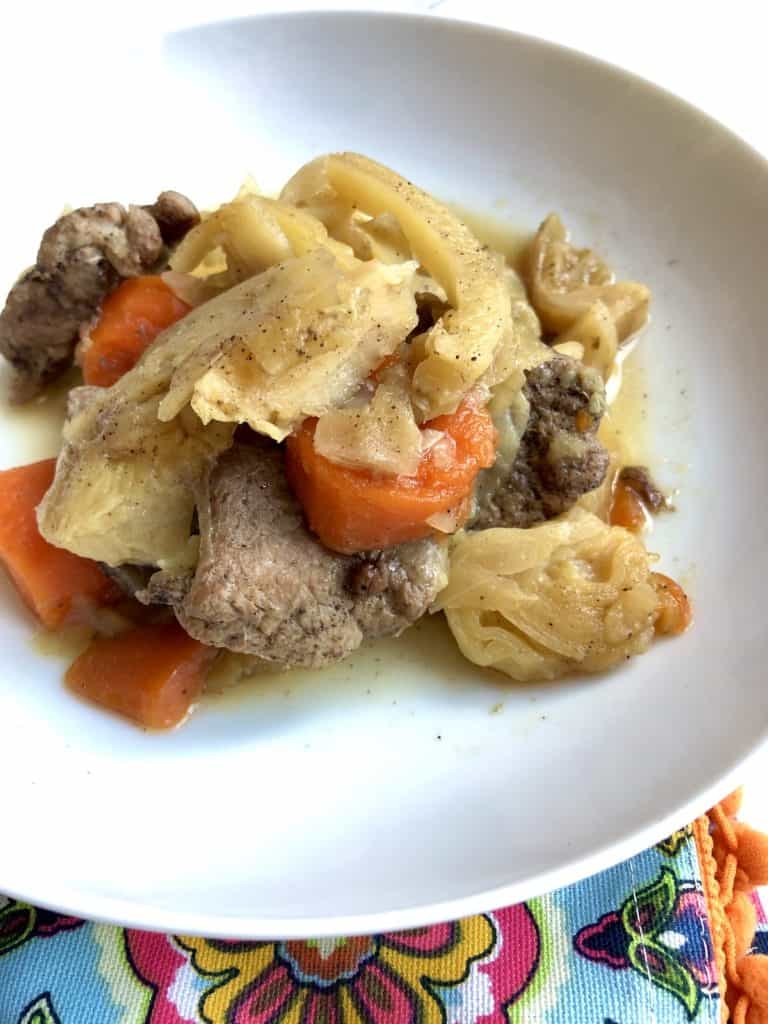 Do I need to double up the time if I double up the ingredients?
No, timings remain the same.
In pressure cooking timings don't really change unless you're cooking a joint of meat or whole chicken where heat needs time to get to the centre.
But Maria, no liquid?
You know me, I'm a daredevil when it comes to liquid.
I wrote the Golden Rules of the Instant Pot Way of Cooking so I can break them, right? 😉
In this recipe in particular the pork and cabbage both release liquid as they cook plus you have the soy sauce and fish sauce.
That said, you will need a well maintained Instant Pot, no messing about with this one.
A well-maintained Instant Pot (or two or ten) is how I get away with using very little liquid.
The less chance the steam has to escape, the less chance of a Burn warning.
And you have the post and videos you need to have a well-maintained Instant Pot right here.
Instant Pot Pork and Cabbage
Ingredients
Fancy printable recipe card further down
Serves 2 – you can double or triple the ingredients always being mindful of the filling rules – same cooking times if you do
Half pork fillet, sliced
Half cabbage, sliced
2 tbsp light soy sauce
1 tsp fish sauce
1 tsp Chinese five spice
10 or so Sichuan pepper corns (not essential if you don't have them, it'll be nice without too)
Method
1.
Slice pork fillet and add to the inner pot with sauces and spices. Mix well. Let it marinade a bit while you slice the cabbage and the carrot and add to the inner pot and stir to mix well.
2.
Pressure cook for 5 minutes. 10 minutes natural pressure release or just let it go to Keep Warm.
Serve and enjoy!
Now, don't tell me that wasn't easy?
You're going to try it, right?
Fancy schmanzy recipe card below.
3