I have the huge luck of having a child who eats well and, despite asking for pasta all the time, is open to trying new things and this Instant Pot Thai Pork Larb Recipe (Thai Minced Pork) is one of her favourites.
The little Tapita loves eating Thai Larb with plain rice and the Instant Pot makes it a breeze. As I'm low carb it's just a spoon for me, ready to dig in to that delicious savoury pork.
That said, you could totally serve this in little gem lettuce leaves as if they were wraps (imagine serving those as starters, how pretty would they look?). This Instant Pot Thai Larb is full of flavour so it's great any way you choose to eat it.
I have added fresh red chilli as an optional ingredient as it's great with it. If you too have a child who hates spicy food, just use it the sliced fresh red chilli as garnish at the end of cooking your Instant Pot Thai Larb.
Oh and you know I'm a daredevil who tries to reduce the liquid used when pressure cooking to the minimum, right?
Ready for the recipe?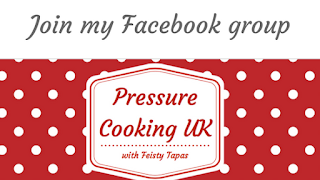 Instant Pot Thai Larb (Thai Minced Pork)


Ingredients 
Serves about 4, depending on what it's served with
(feel free to double or even triple the ingredients)
Note: If you have a Thermomix, make your life easier by chopping the vegetables in it. Start with the onion, ginger, carrot and garlic (and chilli if using): 5 seconds, speed 5. Add red pepper: 2 seconds speed 5. 
– 500 g minced pork (or try beef, chicken or turkey)
– 1 onion, chopped
– 2 garlic cloves, finely chopped
– Good knob of fresh ginger, anything between 25 and 50 g, chopped
– Half or 1 fresh red chilli, deseeded (optional. Tip: I keep chillies in the freezer and use them from frozen), chopped
– 1 carrot, finely chopped
– 1 red pepper, chopped
– 2 tbsp light soy sauce (or whatever soy sauce you have)
– 1 tsp fish sauce
To serve
– Lime wedges
– Fresh coriander or Thai basil (unless you're seven years old and fresh herbs are just weird…)
Other ingredients you can add: mushrooms
Method
1. Press Sauté and brown the mince. Break it down with a spoon.
2. Add the vegetables. Stir. Let them Sauté for 3-5 minutes.
3. Add the soy sauce and fish sauce. Make sure you deglaze well by scraping any burnt-on caramelised bits off the bottom of the inner pot with a wooden spoon.
4. Lock the lid in. Steam release handle pointing to Sealing. Press Manual and then programme anywhere between 5 and 15 minutes, this will always depend on how hungry you are. Do a natural release of 5 minutes minimum.
Serve with the lime wedges and fresh herbs if using.
Note: It does well on Keep Warm if you want to prepare ahead and leave it keeping warm.
*Terminology
Quick release means venting the steam as soon as the pressure cooking process finishes.
Natural release means letting the float valve pop back down of its own accord, if it takes over 15 minutes, you're ok to release the rest of the steam (by turning the steam release handle to Venting) that may be left in order to unlock and open the lid.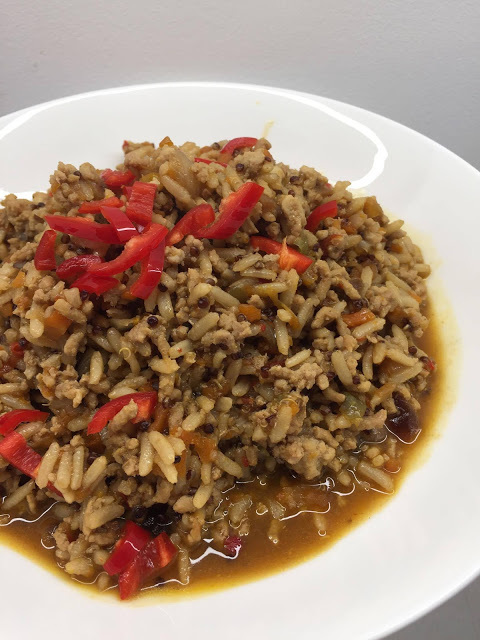 Gemma tested this recipe for me, she served it with rice as you can see
3