How to cook Padrón Peppers (Pimientos de Padrón)
Os pementos de padrón, uns pican e outros non
The above is a Galician saying describing the little green peppers that are the subject of this post, meaning that some of them have a kick, others don't. These are the Russian Roulette of Spanish gastronomy.
Pimientos de Padrón (Padrón Peppers) grow in the eponymous parish of Padrón, located in the province of Galicia known as A Coruña, in Northwest Spain. This a poetic land, home to one of the greatest female writers of the Galician language, Rosalía de Castro. Spain has several regional languages (recognised as such, instead of dialects, under the Spanish Constitution), other languages include Basque and Catalonian.
Padrón Peppers are currently stocked at Waitrose (£1.99 for a 130 g bag), this is where I bought mine last week, but keep your eyes peeled if you see any Spanish stalls, shops, supermarkets in your daily travels. They are a very seasonal produce and, in fact, they are ideal for summer tapas so make sure you grab a bag soon or you may have to wait until next year.
How to eat Padrón Peppers
No forks required, grab them by the stems and, if you're brave, eat everything but the stem itself but don't forget some of them can be as hot as a chilli pepper while others are totally mild but extremely tasty. The safe way of eating them is by only biting the tip first, the seeds are the real culprits when it comes to tastebud explosions.
What to drink with Padrón Peppers
Enjoy, if you can, with a nice chilled beer and make sure you have nice crusty bread handy because, should you get one with that special kick, you will want to reach for the bread to appease the burning sensation, if you like chillis you're going to love this. Once you're done with the bread make sure you have a nice sip of that beer. Chin chin.
If you want to read more about the food of my homeland, Galicia, step this way.
📖 Recipe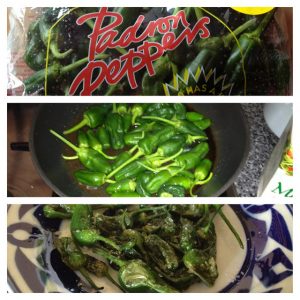 How to cook Spanish/Galician Padrón Peppers (Pimientos de padrón)
Everything you need to know to learn to cook Spanish/Galician Padrón Peppers (Pimientos de padrón). Perfect as tapas or as a side dish
Ingredients
2

tablespoon

extra virgin olive oil

150

g

Padron Peppers (Spanish Pimientos de Padron)

or whatever amount you want

sprinkle

sea salt

I like Maldon Sea Salt
Instructions
1. Heat olive oil in a frying pan. The bag says 30 ml, I use my "ojo de buen cubero"* skills and calculate myself as I pour.

2. Add the peppers and fry over a medium heat for about 4-5 minutes, stirring them or shaking the pan (if you're less clumsy than me) every once in a while, until you see that the skin of the peppers blisters and they appear to be shrinking (the bag said something like gentle heat for about ¾ minutes but I don't agree, a gentle heat isn't enough).

3. Serve with Spanish flair in a pretty or manky dish, it doesn't matter, sprinkled with sea salt (in the UK I like using Maldon salt). The salt should be noticeable, I know it may not sound like the best for your heart but the fact that this will lift your spirits will cheer you right up.
Notes
This is an ideal side dish to have with other tapas or with a big salad like we did on Sunday with some of the leftovers of the Maple-Glazed Roast Chicken with Sesame Seeds I told you about the other day (that chicken goes a long way!).
Share on Facebook
¡Que aproveche!
Maria aka Feisty Tapas
*A ojo de buen cubero: A Spanish expression meaning to do something by guessing, eyeballing if you will.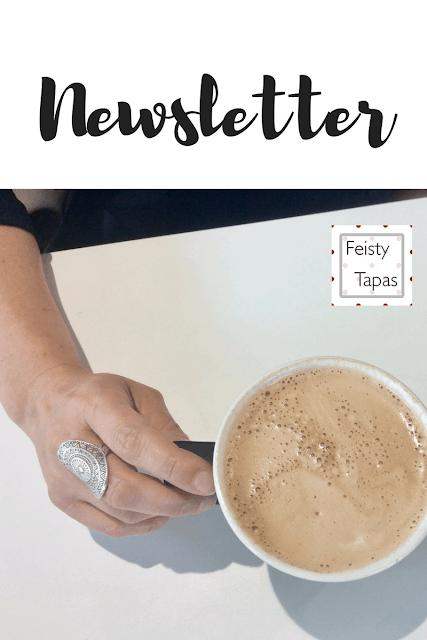 18