A lot of people visit this blog thinking food because of the name and, although the obviously fantastic content drags them in and they keep on coming back (yes, I'm feeling sarcastically modest today), I just thought I might as well have a section dedicated to the thing that brought them here and to show the sheer simplicity of the tapas world.
Tapas are easy, rewarding and, to be blatantly honest, you don't even need good weather for them, just set the mood as you wish and off you go. From a picnic in the park, the garden, the riverside, the kitchen table or your living room floor, as long as you have the right ingredients (good produce, lovely people and good conversation) you are off to a rather good start.
Dot these around a table, if it's a large table create two or more bowls/plates of each and place them at different ends where everyone can reach because you don't serve tapas onto your plate, you get your fork or spoon and eat, eat, eat.
Tapas are a laid-back affair, they should bring laughter, joy, good conversation and a sense of being on holiday and feeling relaxed.
So, here you go, the lazy guide to tapas of the feisty variety. If you try any of them, make sure you come back soon to tell me and everyone all about it.
Let's start with some easy ideas stolen from my Spanish Mothers' Day post as well as a couple of updates.
- Fill a bowl with olives (you know, from that olive bar you have been eyeing up).
What's usually left of the chorizo in red wine, i.e. nothing
- Slice some thick chunks of chorizo sausage and fry them first on their
own to release some juices and then add some red wine and let it
bubble. Make sure you peel the chorizo first, at least that is the way I
prefer it, I don't like nasty surprises.
- Make croquetas, delicious béchamel-based bites, how about Porcini Croquetas, sounds good, eh? They are heavenly!
- Get or make pita bread and make the most of the chorizo with these: Hummus and chorizo pita pockets.
- Buy a tin/jar or two of anchovies and place them in pretty bowls or get a bit fancy and make these Little Gem Lettuce with Anchovies which are perfect if you have just made the chorizo above.
- Buy some manchego or idiazábal or any other Spanish cheeses that you can find, that's a couple more dishes sorted. In fact, get a few cocktail sticks, dice the cheese, roll an anchovy on top, you are sorted for another platter. you can also do the same but topping it with the chorizo (it's a fantastic combination).
- Get nice crusty bread (to dip in the chorizo's lovely wine sauce and to put the anchovies on), for instance.
- Buy some Spanish meats: jamón serrano or ibérico, chorizo, lomo, salchichón, fuet. Whatever you can get your hands on.
- Make a Spanish potato omelette (tortilla de patatas), easy peasy with your Thermomix.
- Buy a few tins or jars of sardines, lay them over sliced boiled
potatoes, some people add raw onion to it. It will depend on how well
your tummy and breath deal with that.
- A sliced Crustless Quiche in the Thermomix is really easy and tasty and perfect with a salad, keep reading for salad ideas.
- Make a mixed salad: buy a prepared bag, empty it in a bowl with some
cherry tomatoes, cheese (cheddar, feta, whatever you have handy), tuna, olives, sliced onion, boiled egg...
anything goes where salad is concerned. My favourite homemade dressing
is: a garlic clove stamped on bluntly with the hand a few times, good
extra virgin olive oil, sherry vinegar and grain mustard, put it in one
of those handy bottles for making salad dressings or in a jar, cover and
shake really well. Adapt the measurements to your liking, whether you
like more the flavour of vinegar, of good olive oil or of mustard.
- While we are on the subject of salads, how about a nice Mixed potato salad with feta, coriander and chilli? Easy peasy in the Thermomix.
- Well, since you already bought a whole bunch of potatoes, how about the Spanish classic Patatas Bravas? Here
you have my recipe for the Thermomix. I use boiled potatoes to keep it
slightly healthier but the original way is to use cubed potatoes fried
in olive oil.
- Garlic and serrano ham mushrooms make a great tapa, increase all the ingredients proportionally to cater for the hordes or make a small plate just for yourself, you can have tapas on your own too!
- Padrón peppers, here you can find my post on how to cook them.
Cannellini beans with chorizo: perfect quick lunch in front of PC
- Is the weather getting you down? Do you need a hot dish? Open a can or two of cannellini beans, slice some chorizo and get some mixed herbs (or fresh herbs of your choice if you're going to the shop). Dry fry the chorizo for a few minutes, it will release lovely oil, add the beans, simmer for a few minutes so that they warm up and serve. I sometimes add chopped fresh tomato to this one and sometimes chopped tomato from a can. This one is perfect comfort food for a quick lunch.
- Spanish Lentil Stew (Lentejas) with its paprika flavours is another perfect candidate for the cooler weather.
- Finally, get a good Spanish wine, a good Tempranillo if you fancy red wine or Albariño if you are more in the mood for a dry white wine. Or a beer, see if you can get your hands on a few Estrella Galicia.
You don't have to do all of these, they are just suggestions for you to mix&match.
Lay it on the table really nicely and serve with Spanish flair.
A few words that may come in handy: a la mesa (basically short
for come on you lot I have just slaved over a hot stove for hours and I
need you all to sit down and tell me that you like it).
And yes, this is how we eat at the Tapas household quite often, I love that my husband has taken so well to it.
Lots of Feisty Tapas love,
Maria
PS - No shiny sombreros allowed (they're Mexican!).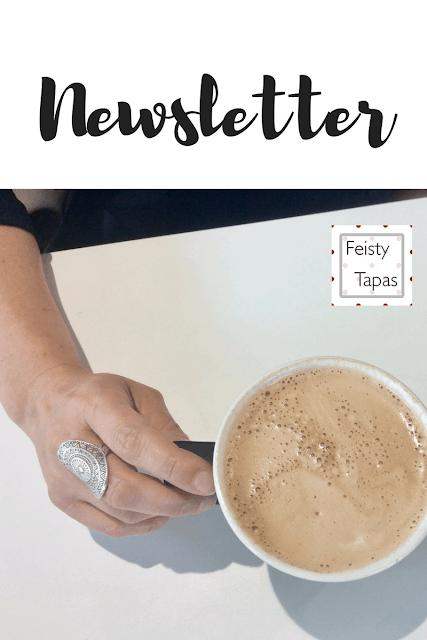 0