Yes, you read it right, it says pisto, not pesto. They are totally different. Pisto is a very Spanish recipe and one of those that everyone makes differently. It's a simple, humble dish that is totally delicious and very easy to make. It often is accompanied by the word manchego (pisto manchego), which means "from La Mancha". So, that's The Quixote, some amazing cheese and this delicious dish hailing from this region in central Spain.
When I got the Thermomix I started preparing it in it but it's really easy on the hob too so below you have both methods. I know, I'm lovely!
Pisto is a bit like the French ratatouille, my mother actually used to add a beaten egg in the last couple of minutes and, when I don't make it with fried eggs like today, I do like to have it like that. It gives it a lovely consistency when you are using it as a side dish, perhaps to accompany a simple roasted or grilled chicken breast. Of course, if you're vegetarian or vegan you can just have it on its own. It is very tasty.
It's also fantastic served as a tapa de pisto if you're eating tapas style, perhaps with some nice cheeses nearby and don't forget the bread, proper bread. If you want to have a gourmet tapas party with friends, try serving it in terracotta dishes or over a slice of toasted crusty bread with a quail's egg fried on top, even a quail's egg or normal egg soft boiled and sliced on top. I know, I am lovely AND full of ideas today, no? (Sarcastic? Moi?)
Originally it should have green pepper but, as I have mentioned in previous posts, we are not big fans of green pepper in this household so I use all red or a mixture of red, orange, yellow... whatever I can get my hands on really.
I tend to work more on what I have at home than weights so here you have a rough idea. The taste can be quite sweet so feel free to reduce the amount of onion, I sometimes just use one onion.
Spanish Recipe: Pisto (includes Thermomix instructions)




Ingredients
150 g red pepper (i.e. 1 red pepper), in big chunks
150 g green, yellow or orange pepper (i.e. 1 green, yellow or orange pepper), in big chunks
300 g onion, quartered (2 medium onions)
300 g courgette/zucchini (2 courgettes/zucchinis). Some people peel them, some don't, I am of the peeling persuasion.
50 g extra virgin olive oil (EVOO)
400 g chopped tomatoes
1 teaspoon sea salt
Pepper (I don't always add it though)
Thermomix method:
Chop the peppers and onion in the bowl: 4 seconds, speed 4. Reserve (in the TM's basket for example)
Dice the courgette/zucchini: 2 seconds, speed 4.
Add the olive oil and the reserved pepper and onion: Varoma, 15 minutes, reverse, spoon speed.
Add the chopped tomatoes, salt and pepper: Varoma, 20 minutes, reverse, spoon speed.
Serve with fried or poached eggs and lovely crusty bread (to dip in the egg yolk and mop up the sauce of course). You could poach the eggs on top at the end.
Conventional method (hob):
Chop the onion and peppers roughly, it doesn't have to be too small.
Dice the courgette/zucchini, about 1-2 cm. Again, it doesn't have to be perfect.
Heat the olive oil in a pan, add the onion and peppers, let them sweat (5-10 minute) and then add the courgette/zucchini. Cover and simmer for about 10-15 minutes
When the courgette/zucchini starts to soften, add the tomatoes, salt and pepper and simmer for about 20-25 minutes basically until you have a nice consistency and the vegetables are soft.
See? Perfect as tapas
I won't tell you how to fry your eggs, even my husband and I differ a lot in our tastes.

Serve with Spanish flair!
Tip: Some people also add diced boiled potatoes to make more of a dish and even diced aubergine.
Trick: Add some mixed herbes or herbes de provence at the end.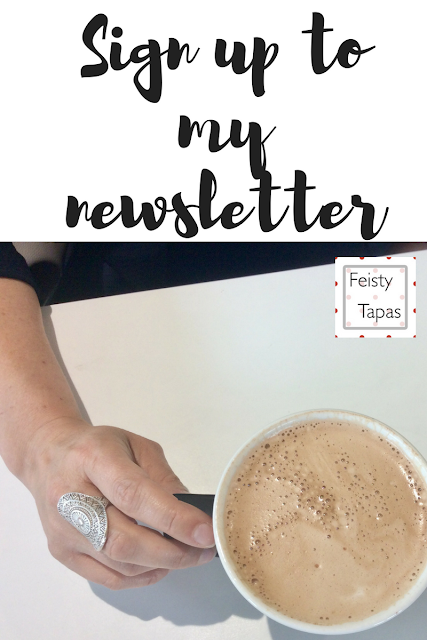 0