You may never have heard of the Thermomix, a kitchen robot that virtually does everything and in a really short time, but it is totally understandable because it is not that well known in the UK. So let me tell you about my Thermomix demo.
In Spain, where I am from (in case my Britishness levels have
increased lately and you forgot), it's a hugely popular machine. Over
there it is a household name and one name that most households have or
wish they had. I should know, the first Thermomix entered our household in the
early eighties and it moved to its new location in the mid-nineties, it
still is in use.
I clearly remember the
demonstration there was at home when my mother bought it. For me, the
skinny child who thoroughly enjoyed food (those were the days!), it was like a party: there
were people and food everywhere.
You see, you can't find the Thermomix in the shops, in the UK you can buy this product of Vorwerk's German design directly from UK Thermomix
but, as it is such a multitasking robot, the network of demonstrators
is key. In fact, unless I had already used a friend's one or seen one in
use a few times, I wouldn't want to order one myself without having seen a
demonstration, but that's just me, I'm clumsy and expensive things that I
can break scare me! Plus the demonstations are free, you just have to buy a few ingredients (a lot of which you probably have at home) and you are left with delicious food to remind you of the Thermomix with every bite.
Lesley, from Me and my Thermie,
came home last Saturday with a Thermomix, set it up on my kitchen table
and started wowing us. The model I grew up having at home had way less
features than the current one, also known as the TM31:
You may have seen it recently on the counter of the likes of Saturday Kitchen with James Martin
Lesley, the lovely demonstrator
I have a food processor and a steamer in the kitchen, the steamer lives in a cupboard and comes out about once a week to steam vegetables but mainly to steam rice easily. The food processor was passed on to us from a lovely friend, I tried using it once for my Marble Cake, I put all the ingredients in, pressed start, it didn't, tried again, it still didn't. In fact that's how I mastered my Marble Cake recipe. So I never used it again. Mr Tapas has used it a couple of times. It hasn't been used in the over 4 months we have been in the new house and in fact the blades scare me for two reasons: LittleT + I never know which one to use and having to keep referring to the instructions every time is just painful.
Let me take you through some of the features of the Thermomix that are really appealing. Firstly, let me tell you why I wanted the demonstration:
Raving reviews from Spain and not only because it saves them a huge amount of time
It only uses one blade (hooray)
It only has one bowl (and it self-cleans!)
The whole thing can live together on the counter top, meaning you don't have to be looking for accessories in the cupboards (and everyone knows where they go so nothing goes stray)
The lifetime is supposed to be rather good (not only based on my mother's 30 year old Thermomix) and that bodes well with my clumsiness
It has a small footprint (above all given all that it does!)
Other things I found out during the demo:
It chops in seconds, I can't even remember now whether it was 3 or 6 seconds that it took to chop an onion and 2 red peppers, then Lesley just removed the lid and poured some olive oil in to proceed to sautée (yes, in the bowl itself without removing it from the machine). 3 or 6 seconds! Update: Lesley informs me that it was 2 seconds (two!).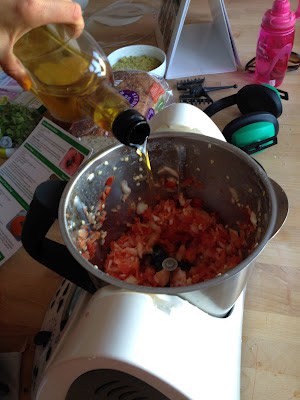 Veggies chopped and ready to sautée
Then she added chopped tomatoes and water to the bowl and let it all simmer in the bowl while on top she weighed (yes, weighed) vegetables to place in the steamer basket (called Varoma). This was really impressive and it took about 15 minutes, after which there was soup and steamed vegetables in the house.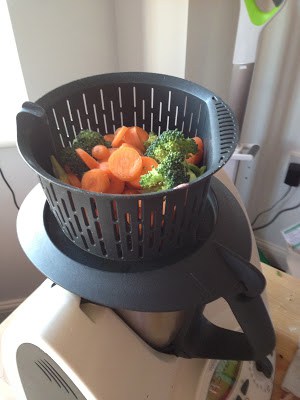 Weighing the vegetables for the gratin
Steaming away in the Varoma while it makes soup in the bowl
This was the result:
Tomato and red pepper soup in 15 minutes, delicious hot or cold (we had it both ways)
Vegetable gratin with cheese sauce, topped with fresh crumbs with parsley, all made in the Thermomix in no time
But that's not all, she also had time enough to make some bread dough in a few minutes and with ingredients that could be kept at home in a kitchen cupboard permanently, they just went into the oven to proof and then to bake (I think about 40 minutes in total, plus eating time).
Thermomix bread with sesame seeds
A refreshing and very welcomed fruit sorbet as it was a very hot day, it was delicious and mainly made of fruit and ice, with some sugar added which can be adapted to taste and dietary needs:
Fruit sorbet that we ate straight away
The Thermomix, the buttons seem very self-explanatory, the blade reverses so that you can make a risotto (for example):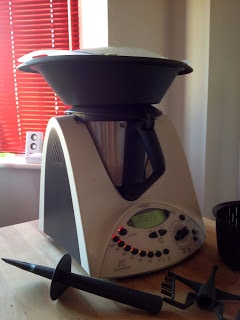 That's all it needs,
The recipe book that comes with the Thermomix
I had a quick browse through the recipe book that comes with it as standard and loved the fact that it makes concentrated vegetable stock in 20 minutes. Chicken stock in 40. Do you know how long it takes me to make stock?
I was told I could have the machine delivered with the Spanish book if I preferred, each book is adapted to each market so I asked today how much it would be to buy the Spanish one separately: £20.
And that was it, we were left to enjoy the rest of our day with happy tummies and unsettled pockets (and an inner wish that Lesley could have left her Thermomix behind on the spot).
At the moment I am considering the various payment plans, some of them mean a low montly payment of about 25-30 quid. There is also an interest-free option for up to six months.
I've been dreaming of easy homemade soups, risottos, breads, sorbets and smoothies ever since.
You can find lots more information about the Thermomix than I could ever start to remember at the main Thermomix website here.
*This is NOT a sponsored post, I am thinking of buying a Thermomix and Lesley came to give me a demonstration just as she would to any potential client. I *may* have given UK Thermomix some advice on how to use social media more to their advantage but, those who know me (yes, Charlotte, you for example) know that that is just me when I'm passionate about something!*
Things have changed a lot since I wrote this post, I am now a very passionate Thermomix owner. In fact, if you live in the UK and you already have a
Thermomix or are considering buying one, I run the fantastic Thermo Cooking UK with Feisty Tapas Facebook group. Come join the Thermie chat and, while at it, find me on Instagram (I do go on about Thermie a lot on there).



1