Today I have a treat for all of you.
Tots100 in the UK has teamed up with Digital Parents in Australia to do a blog swap, thanks to which I have discovered a fabulous blog full of sweet recipes: Sweet Natured Kitchen. Madison has written a lovely recipe to feature on here: Thermomix Chocolate Sandwich Slice.
Hello to all of the Feisty Tapas and Tots100 followers! I am really looking forward to sharing a recipe with you as part of International Blog Swap Day.
My blog is all about the sweet stuff, everything from traditional baked goods all the way to raw vegan treats. However, I must admit that I have been tending towards the natural treats most recently as they are guilt free and instead of making you feel sluggish, they just make you feel good all over! Nuts and coconut oil are great for your skin and hair as well as your insides and using dried fruit and rice malt syrup as natural sweeteners mean you avoid all the nasties of processed sugar without losing any of the flavour. Win, win!
Now you may be wondering how the pairing of Feisty Tapas and Sweet Natured Kitchen came about...Well it had to be due to one wonderful piece of kitchen equipment, the Thermomix! I have had my Thermomix for around 7 months now and I use it almost everyday, most days 3 or 4 times! I don't always post recipes with Thermomix instructions but to tell you the truth, I have probably used it somewhere along the way in all recipes. I use it as my food processor, beater or even to melt chocolate! Like Maria, I am not affiliated in any way with the company, I just enjoy creating and sharing recipes.
Here is a recipe I created just yesterday for my husband to celebrate our wedding anniversary. I call it Chocolate Sandwich Slice.
This recipe is no-bake and is 3 different layers.
100g rolled oats
30g cocoa
50g rice malt syrup
50g coconut oil
20g chia seeds
Speed 10, 5 seconds
Scrape down sides, add 20g water and mix again speed 3, 10 seconds.
Scrape down side and place mixture into the bottom of a slice tin (I actually prefer to use a loaf tin as you get a nice tall slice and it is easy to cut), spread it out evenly over the bottom. Refrigerate.
Chocolate centre -
100g cocoa
70g rice malt syrup
70g coconut oil
Speed 2, 50 degrees, 2 minutes
Scrape down sides and give another quick mix if necessary.
Bring slice out of fridge and pour the chocolate on top. Spread it over the bottom layer evenly and place back in the fridge.
Top layer - (fudge layer)
50g almonds
100g cashews
50g cranberries
100g rolled oats
70g rice malt syrup
70g coconut oil
30g cocoa
20g chia seeds
Speed 10, 10 seconds. Scrape down sides, repeat if you still have lots of large nut chunks (although if you like this texture feel free to leave the large chunks - personal preference!).
Then whizz it up again Speed 4, 15 seconds.
Pour onto the top of the slice and spread out evenly. Place in the freezer for 30 minutes. Remove, cut and serve. Store in an air tight container in the fridge.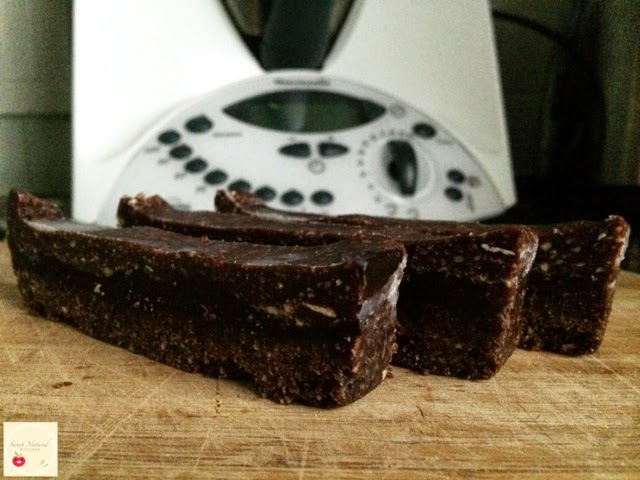 0