My Thermo Cooking UK with Feisty Tapas Facebook group comes with its own Christmas Fairy, her name is Vanessa and she sparkles with festive joy. She's been getting everyone preparing their Christmas hampers for a few weeks now (since about September believe it or not!).
I actually owe a huge thank you to Vanessa, my health isn't great at the moment and she stepped in just when I most needed her, keeping interaction going and everyone organised. I got to say this in person the other day but wanted to say it here too.
This post is likely to be regularly updated with information and recipes so do please keep an eye out!
Of course, you may not want to give everything away, I would suggest keeping the fudge and the chocolate liqueur!
There are a lot of references to the Fast & Easy Indian Cooking book, in the UK you can buy it from Thermomix UK or Australia (if you're in Oz you can buy it here), if you're in a different country, check your local Thermomix office just in case, they might sell it.
Do you need something that is not in this list? Let me know what it is and I'll ask the Feisty Tapas community if I don't know the answer.
If you need pretty labels, the Jam Labelizer website is free to design and the result is rather good.
Ready? I promise you this is a really good compilation, thank you to
everyone who has been providing their feedback and photos for the chosen
recipes.

CHRISTMAS PUDDING
A few weeks in advance (Stir-Up Sunday 2016 is November 20th):


The Christmas Fairy's recipe using a pressure cooker like the Instant Pot is right here.


PRESERVES
A few weeks in advance:
Thermomix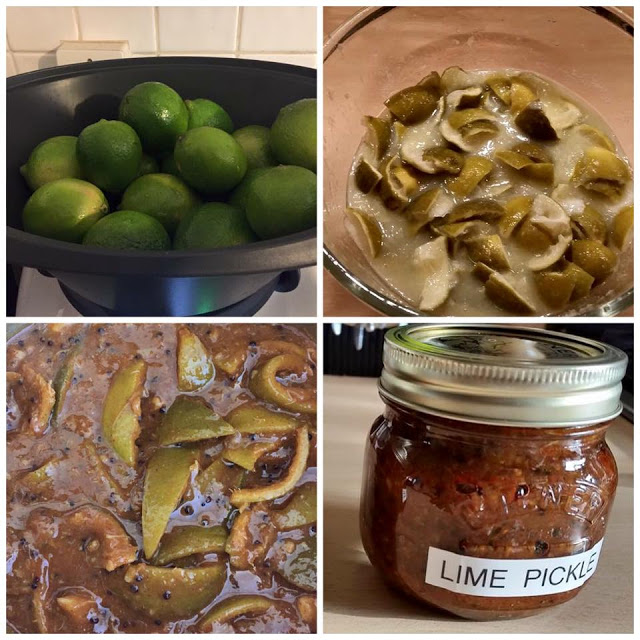 Lime Pickle from the Fast & Easy Indian Cooking book, see photos above
Piccalilli with Pears and a Hint of Red Chilli by Forking Foodie
Cranberry Sauce with Port and Orange by Forking Foodie
Mincemeat by Forking Foodie
Lemon Curd from the UK's Basic Cookbook that comes with the TM5
Chilli Sauce by Thermolicious. Warning from Lucy: it thickens as it cools, do not put in bottles with narrow necks.
Non-Thermomix



Instant Pot Lime Pickle by Feisty Tapas prepare ahead! This is so good!
Quick Lime Pickle by Feisty Tapas, you can use your Instant Pot, your Thermomix, a steamer, your hob... everything goes with this one. Give it a go!
Aromatic Spiced Mango and Apple Chutney by Forking Foodie
Linda's Piccalilli
Piccalilli with Pears and a Hint of Red Chilli by Forking Foodie
Cranberry Sauce with Port and Orange by Forking Foodie
Salted Chillies by Forking Foodie
Mincemeat by Forking Foodie
Chilli Jam by Nigella


Gooseberry and Elderflower Jelly by Delia Smith
Beer Mustard from BBC Good Food, recommended by Andrea from Forking Foodie.
Rosehip Jelly by Thermo Cooking UK with Feisty Tapas group member Janet:
- A couple of cooking apples and make it up to 1kg with rosehips,
- 300 ml water

1. Cut the
apples into small pieces (don't peel or core them).
2. Add the 300ml water, cook
slowly for 10 minutes then add the rosehips and continue cooking to a
soft pulp.
3. Strain
through a jelly bag then allow 1lb sugar (453 g) to 1 pint juice (568 ml) and carry on as
usual. Or if you have a jam maker then just follow the makers
instructions.


GOURMET SALTS
Rosemary's Herb Salt
Spiced Herb Salt from the Fast & Easy Indian Cooking book
Fragrant Tuscan Herb Salt by Thermo Cooking UK with Feisty Tapas group member Janet:

Ingredients:

4-5 cloves peeled garlic
½ cup sea salt
About 2 cups loosely packed sage, rosemary and thyme

Method:
1. Chop garlic, herbs and about ⅓ of the salt, stir in the rest of the salt.
2. Spread out on the baking sheet and dry for about 15 minutes at 100ºC.
3. Turn off the oven and leave herb salt in there until cool.
SEASONINGS
Cajun Mix by Forking Foodie
Jamaican Curry Powder by Forking Foodie
Sri Lankan Powder by Forking Foodie
Magic Mushroom Powder by Nom Nom Paleo

TO GO WITH YOUR CHEESE
Thermomix
Marie's Foolproof Oatcakes by our own Marie from the Thermo Cooking UK with Feisty Tapas group

Festive Fudge as made by Mary

FUDGE
Thermomix

White Chocolate Fudge by Kirrin's Kitchen
Festive Fudge by Mixing Food and Life (see Mary's photo for presentation tip, she tells us these are the cellophane bags she used and the ties are these (both affiliate links).
Thermomix Russian Fudge from the Australian Recipe Community
Salted Caramel Fudge recommended by Marie
More Salted Caramel Fudge, this time Forking Foodie's and recommended by Jayson
BISCUITS
Thermomix
Shortbread by Feisty Tapas
SPOON-WORTHY SPREADS
Thermomix
Salted Caramel



CHOCOLATES
Chocolate Turrón by me, Feisty Tapas

Chocolate Pecan Fudge Truffles by Forking Foodie


GF DF Ferrero Rocher with no added sugar by Me and My Thermie
Orange, cinnamon and roasted almond chocolate bark, page 215 of the Quirky Cooking book.
CAKES
Mince Pies (using the mincemeat above). Andrea from Forking Foodie tells us that this is the recipe she uses for the
pastry year after year with the kids - she makes them in a mini muffin
tin, and instead of putting on round lids, she cuts out little stars
with a pastry cutter, that just touch the sides with the points and they look really pretty sprinkled with a little icing sugar once cooked. Nigella does similar in her Christmas book.
Other recommended Mince Pies, this time by Marie, who tells us for the past few years I have been making these mince pies, so easy and very well received.
Christmas Cake by Forking Foodie (includes Thermomix method and conventional)
Nigella's Vanilla Spruced-up Cake Thermomix instructions: Thermie steps are weigh all ingredients in except icing sugar. Mix at speed 5 to 6 until fully mixed. About 30 seconds to 1 minute. Easy peasy.
Roscón de Reyes, Spanish cake typical of Epiphany (January 6th)


My Chocolate Liqueur, delicious!
DRINKS
Chocolate Liqueur by Forking Foodie (tried by me and absolutely delicious)
Spiced Arancello from BBC Good Food
Eggnog (Victoria made this one successfully last year)
ODDS AND SODS
Vanessa's Clementines in Brandy


Clementines in Brandy by Larder Love (use them in your Trifle!)


Pickled Pears from BBC Good Food. Recommended by Andrea from Forking Foodie, she tells us it also works well with nectarines if you get some on offer! Nice with a sprig of rosemary or thyme in too.

Pickled Red Cabbage from BBC Good Food. Another Andrea recommendation:
nice, and looks really pretty with the yellow mustard seeds.
CHRISTMAS DAY
TURKEY
Sous Vide Turkey by Forking Foodie
Spiced Braised Red Cabbage by Forking Foodie. Andrea says:
This is a delicious side dish for Christmas dinner, which she usually make plenty in advance, and stores in portions in the freezer - as it's also beautiful with things like game, pork, duck and even sausages (especially venison sausages) so always nice to have on hand!
3