Thermomix Roscón de Reyes (Spanish Kings' Cake) is traditional of both Christmas and Easter.
Come December every year, I am always asked the same question: do you know a good recipe for Roscón de Reyes?
And unfortunately I don't, I am not very good at baking (at eating cake I am brilliant though).
So, I have enrolled the help of the lovely Beatriz from Sabor de Amor who makes a fantastic Thermomix Roscón de Reyes (Spanish Kings' Cake).
What is Roscón de Reyes (Spanish Kings' Cake)?
Roscón is a yeasted bread.
Best way to describe it is that it's similar to brioche.
In fact, it's very similar to Maria's Thingies! Also known as Bollos Suizos or Medias Noches. If you haven't tried that recipe, you really should, it's so good!!
Christmas Roscón de Reyes (Kings' Cake)
Roscón de Reyes (literally Cake of the Kings) is traditionally eaten for Epiphany, January 6th, when the Three Kings (Three Wise Men) visit all the Spanish children atop their camels all the way from the Orient after parading on their floats at many different cabalgatas.
Easter Roscón de Pascua
Without the cream, Roscón de Pascua is typical of Easter where I am from, so you have two excuses a year to make it and the rest of the year to perfect it!
A bit like brioche, sweet bread or even panettone, where I come from (Galicia), you can basically eat roscón all year round.
So, feel free to take the Galician approach and don't wait to January 6th.
Otherwise, your other perfect excuse is Easter time.
Traditionally at Easter godparents give their godchildren a Roscón de Pascua, I used to get one every year.
Delicious tradition if you ask me!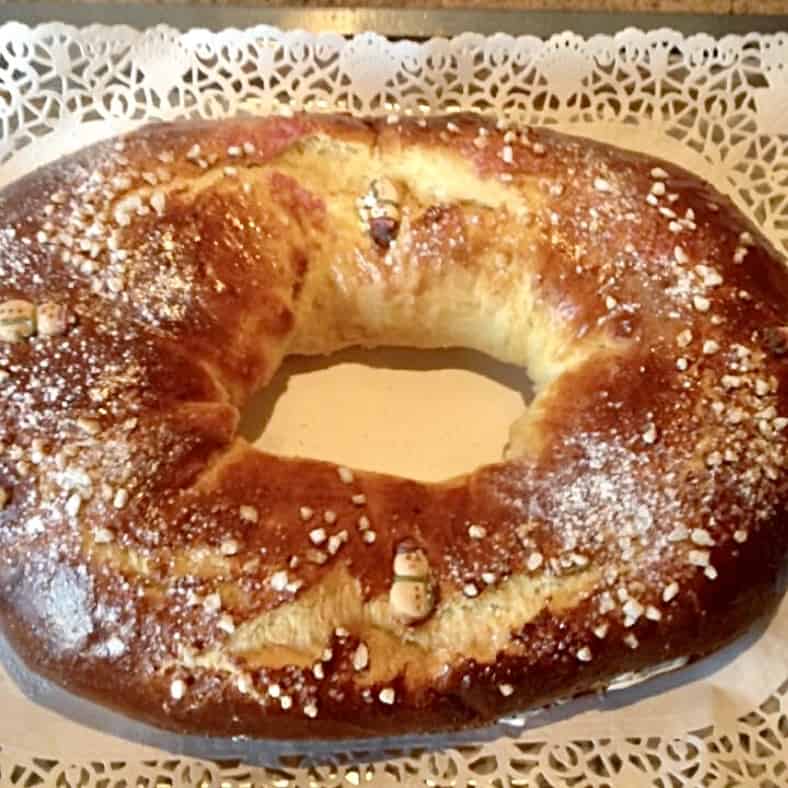 About Bea and Sabor de Amor
Based in Wrexham, Wales, Bea is a brilliant member of my Facebook group (Thermo Cooking UK with Feisty Tapas) and has a business selling Spanish food (some of it made by Bea herself!) at very affordable prices (I do keep an eye out for these things).
Her Paella Sauce is so good that it has even featured on TV on the BBC's Top of the Shop where you can see Bea herself.
You can also buy paella rice from her.


I've bought her paella kits before where you get the paella sauce and the rice and made paella in the Instant Pot, ask me for the recipe if you need it!
Bea is very proactive when it comes to getting any obscure ingredients and tools that arent' so easy to find over here (check out her Churros kit!).
As a thank you for allowing me to share the recipe, I am leaving links to her website, Facebook, Twitter and Instagram accounts so that you can follow her.
Love kitchen gadgets?
Join my Kitchen Gadgetry group over on Facebook.
Questions about the recipe? Head to my Thermo Cooking with Feisty Tapas to ask Beatriz.

📖 Recipe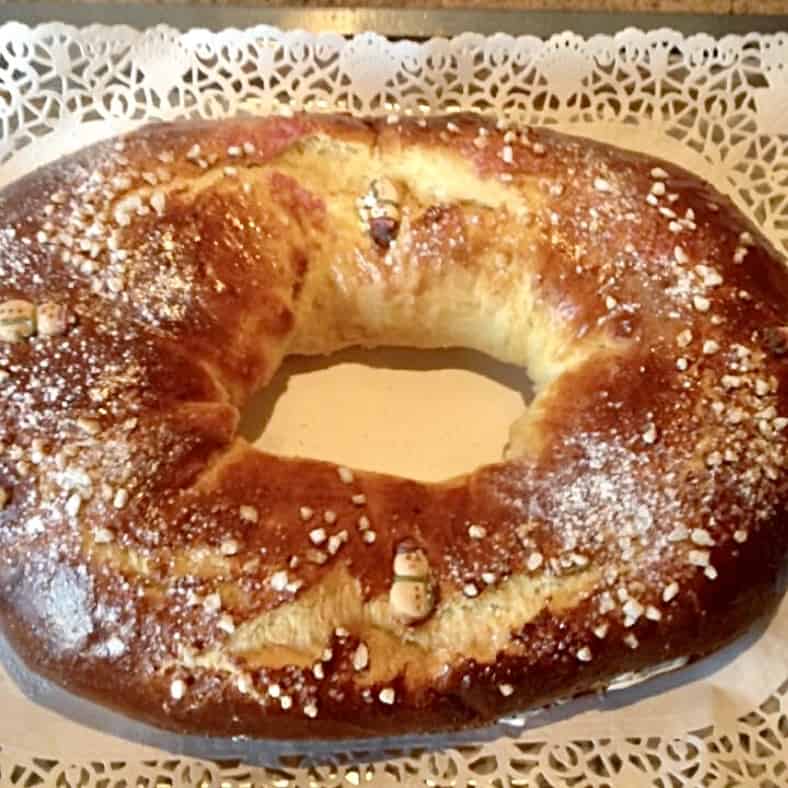 Thermomix Roscón de Reyes / Roscón de Pascua
Typical of Spanish Christmas, Roscón is also typical of Galicia during Easter. An authentic recipe you can do in your Thermomix or adapt to do by hand
Ingredients
Starter dough
70

g

of milk

10

g

fresh bakers yeast

in the UK Ocado sells fresh yeast, the Bakery section of some supermarkets like Sainsbury's where you may have to ask for it at the Bakery counter or in Morrison's near the butter; apparently Polish shops are another good place to find it

1

teaspoon

granulated sugar


130

g

strong bread flour
Main dough
120

g

sugar

Zest of a lemon and zest of an orange

not the white part

60

g

milk

semi or full-fat

70

g

butter

room temperature

2

eggs

room temperature

20

g

fresh bakers yeast

30

g

orange blossom water

Bea uses Nielsen-Massey brand from Sainsbury's

450

g

strong bread flour

as above

A pinch of salt

1

beaten egg to paint the Roscón
To decorate
Flaked almonds

Candied fruit

Candied cherries

Sugar cubes / lumps

broken in smaller pieces if quite big (dampened in small amount of water to decorate)
Instructions
Add the ingredients from the starter dough and mix 15 seconds at speed 4. Remove the dough from the bowl and shape it into a ball on the kitchen top and put it in a plastic bowl and cover it with warm water until it doubles in size and rises to the surface.

Add to the TM bowl from the list of ingredients of the main dough: sugar, lemon and orange zest and grind 20 seconds speed 10.

With the spatula, scrap down the sugar and add all the ingredients from the main dough plus the starter dough. Mix 30 seconds, speed 6 and then 3 mins interval speed (i.e. closed lid setting and press kneading button in TM31). Without opening the TM bowl, cover the TM bowl with two layers of thick kitchen clothes and leave it until the dough rises to the very top and pushes the lid MC. It takes a long time…. Unless you live in the tropics, it normally takes me 3-5 hours but check from time to time.

Push down the dough with the spatula and mix 1 minute, interval speed. The dough is sticky but don't panic and start adding flour… I usually put some oil in my hands, take it out of the bowl by pushing the blades down with the TM bowl upside down (just like any other dough). Shape it into a ball on a floured surface and make a hole in the middle and shape it into a thin ring…. Like if you have a big ring in your hands and keep on stretching it until it has a uniform shape…. Roughly a 40 cm diameter hole in the centre.

Put the dough onto a big tray with baking paper, paint with egg, decorate with the fruits, almond flakes, sugar…. And leave it to double in size…. Around 1-2 hours. Choose a warm place free from any draft (like your airing cupboard).

Preheat the oven to 200°C and bake in the centre of the oven for 5 minutes, then reduce the temperature to 180°C and bake for 15-20 mins. Take it out of the oven and leave it to cool down on a rack and you can cut it through the middle and fill it with whipped cream (optional and not typical of Easter time roscón) and hide some money coins, little figurine and a bean… All of them wrap up in foil…. Just like we do in Spain! At Christmas, the loser (whoever gets the bean) needs to pay for the Roscón! If you don't want cream, you can use crème pâtissière.
Notes
Tips
Use orange blossom water, it's very important.
I use semi-skimmed milk but you can also use full fat milk
I always leave it to prove properly. The time one it takes to prove the dough can vary and it's the result that matters not the time allowed.
Share on Facebook
6