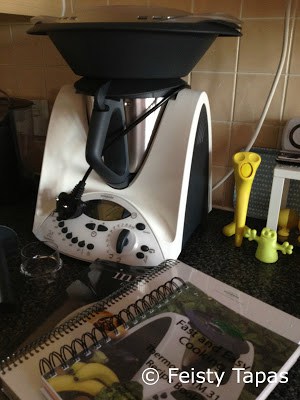 One of my first memories of the Thermomix is the Lettuce Soup that was made at home during the demo in the early eighties. The other fond memory of the Thermomix is that of my main nourishment provider during the weeks that followed the accident that changed my face, I was on a liquid diet on and off for many years after that as I battled through pain and reconstructive surgery. My mother would make sure that the Thermomix blended everything I needed to still eat healthily, she would blend all sorts of vegetables with meat or fish into my soups. Still now there are days when I only want to eat soft food.
I was in pain on Saturday and I really wanted to make Thermomix soup and soup, Carrot and Coriander, was indeed recommended for day 1 on the Thermomix meal planner (it's so handy that they provide this while you're getting used to the machine) but my Spanish tastebuds decided to go with a recipe from Velocidad Cuchara (a fabulous Spanish blog full of Thermomix recipes); however, by the time the soup was ready my husband decided to go all British on me and so I had to put it all back into the Thermomix with some coriander for a few seconds (to me, the Spaniard, carrot and coriander soup is a very British thing).
But, I have to say, he was right (I bet he's smiling as he reads that as it's usually me who is ALWAYS right), it made a huge change and the soup turned out much more delicious.
If you don't have a Thermomix, you can adapt this to conventional cooking.
Carrot & Coriander Soup with Greek Yoghurt


Adapted from: Velocidad Cuchara
Ingredients:
500 g peeled carrots in chunks
200 g onion
650 g water
4 Laughing Cow-type cheese wedges (choose gluten-free ones if you want GF soup)
1 Greek yoghurt (unsweetened)
15 g fresh coriander (use more or less to adapt to your taste, it's easy to do that in the Thermomix)
Salt
Method
Add the carrots and onion to the bowl and chop for 5 seconds, speed 5.
Add the water and a pinch of salt, then programme 25 minutes, 100º, speed 1 (I actually don't think they needed that long, I will try to reduce the time when I prepare this next to see how it goes).
Blend the soup for 1 minute at progressive speed 5-10 (at this point I had to email Lesley, my demonstrator, to ask what this meant as I realised I had kind of thrown myself at the deep end). It means keep it a few seconds at each speed and then "progressively" move the control to the next speed. So, 10 seconds at speed 5, 10 seconds at 6 and so on until you have done 1 minute.
Add the cheese wedges and the yoghurt (leaving some yoghurt behind to add a tasty dollop when serving) and blend for 15 seconds, speed 5.
Add coriander, blend for 5 seconds, speed 5.
Serve with Spanish flair! ¡A la mesa!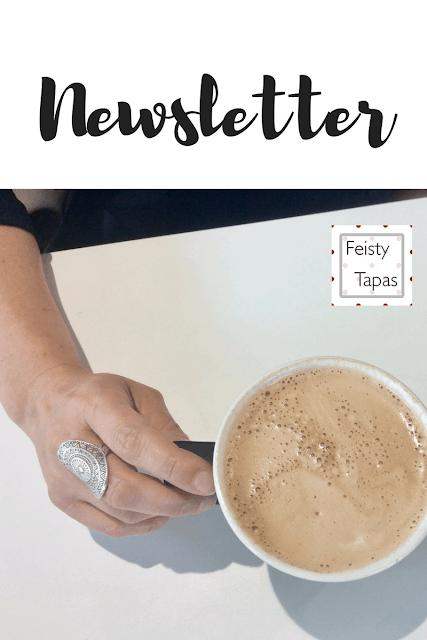 0