On day two with the Thermomix we had a friend coming for lunch and I apparently got all confident of my abilities. Or rather I didn't read the recipe carefully enough before starting and I chose something that, for a second day and for my usual cooking skills, was quite complex. But boy am I glad I did.
This is a brilliant recipe for a picnic, a party or a few packed lunches (as we discovered the day after). Now, Mr Tapas is quite picky about his lunches, gets easily bored and spends a fortune on them in London. One of the reasons that convinced me to buy the Thermomix is to cut down on those lunch expenses, this Crustless cheesy vegetable, ham and anchovy pie (I really didn't know what else to call it, suggestions welcome) made lunch for 3 hungry adults on Monday, and 2 lunches for Mr Tapas on Tuesday and Wednesday, bocadillo style (in between crusty bread, on day 2 he had it with a sweet type of bread and it worked really well).
This is a Thermomix TM31 recipe but you will see that you can easily adapt it to conventional cooking, you may spend a lot of time chopping but you can do what I did with chopped ingredients before I had the Thermomix, chop when you have time throughout the day and place in the fridge in air tight / lidded containers. And yes, this is another reason why I bought the Thermomix, I was spending so much time chopping and cutting through fingers and nails (did I mention I am extremely clumsy?).
If you are vegetarian, you could try omitting the ham/anchovies or replacing with an ingredient of your choice. If you do, make sure you come back and let us know how it goes.
It will keep in the fridge for a couple of days and is perfect for spicing up lunch boxes.
Crustless cheesy vegetable, ham and anchovy pie
Source: Coca exprés de verduras, todo en uno from Velocidad cuchara.
Thermomix time: 10 minutes
Total time: 30-35 minutes
Ingredients:
150 g cheddar (the original recipe calls for emmental but our friend is pregnant so, just in case, I changed it)
150 g honey roast wafer thin ham (or ham of your choice, you could even cook your own at home, check out my cranberry ham and cider ham recipes)
200 g red pepper (the original recipe calls for 100 g red pepper + 100 g green but we don't really like green pepper in the Tapas household)
80 g onion
200 g courgette
6 tinned anchovies (optional but they give it a great taste)
1 teaspoon salt (optional)
1 pinch of black pepper (I just used a couple of twists of my pepper mill when it came to it)
4 large eggs (the original recipe calls for medium but I only ever buy large eggs nowadays, have you noticed they're not as big as they used to be?)
100 g extra virgin olive oil
160 g plain flour
1 teaspoon yeast (I now have instant yeast sachets at home so I got a teaspoon from one of them)
Equipment:
Thermomix TM31
One small bowl
One large bowl
Oven baking tray
Parchment paper
Method:
Preheat the oven to 200º.
Chop the cheddar cheese 8 seconds on speed 7. Remove and reserve in a bowl.
Chop the cooked ham 3 seconds on speed 4 and reserve in a large bowl (it needs to be large as you will add the rest of the vegetables too).
Place the red pepper, onion, courgette, anchovies, salt (not much or even not any because the anchovies are a bit salty already) and the pinch of pepper and chop 4 seconds on speed 4. Use the spatula to make sure you remove every last bit (it's well worth the effort) and reserve in the same bowl as the ham.
Do not wash the bowl, crack the eggs and add them to the bowl, add the oil and whisk for 10 seconds on speed 5.
Add the flour and yeast and half of the cheese. Mix 10 seconds on speed 3.
Add all of the contents of the bowl where you had placed the ham and vegetables and mix 10 seconds on speed 3.
Lay the parchment paper on the baking tray and brush with a bit of olive oil. Pour the mixture and spread well to even out the thickness across the tray. Sprinkle with the rest of the cheddar and place in the centre of the preheated oven for 25-30 minutes at 200ºC/190ºC in a fan oven/gas mark 6.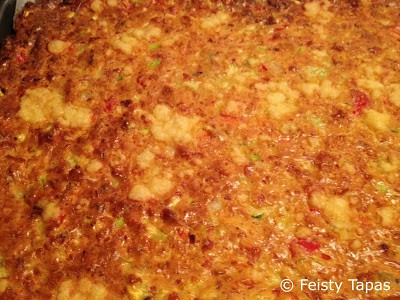 Just come out of the oven
Serve with Spanish flair cut into squares or rectangles or circles... the choice is yours (see how flexible I am? Don't I treat you well?). We paired it with a mixed salad (mixed leaves, meli melo tomatoes, olives, extra virgin olive oil and sherry vinegar), they went really well together.


0