Delicious, warming Spiced Hot Chocolate with Oat Milk Thermomix Recipe, made super easy in your Thermomix or thermo cooker.
Try it in your Hotel Chocolat Velvetiser too and let me know how you get on.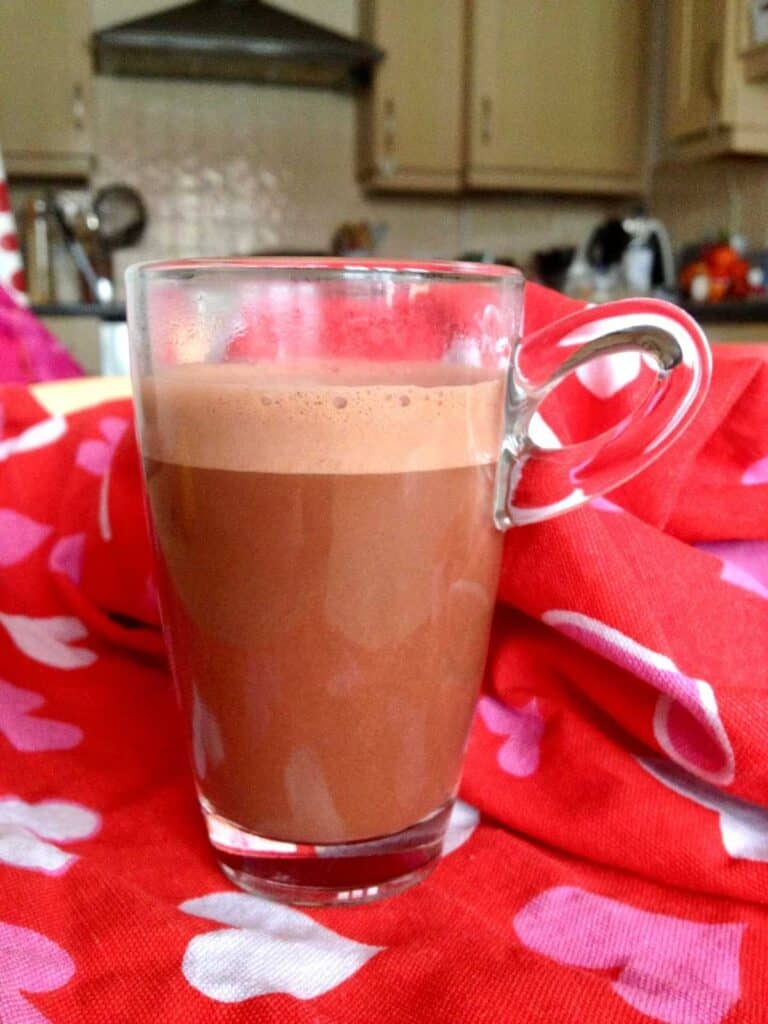 This recipe came about when I was trying the little Tapita on different lactose-free milks to see if the reduced intake of lactose helped her eczema and constipation problems.
I bought a variety of milks, one of them was oat milk, unfortunately she didn't like it; however, her mami did.
Have you joined my Thermo Cooking UK with Feisty Tapas group?

To top it all it was so cold all over the UK but especially in the Tapas household with no central heating (!), hot drinks have been keeping us going.
So I thought it was time for a treat, as well as time to use up the rest of the carton of oat milk before it went off. 
What are the ingredients of this Spiced Hot Chocolate with Oat Milk Thermomix recipe?
Oat milk warmed up in the Thermomix with some cocoa, chilli, cinnamon and honey and the result, even if I say so, was really good.
The consistency is thick and, let's face it, I'm Spanish I like thick hot chocolate.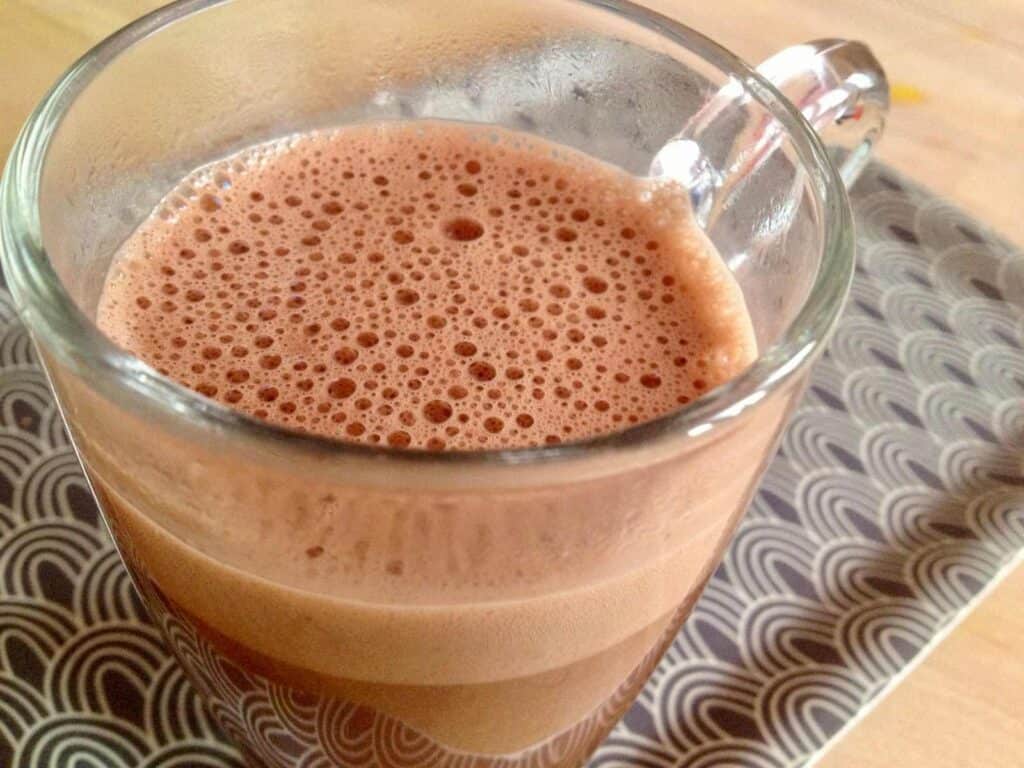 Want to make your own oat milk?
If you would like to make your own oat milk, this Thermomix oat milk recipe (although I haven't tried it) looks good.
You can, of course, make this hot chocolate with your preferred milk and see how it turns out.

The little Tapita will always prefer her Cola Cao but I can't blame her, I grew up on that stuff after all, it is rather special.
📖 Recipe
Thermomix Spiced Hot Chocolate with Oat Milk
Deliciously, warming spiced hot chocolate. Fantastic with oat milk or any milk of your choice
Equipment
Thermomix or thermo cooker
Ingredients
500

g

oat milk

2

tablespoons

cocoa powder

½

teaspoon

chilli powder

or to taste really, you may want a tad more if you really want to feel the chilli in the taste

1

teaspoon

ground cinnamon

1

tablespoon

honey

approximately or basically to your taste, I didn't actually measure it
Instructions
Place the oat milk, cocoa powder and chilli powder in the Thermomix bowl: 90ºC, 5 minutes, speed 4.

When there is a minute left (and this was mainly because at that point I realised it would go really nicely so, really you could add them from the start), lift the measuring cup and drop the cinnamon and honey then start turning the speed up gradually, a few seconds on 5, a few seconds on 6... you get my drift, right? Make sure you get up to at least speed 9 or 10 to get a nice froth.
Nutrition
Calories:
183
kcal
Carbohydrates:
38
g
Protein:
5
g
Fat:
3
g
Saturated Fat:
1
g
Polyunsaturated Fat:
1
g
Monounsaturated Fat:
1
g
Sodium:
130
mg
Potassium:
221
mg
Fiber:
5
g
Sugar:
29
g
Vitamin A:
671
IU
Vitamin C:
1
mg
Calcium:
383
mg
Iron:
3
mg
Share on Facebook
Serve with Spanish flair in your favourite cup, mug, jar... and, most importantly, enjoy every sip.
Other Thermomix recipes you will love:
1