It was the fantastic Dave who put me onto a moist recipe for chocolate cake last week, it used beetroot and I just had to try it! I reduced the sugar a fair bit and adapted it to my use my Thermomix. This Dairy Free Chocolate Beetroot Cake is delicious and easy peasy.
I posted a photo of a slice of this cake on my Thermo Cooking UK with Feisty Tapas group and there were many requests for the recipe so here is what I did because you should all try this Dairy Free Chocolate Beetroot Cake as soon as you can and, in fact, if one of you could make it with your favourite GF stuff, I'd be most grateful for the feedback.
You can find all my Thermomix recipes here.
PS- If you are in the UK with your Thermomix, Kenwood KCook, KitchenAid Cook Processor, Tefal Cuisine Companion, Lakeland Multichef, Lidl Monsieur Cuisine, Aldi's Multi Chef, etc, make sure you come join my Thermo Cooking UK Facebook group. It's full of lovely people who support each other and it will get you using it regularly, we will also hold your hand during those first few weeks of ownership and through the difficult dishes because my Facebook communities have two mottos: there are no silly questions and we all learn together!
We also bake cake together so here we go, ready for the recipe?

Dairy Free Chocolate Beetroot Cake - Thermomix
Ingredients
250 g cooked beetroot, peeled (there is a G's Fresh pack that is perfect for this as it's the exact weight, or use your pressure cooker to cook beetroot quickly). If you cook your own from raw, cook extra and have it sliced with good extra virgin olive oil and a bit of salt, so good!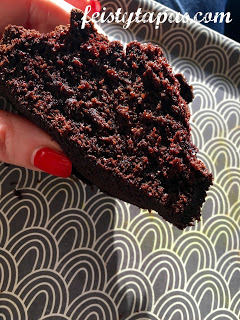 3 large eggs
Half teaspoon vanilla extract
180 g caster sugar
250 g vegetable oil or do like me and realise half way through that you don't have enough sunflower oil so used 130 g sunflower oil + 120 g extra virgin olive oil, Filipo Berio which is very mild in flavour and works well. You could try it with your favourite vegetable oil or all sunflower or all olive oil. If someone fancies it with coconut oil, please give it a go and report back.
225 g plain flour
One and a half teaspoons of bicarbonate of soda
One quarter teaspoon salt
6 tablespoons cocoa (I used Green and Black's)
Equipment
You'll need a baking tin slightly bigger than 20 cm. If using a 20 cm baking tin you will have enough mix for the tin and for 6 regular-sized cupcakes.
Method
1. Preheat oven to 180ºC, mine is fan (so 200º for a conventional oven or gas mark 6, remember that every oven is different). Grease your tin, or line with parchment paper.
2. Place the cooked beetroot in your Thermie bowl to purée: first turbo it for a couple of seconds (in the TM31 you need to close the bowl and hold the Turbo button down for 2-3 seconds). Scrape down: 1 minute, speed 10 (get to speed 10 gradually). Scrape down.
3. Add the eggs, vanilla extract, sugar and oil in your Thermie's mixing bowl: 1 minute at speed 4.
4. Add the flour, bicarbonate of soda, salt and cocoa: 30 seconds, speed 4.
5. Pour mix into your greased / lined mould and bake in the centre of the oven for 30 minutes. Check that it has cooked through with a skewer, when it comes out clean (or get one of these Nordic Ware Cake Thermometers that the Feisty Tapas crew rates highly), it's good to go. Let it cool down completely (although I must admit I pinched a bit while still slightly warm and it worked well).
Enjoy with your favourite cuppa, take a photo, post it and tag me on Instagram, Twitter or Facebook.
0