I love my Air Fryer. I thought about buying one for ages and then finally in July 2017, I took the plunge when I saw it on offer on Amazon Prime Day. I have a Philips 9220/20 airfryer.
This Airfryer Roasted Mediterranean Vegetables with Halloumi Cheese is as delicious as it is easy. There is no need to preheat the airfryer so it's fairly quick.
For this particular dish I tend to slice the vegetables ahead of time and store them in the fridge so that they're ready when I am ready to cook them.
This is the first airfryer recipe that I put on the blog! The lovely Mike bought his air fryer on Prime Day this year and has already tried this airfryer recipe, in fact it was his first!! Mike got stuck in straight away. So many of us leave kitchen gadgets in the box for ages growing increasingly afraid of them but not Mike!
Thinking of buying an Air Fryer? Read my guide here.
Make sure you join my Kitchen Gadgetry with Feisty Tapas Facebook group!
Fancy trying my Airfryer Roasted Mediterranean Vegetables with Halloumi Cheese? Here's the recipe.

Air Fryer Roasted Mediterranean Vegetables with Halloumi Cheese

Ingredients
– 1 red onion, cut into wedges (not too thin and not too thick)
– 1 red pepper, sliced
– 2 courgettes, sliced not too thick, not too thin. About half a centimetre. I peel them as I find the peel has a strong taste but you don't have to. You can save the peel for my vegetable stock paste
– Extra Virgin Olive Oil, 1 tbsp approx.
– 5-6 medium cherry tomatoes on the vine. More if they're baby tomatoes 🍅
– 1 block of halloumi cheese
Equipment
Airfryer, Silicone-ended tongs (these are both affiliate links, which means that if you buy anything from amazon after clicking on the link, it won't cost you a penny extra and I may get a few pennies back)
Method
1. Place the sliced red onion, pepper and courgettes in the basket of the airfryer, drizzle in extra virgin olive oil and toss to coat: 10 minutes 200°C. No need to preheat.
2. Take drawer out. Toss with silicone tongs. Add salt and pepper. Pop cherry tomatoes on vine on top: 5 minutes at 200°C
3. Toss with silicone tongs. Pop halloumi on top. 5 minutes at 200°C
4. Toss with silicone tongs. 3 more minutes. Serve.
Really nice sprinkled with sesame seeds or you can coat the halloumi sliced with sesame seeds before adding or add the sesame seeds when tossing with the silicone tongs before adding the halloumi.
Delicious served with lemon wedges to drizzle over before eating
Let me know if you try it!
Have you got an airfryer? What do you tend to cook in it?
I don't like the idea of adding ads to the blog that will only slow down the experience (and can be so annoying) so, if you've enjoyed this free content, you can now contribute through the button below. You know I'm fuelled by coffee, right?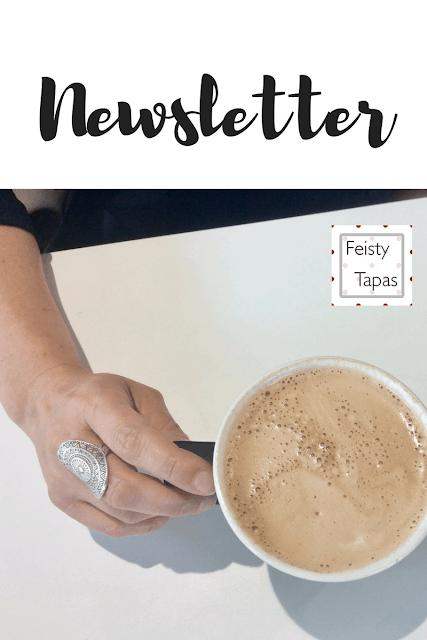 6